A SERVANT'S PRAYER
LEAD ME TO REST IN YOUR LOVE AND HOLY SPIRIT
FIND YOUR PEACE IN THE SIMPLE THINGS I MUST DO
TEACH ME YOUR PATIENCE AND GIVE ME WISDOM FATHER
SO I MAY WALK ONLY IN YOUR TRUTH
LET ME BE LIKE JESUS CHRIST
HE WAS GOD BUT GAVE IT ALL UP
TO COME TO EARTH
AND DIE ON THAT CROSS
MAKE ME NEW IN HIS IMAGE
BREAK MY BONDS AND PUT MY FEET
ON HOLY GROUND LORD
LEAVING THE OLD MAN FAR BEHIND ME
I WANT TO GIVE WITH MY HEART LORD
LET THERE BE NO SELFISHNESS ON MY PART
LET ALL MY PRAISE BE ALWAYS FOR YOU
FOR I AM SEALED WITH YOUR MARK
CHORUS
HIS NAME IS ABOVE ALL NAMES
AND WHEN HE RETURNS WHAT REJOICING THERE WILL BE
THE EARTH SHALL KNOW THAT JESUS IS LORD
AND ALL WILL BOW ON BENDED KNEE
CHORUS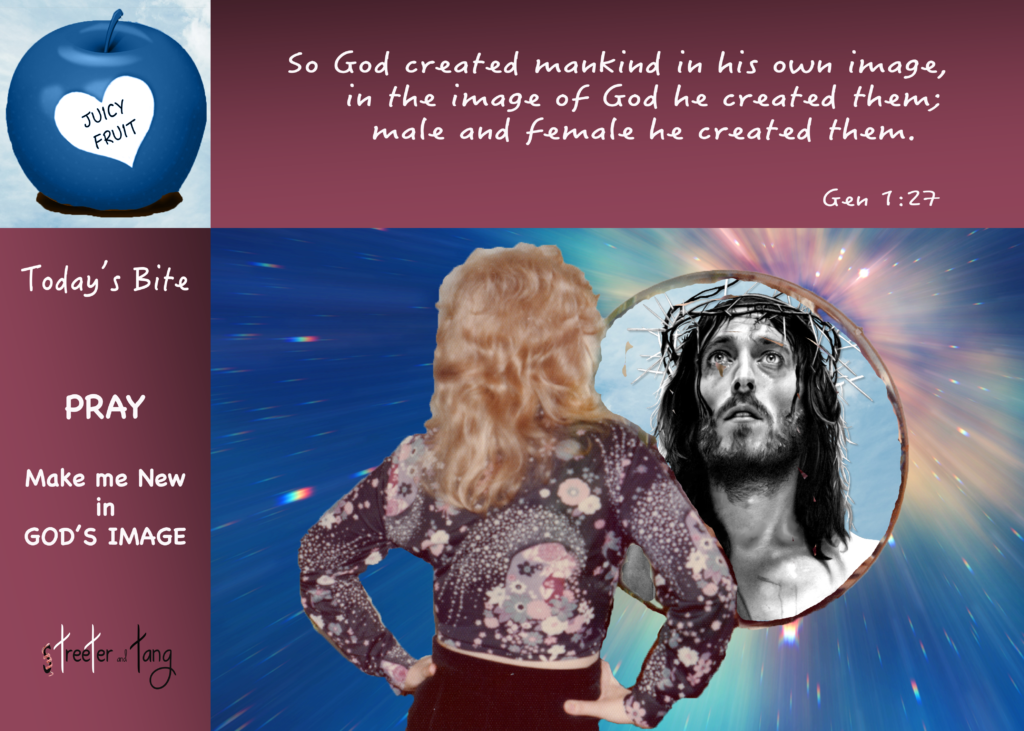 We were created in God's image but Adam sinned, activatiing our conscience, which now aids each individual to choose for him or her, their standard of rules to obey. Satan was correct when he said "You will be like God," for man now had the knowledge of good and evil and would decide, as his own god, what constituted good and what was evil. 
When we give up our rebellion and submit to God's rule in our lives' (receive Christ as Lord) we receive the Holy Spirit, who then begins to renew the mind and to change the standard of the conscience to agree with God's Word. When Julia prays "make me new in His image," she is asking God to change her mindset Ro 8:6,7 to agree with the mind of Christ 1 Co 2:16.
If you have not been made new, ask God to forgive your sins, receive Jesus as your Lord and Savior and allow the Holy Spirit to make you into the person you were created to be Ro 8:29; 2 Co 3:18.