SOMETIMES IN THIS WORLD
WE CAN GET TURNED AROUND, UPSIDE DOWN
THE EASY WAY OUT IS THE VOICE WE OFTEN LISTEN TO
SOMEWHERE IN THIS CONFUSION LORD I HEAR YOU SAYING
PLEASE LET ME LIVE
PLEASE LET ME LIVE
PLEASE LET ME LIVE IN YOU
I LL BE YOUR ARMS THAT REACH
ILL BE YOUR VOICE TO TEACH
JUST KEEP THIS HEART OF MINE INSIDE OF YOU
WHEN THINGS GET DARK AND HEAVY
WITH THOUGHTS THAT NO ONE CARES, SO UNFAIR
AND I FEEL THERES NOTHING HERE FOR ME TO DO
SHATTERING THOSE LIES I HEAR YOUR TRUTH SAYING
CHORUS
THERE ARE TIMES I FORGET LORD
YOUR GREAT SACRIFICE TO GIVE ME LIFE
AND THEN I GO AND SHUT YOU OUT SO EASILY
BUT LORD I HEAR YOU PLEAD SAYING LISTEN TO ME
CHORUS 2X
PLEASE LET ME LIVE, INSIDE OF YOU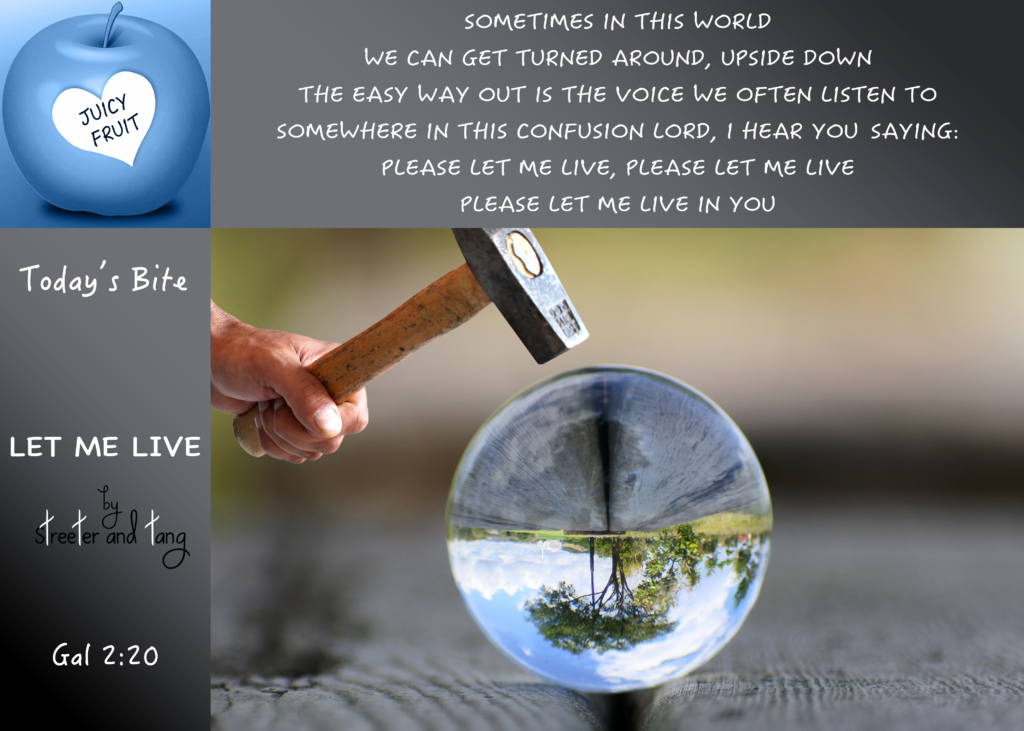 Baptism is a picture of us dying to self rule, and coming out of the water to let Jesus live His life through us Gal 2:20. When our world is turned upside down and we finally realize we cannot successfully live this life, then, Jesus can be heard breaking through the white noise saying, "Let me live inside of you, I'll be your teacher and I'll guide your arms in what to do."
This is not a one time thing, we must moment by moment submit to His will. Below is a short quiz to test where you are with dying to yourself.
DEATH TO SELF: EVALUATION
Rate yourself 1-5
1
being alive to self
/25
5 being dead to self
/5
How willingly are you to let others watch/attend their favorite movie/TV program/Sport event/hobby when your favorite one is on at the same time?
/5
How willingly would you help someone you dislike?

/5
How willingly would you go outside your comfort zone if you felt God was asking you to?

/5
How willingly would you be to lose an argument to restore peace over a trivial issue?


/5
How willingly would you deny yourself so that someone else would benefit? ie) give up your place in a grocery line; let someone ahead of you in a traffic jam; give up your plane bulkhead seat to a stranger; allowing others to take transit so you would have to wait for the next scheduled one.
The goal of death to self is "fellowship with Christ."
The goal of life for the believer is to "seek God" and make Him your all in all. This is accomplished through:
Humiliation – Accept what life throws at you: reproaches, poverty, loneliness, persecution, distress, failure, disappointments, and the like.
Reject the praise of men – Self thrives on praise and adulation;
Live by faith – Self depends on outward assurances; living by faith trusts the Word of God even when there is no indication of God's presence or blessing.
Seek Jesus– make a daily habit to look to Christ alone for what you need.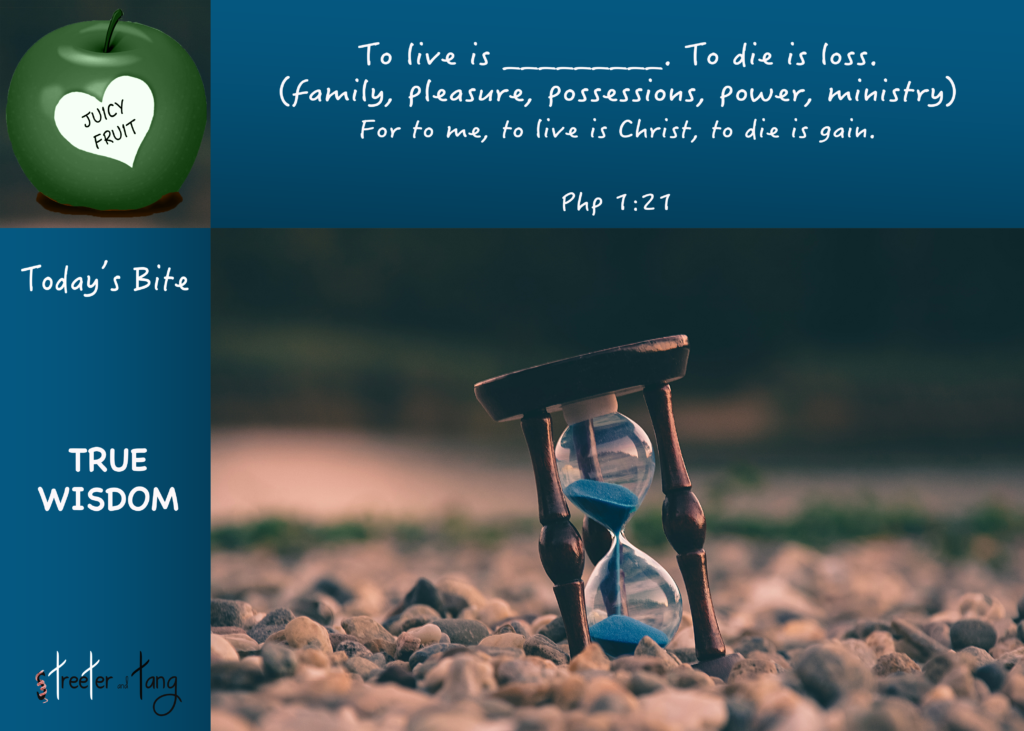 We all have exactly the same amount of time to spend each day. You can use it for earthly goals Col 3:1,2,3 or you can use it for Christ Mt 6:21.