YOU DIVIDED THE DARKNESS FROM THE LIGHT
SPLIT THE WATERS AND MADE THE SKY
NOW WE'RE SONS OF DAY AND NOT THE NIGHT
TWO BIRTHS, WITH ONE ON HIGH
YOU GATHERED THE SEAS AND MADE DRY LAND
WE CAN LIVE ON ROCK OR SINKING SAND
WITH OPEN EYES OR CLOSED AND BLIND
WE BEAR THE FRUIT OF OUR KIND

TREE OF LIFE, OH TREE OF LIFE
SOWN IN THE GARDEN OF EDEN
TRANSPLANTED TO CALVARY
LORD YOU GAVE US OUR FEEDOM

YOU CREATED THE SUN, MOON AND STARS
AND LIGHT TO TEAR DOWN ALL PRISON BARS
WE CAN CRAWL OR FLY ABOVE
REJECTING YOUR GIFT OR EMBRACING YOUR LOVE
WE CAN LIVE BY INSTINCT ALONE
OR TURN FROM OUR SINS AND HEED YOUR VOICE
TO PICK UP OUR CROSS AND FOLLOW YOU
AND CLING TO YOU LORD, OUR SAVIOUR AND TRUTH

CHORUS

LIKE SHADE FOR JONAH, YOU SAY "RECEIVE MY REST"
FOREVER IN THE SHADOW OF YOUR MIGHTY FORTRESS
WITH WATER AND BLOOD YOU DID REDEEM
SO WE TAKE OUR LIFE FROM YOUR LIVING STREAM
NARROW IS THE PATH AND LOVE IS THE ROOT
YOU'RE THE TREE OF LIFE THAT BEARS GOOD FRUIT
YOU HOLD US FAST SO WE DON'T LOSE OUR WAY
HALLELUJAH LORD WITH YOUR HEART WE PRAY
CHORUS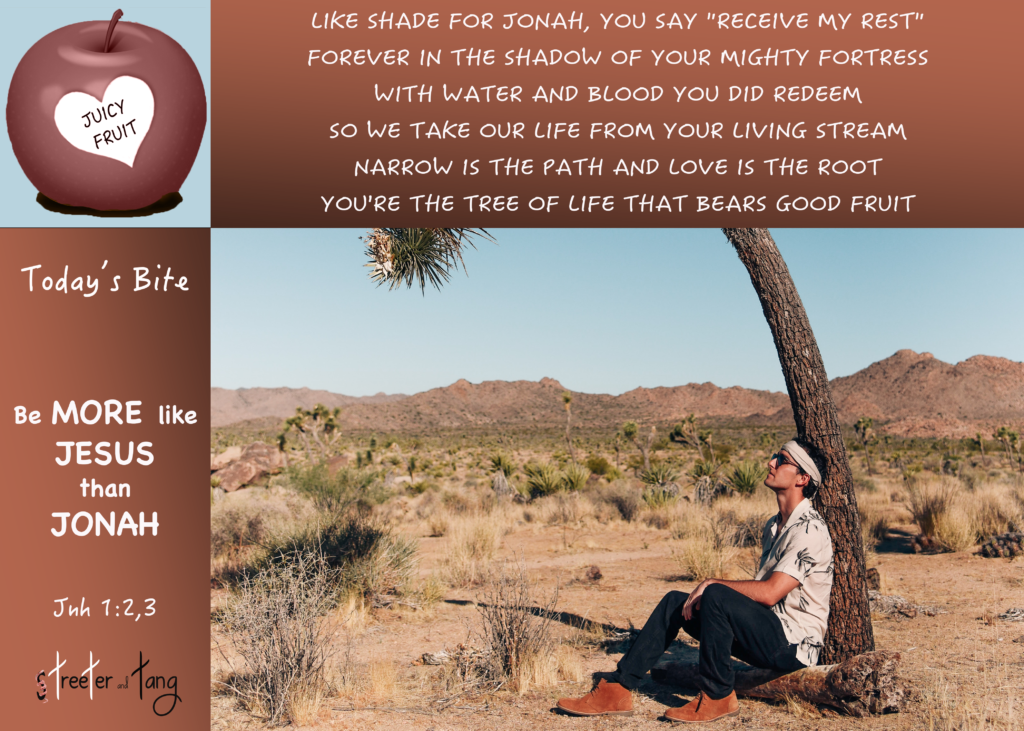 Jonah was asked by God to go to Nineveh and warn the people of the coming judgment but he was too content being a fair-weather prophet in Gath Hepher (2 Ki 14:25). His response was to run in the opposite direction, as he hated the Assyrians because of their brutality and preferred judgment rather than God's grace. The Bible describes Nineveh, as the city of blood, full of lies, full of plunder, never without victims (Nah 3:1)!
In contrast, the Son of God was asked to leave His heavenly estate and take on the form of a man and to be the sacrifice for wicked sinners. His response was "not my will but yours, Father." His obedience fulfilled God's plan of salvation for mankind.
We need to be more like Jesus and less like Jonah. Adam and Eve wanted to choose for themselves and they partook of the tree of the knowledge of good and evil. Their disobedience led to the fall of mankind. However, Jesus has restored and reconciled us back to God (2 Co 5:18), so let us not make the same mistake as Adam or Jonah and feed from the Tree of Life, who is Jesus and be obedient to the call of God in our lives.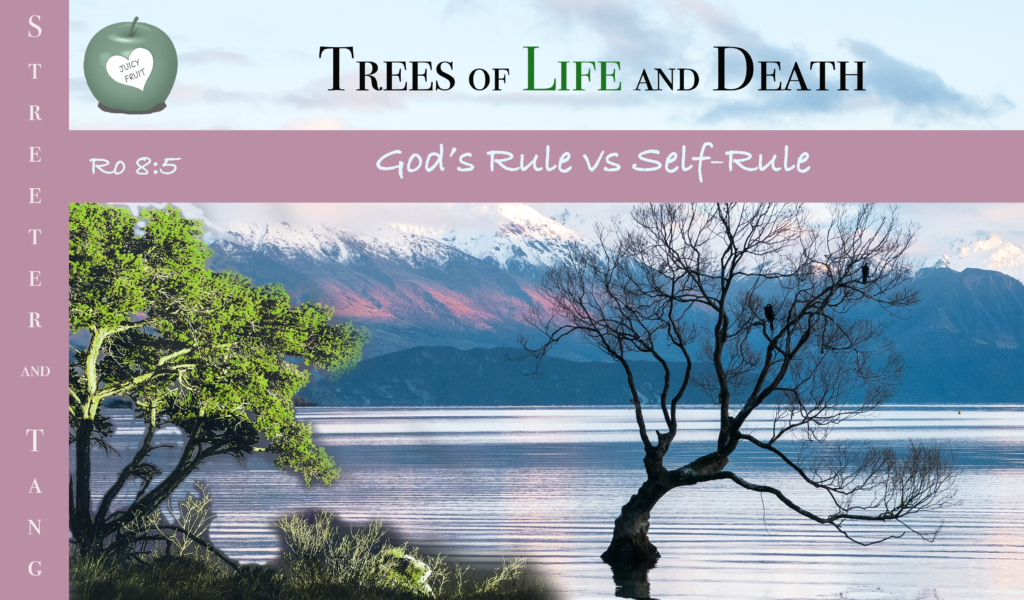 On Day three of Creation, God gathered the waters causing dry land to appear (Gen 1:9). On dry land He caused vegetation to produce fruit (Gen 1:11). This was a spiritual picture of "lost" man in the sea, rebelling against his Maker (Isa 17:12), while "saved" man produces God's fruit on dry land (Jn 15:5). Jonah is a good illustration of this truth. He was rebelling against God, as he refused to preach God's message to the people of Nineveh (Jnh 1:2,3). So, God had the sailors toss him into the sea where he stayed three days in the belly of a great fish (Jnh 1:15,17). However, after repenting (Jnh 2:8,9) God had him vomited on dry land (Jnh 2:10), where he now obeyed God's command to go and preach to the Ninevites (Jnh 3:3).
Two significant trees in the Garden of Eden that contained edible fruit were the "Tree of Life" and the "Tree of the Knowledge of Good and Evil" (eating from this tree caused death, therefore it can be called the Tree of Death). Adam had the choice to acquire eternal life by eating from the "Tree of Life" symbolizing feeding off Jesus (Jn 6:35,51) and allowing Jesus to rule (Gal 2:20), or to rule his own life, by acquiring the knowledge of good and evil where he would decide for himself what was right and what was wrong (Post Modernism).
Later, the "Tree of Life" was transplanted from Eden to Calvary (1 Pe 2:24 NKJV) allowing all who believe in Jesus' sacrifice to obtain eternal life. We all have been raised on eating from the "Tree of Death," (Ro 3:23) but the Good News is with repentance and trusting in Jesus, the "Tree of Life" we can enjoy eternity with God.