YOU CAME INTO MY LIFE
WHEN NOTHING WAS GOING RIGHT
FOR ME IT SEEEMED
AND THERE YOU WERE WITH ARMS OPEN WIDE
EVERYTHING TO GIVE, AND NOTHING TO HIDE
LOVING ME, JUST ME

OUR LOVE WILL LAST FOR ETERNITY
MY DREAMER MY BEST FRIEND
I'LL NEVER FORGET YOU JE T'AIME
ALWAYS A PART OF ME
I CLOSE MY EYES AND SEE YOU THERE
THIS SWEET EMBRACE I SEND
I'LL NEVER FORGET YOU JE T'AIME
ALWAYS A PART OF ME

YOU KNEW LOSS AND YOU KNEW GAIN
BUT YOU NEVER FORGOT LOVE OF THE SIMPLE THINGS
LIKE A RIDE IN THE WAVES
FEEDING MY BODY AND MY SOUL
YOU MENDED MY HEART AND MADE ME WHOLE
WITH A SMILE, YOUR SWEET SMILE

CHORUS

SOMETIMES LIFE SEEMS SO UNKIND
I WASN'T READY TO SAY GOOD BYE
BUT THERE WE WERE JUST THE SAME
AND NOW I SEE YOU STRONG AND FREE
NO MORE PAIN EXCEPT INSIDE OF ME
NOW I KNOW YOU HAD TO GO

CHORUS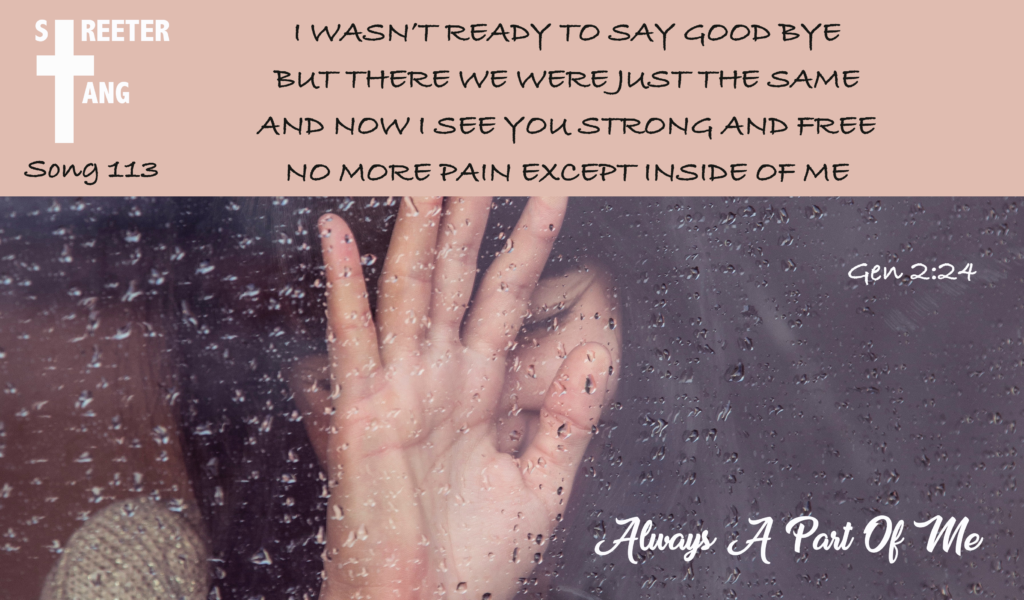 If you have lost a spouse, then you will be able to relate to this song. God declared that marriage joins the two individuals and they become one flesh.
There is not a closer relationship amongst humans than a husband and wife. God is the author of marriage and when it is followed by God's principles there is nothing in this life that can compare to this amazing relationship. The two becoming one are in three realms.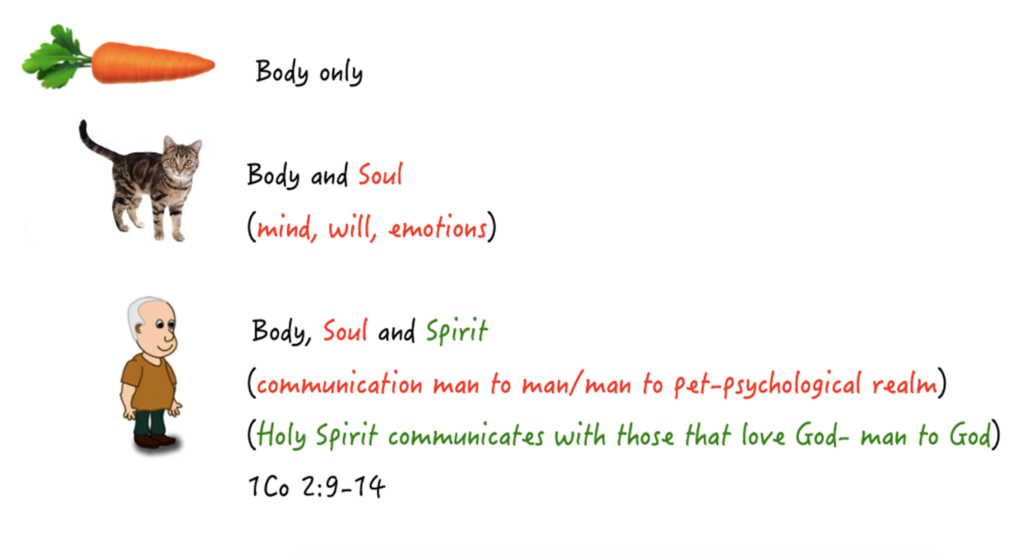 Gen 1: explains man's physiologically aspect (body) Gen 1:27 male/female 1 Co 6:16
Gen 2: explains man's sociability aspect (soul) Gen 2:18-25 was lonely, named animals-no suitable helper-God made Eve from Adam.       man/ woman
Gen 3: explains man's ethical aspect/made in the image of God: man does not live on bread alone Mt 4:4/ animals do! Spiritual component Gen 3:3-7.  Adam failed the test (Gen 3:3-7) , [dead spirit/separation from God (Gen 3:23,24)]. When one receives Christ (breath-Holy Spirit), then there is spirit to Spirit communication. In the Old Testament, God's spirit would come upon saints but could leave. Examples of this are David Ps 51:11; Samson Jdg 16:20; and King Saul 1 Sa 16:14.
According to the Bible, man and woman are alike in spirit, but not in soul and body.
There is neither Jew nor Gentile, neither slave nor free, nor is there male and female, for you are all one in Christ Jesus.Gal 3:28
10 and have put on the new self, which is being renewed in knowledge in the image of its Creator.11 Here there is no Gentile or Jew, circumcised or uncircumcised, barbarian, Scythian, slave or free, but Christ is all, and is in all.Col 3:10,11 
Studying Word (male) vs prayer and worship (female)
Men are not to give up their masculinity but add to it the woman's femininity and vice versa. Jesus was bold and outspoken to the Pharisees but very gentle and compassionate to sinners. He showed maternal instincts and was very sensitive.
33 "You snakes! You brood of vipers! How will you escape being condemned to hell? Mt 23:33
37 "Jerusalem, Jerusalem, you who kill the prophets and stone those sent to you, how often I have longed to gather your children together, as a hen gathers her chicks under her wings, and you were not willing. Mt 23:37
33 When Jesus saw her weeping, and the Jews who had come along with her also weeping, he was deeply moved in spirit and troubled. 34 "Where have you laid him?" he asked. "Come and see, Lord," they replied. 35 Jesus wept. 36 Then the Jews said, "See how he loved him!"  Jn 11:33-36
God created all things Gen 1:1 Masculinity initiator
God is love Jn 3:16; 1 Jn 4:8 Femininity relational
For a man, masculinity will always be his dominant traits but the recessive femininity traits should be incorporated as best as one can.  Marriage aids this process (the two will become one flesh). We view our spouses positive traits and then try to emulate them into our character.
Personal Testimony:
When I became a Christian, I loved studying the Word.  It came naturally and was enjoyable (Logos masculinity). Praying out loud with a group was very fearful for me and I had difficulty connecting with God in worship (femininity relationships).  As I grew in the Lord, praying out loud became much more comfortable and I pursued intimacy with God much more frequently.  Julie seemed to naturally have a close and intimate relationship with God but never had the driven will to read the Bible for hours daily like I did.  She grew in pursuing God's Word, the same way I grew in pursuing intimacy with God.  We both influenced each other.