IF YOU FIND YOURSELF DEPRESSED AND DOWN 
JESUS WILL PICK YOU RIGHT OFF THE GROUND 
THERE'S NO HEARTACHE HE CAN'T FIX 
HE HEALS THE BROKEN AND THE SICK 
LEARN IT NOW, IT'S NEVER TOO LATE 
CAST YOUR CARES ON HIM, HE'LL CARRY YOUR WEIGHT 
COME TO HIM IN YOUR DARKEST HOUR 
HE'LL BE YOUR FORTRESS, YOUR BIG STRONG TOWER 

BROTHER GEORGE SAYS LISTEN TO THIS SONG 
LEARNING TO TRUST GOD WON'T TAKE LONG 
YOU'LL BE AMAZED JUST HOW EASY IT WILL BE 
WHEN YOU SING THIS LITTLE MELODY 
COME ON FRANKIE, SING THIS SONG 
YOU'LL HAVE THE JOY OF THE LORD ALL DAY LONG 
YOU'LL BE AMAZED JUST HOW EASY IT WILL BE 
WHEN YOU SING THIS LITTLE MELODY 

THERE'S NO MOUNTAIN YOU CAN'T CLIMB 
WHEN YOU HAVE JESUS YOU'LL BE FINE 
IT'S NOT TOO LATE TO HEED HIS CALL 
BECAUSE HE CAME TO SAVE US ALL 
HIS BURDEN'S LIGHT, HE WILL CARRY YOURS 
COME TO HIM NOW JUST KNOCK ON THE DOOR 
THERE'S NO GREATER LOVE THAT WAS GIVEN 
WALK IN HIS LIGHT ON EARTH AND IN HEAVEN 


CHORUS

OPEN YOUR HEART TO THE TRUTH OF HIS WORD
IT'S THE BEST NEWS THAT YOU'VE EVER HEARD
HE DIED ON THE CROSS TO SET YOU FREE
AND WHEN YOU ACCEPT HIM YOUR FREE INDEED
OUR FATHER IN HEAVEN GAVE HIS ONLY SON
HE DIED TO SAVE US EVERYONE
AND IN HIS LOVING SACRIFICE
CHRIST SET US FREE AND HE PAID THE PRICE
CHORUS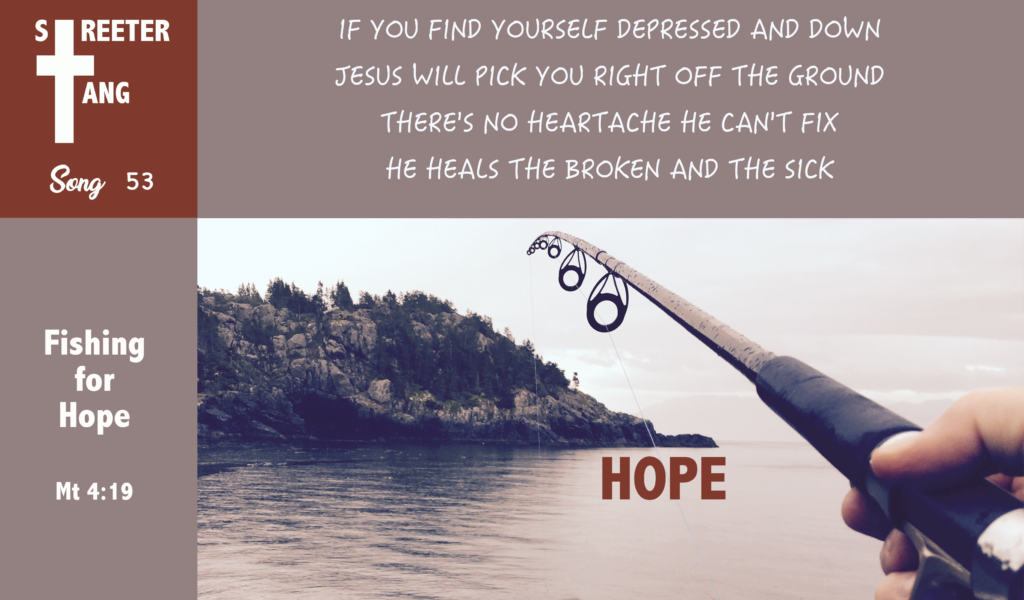 It's easy to reel in "hope." Just call on the name of Jesus and hope is transformed into reality!
Everyone who calls on the name of the Lord will be saved (Ro 10:13).
Jesus promised to make his disciples fishers of men (Mt 4:19). We are Jesus' salesmen that have the greatest product to offer the world. It's eternal life and it's free. How can any product top that?