Ro 9 SOVEREIGNTY OF GOD
Tuesday, November 30, 2021.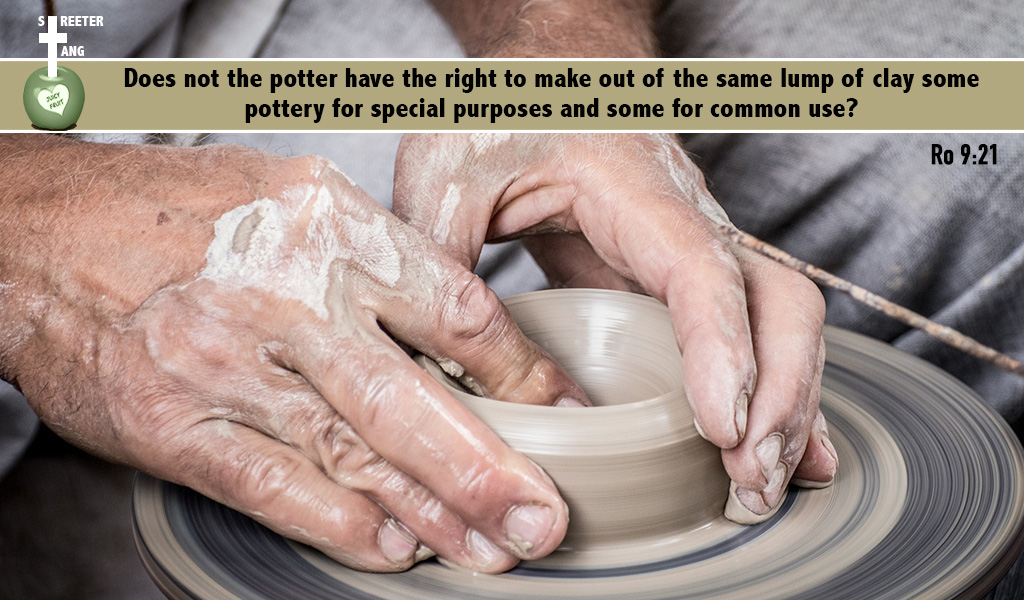 Ro 9:21  
 Does not the potter have the right to make out of the same lump of clay some pottery for special purposes and some for common use? Yes, God is the Creator of everything, and thus is sovereign in all decisions concerning mankind. God would use Pharoah for His purposes by making him, His enemy. Pharaoh would glorify God's name, first becoming the most powerful kingdom in the eyes of all nations, then being destroyed by God as He delivered Israel Ro 9:17; Ps 136:13-15.
Application: You can prepare yourself for God to use you for special purposes by cleansing yourself from sinful activities 2 Ti 2:20,21.
---
.
Ro 8 GOD'S INTERCESSION
Monday, November 29, 2021.
Ro 8:34
Who then is the one who condemns? No one. Christ Jesus who died—more than that, who was raised to life—is at the right hand of God and is also interceding for us: how fortunate are Christians to know that Jesus is interceding in prayer for them. Not only, the Son, but also the Holy Spirit Ro 8:27. He is passionately communicating our circumstances in wordless groans to the Father Ro 8:26.
Application: how blessed we are to be children of God, joint heirs with Christ Ro 8:17. These wonderful privileges should help us give our best in every situation we encounter. Our desire should be as Paul's, who interceded for his people the Israelites to know God.
---
.
Ro 7 SIN AND THE LAW
Sunday, November 28, 2021.
Ro 7:25
Thanks be to God, who delivers me through Jesus Christ our Lord! So then, I myself in my mind am a slave to God's law, but in my sinful nature a slave to the law of sin: Paul outlined the frustration that he and every moral person felt. In his mind, he wanted to do what was right but a greater power in his flesh would win out. His disappointment led him to cry out that he was a wretched man and asked the question, "Who can rescue me?" Ro 7:24. His answer was that Jesus can deliver. Paul had to die to the desires of the law by turning his attention to desiring to please Christ.
Application: Understanding the love of Christ—His sacrifice that paid for our sins, leads every believer to die to self-pleasing and turn to Christ pleasing. Whenever we submit to the Holy Spirit there is victory against sin. It is focusing on the law and its' desires that sin gains its' power 1 Co 15:56; Jas 1:14,15. Just as a wet paint sign, which reads "don't touch," leads us to touch the paint to see if it is truly wet, or the command not to look through the key hole places an inquisitive desire to discover what we are missing.
We are to think on things that are positive not negative Php 4:8,9; on heavenly not earthly things Col 3:2. The mind set on the Spirit leads to victory over our flesh Ro 8:6.
---
.
Ro 6 BAPTISM
Saturday, November 27, 2021.
Ro 6:4
We were therefore buried with him through baptism into death in order that, just as Christ was raised from the dead through the glory of the Father, we too may live a new life: Christ gave up His life to fulfill the will of His Father, to save God's people. Baptism symbolizes our death to self-rule. The going down into the water, buried the old man, while returning to the surface was the resurrection of the new man—the one desiring to live for God.
Application: just as Jesus placed His Father's will before His own, baptism is the process for each to willingly liberate themselves. We were born as slaves to pleasing self, which led to the bondage of sin, to become a slave to righteousness and pleasing God. The result of that decision is meaning and purpose in this earthly life and an everlasting relationship with God in the next life.
---
.
Ro 5 BALANCING THE BOOKS
Friday, November 26, 2021.
Ro 5:10 Adobe Color: 2e3646
For if, while we were God's enemies, we were reconciled to him through the death of his Son, how much more, having been reconciled, shall we be saved through his life: sin made us God's enemy but Jesus' death paid the debt Ro 6:23 and allowed God to be reconciled to man 2 Co 5:19. Now, man can be saved by being reconciled to God 2 Co 5:20—by accepting God's gift of forgiveness and life Ac 3:19.
Application: God took our debt off His Accounts Receivable and exhorts us to take our debt off our Accounts Payable. Nothing is preventing man from coming to God as His justice has been satisfied with Christ's payment of His blood. Man only has to receive God's forgiveness and Christ's life by dying to his self-rule.
---
.
Ro 4 THE GOSPEL
Thursday, November 25, 2021.
Ro 4:25
He was delivered over to death for our sins and was raised to life for our justification: Paul shared the Gospel which contains two truths. The first truth concerns the Crucifixion. Christ died on a cross to forgive the sin of the world Jn 1:29. The second truth engages the Resurrection. Christ rose from the dead to give us life. If He hadn't been raised from the dead our faith would be futile and we would still be in our sins Co 15:17.
Application: The Gospel is simple to understand but takes a steadfast commitment to receive its blessings. We were born with Adam's sin nature Ps 51:5 and thus separated from God Isa 59:2. Jesus paid the sin debt to provide forgiveness to all 1 Jn 2:2. When we agree with God concerning our sins 1 Jn 1:9 and repent, turn to God and die to self-rule, we receive the forgiveness of sins and eternal life Ro 6:23.
---
.
Ro 3 THE PURPOSE OF THE LAW
Wednesday, November 24, 2021.
Ro 3:20
Therefore no one will be declared righteous in God's sight by the works of the law; rather, through the law we become conscious of our sin: Paul said he wouldn't have known what sin was unless the Law had revealed it Ro 7:7. The Law brought awareness of wrongdoing. Yet, man could not keep the Law perfectly Jas 2:10, and therefore, no one could be declared righteous in God's sight through the Law. It's purpose was to demonstrate that we were sinners in need of a Savior, to deliver us from the consequences of the Law—death. Jesus, was sent to destroy the power of death Heb 2:14 by His sinless life Heb 4:15 and His payment of sin at the Cross.
Application: when we recognize that we are unable to please God and are sinners deserving death Ro 6:23 we gladly accept the Gospel and Jesus' sacrifice for us. The Law is like a mirror, it can show us that we have a dirty face, but it cannot clean it. A bar of soap can! Jesus' blood is the cleansing solution to sin, once we acknowledge that we are sinners and in need of a Savior.
---
.
Ro 2 CIRCUMCISION OF THE HEART
Tuesday, November 23, 2021.
Ro 2:29
No, a person is a Jew who is one inwardly; and circumcision is circumcision of the heart, by the Spirit, not by the written code. Such a person's praise is not from other people, but from God: Paul explained to the Jews that the Law could not save anyone. A genuine Jew (saved person) was not based on physical DNA or outward adherence to certain traditions but on a change of one's heart, guided by the Holy Spirit not the Law.
Application: salvation is by faith alone Ro 3:28 and through Christ alone Jn 14:6. Anyone who rejects the Gospel and relies on themselves or the Law to save will be in for a rude awakening come Judgment Day Ro 2:7,8.
---
.
Ro 1 ENCOURAGE ONE ANOTHER
Monday, November 22, 2021.
Ro 1:12 
That is, that you and I may be mutually encouraged by each other's faith: Paul wanted to impart some spiritual gift to the believers in Rome to make them strong in the Lord Ro 1:11. He then deepened his thought to include mutual benefit through fellowship Pr 27:17.
Application: Satan has hindered God's people through the Covid mandates, for he knows fellowship Heb 10:25 is one of the Lord's best weapons to encourage downcast Christians. The Church is called the "Body" for a reason. We need each other, yet, many fail to discern that Satan has caused a division in churches by pitting Christians on different sides of the vaccine issue. Jesus said a house divided wouldn't stand Mk 3:25. He also told the Church to watch out that no one deceived them Mt 24:4. Let us wake up from our slumber Eph 5:14 and pursue the real enemy—Satan, by uniting with our brothers and sisters and encouraging one another.
---
.