COME WITH ME TO A QUIET PLACE
AND I WILL GIVE YOU REST
LIE DOWN IN MY PASTURES GREEN
AND MY WORD WILL BE A PILLOW FOR YOUR HEAD

CHILD REST IN ME (1OH REST IN ME) AND YOU WILL SEE
(1THE VICTORY) (2-4YOUR VICTORY, YOUR VICTORY)
OVER AND OVER AND OVER AND OVER
REST IN ME, REST IN ME

IF THERE IS DARKNESS I WILL SHINE A LIGHT
SO THAT EACH STEP BECOMES MORE SURE
FOR I HAVE WISDOM TO GIVE TO YOU
AND HEALING FOR YOUR HEART THAT IS BRUISED

CHORUS

SO TAKE THIS NAILED SCARED HAND OF MINE
AND WE'LL TRAVEL SIDE BY SIDE
FOR I WILL LIFT YOU HIGH ABOVE
ALL THE TRIALS AND TROUBLES OF YOUR LIFE

CHORUS 2X

OUTRO
I AM THE TRUE SABBATH REST Heb 4:9,10
OH, BE STILL AND KNOW THAT I AM GOD Ps 46:10
FOR I WILL KEEP YOU STRONG TO THE END 1 Co 1:8
SO BE DILIGENT AND MAKE EVERY EFFORT TO REST IN ME Heb 4:11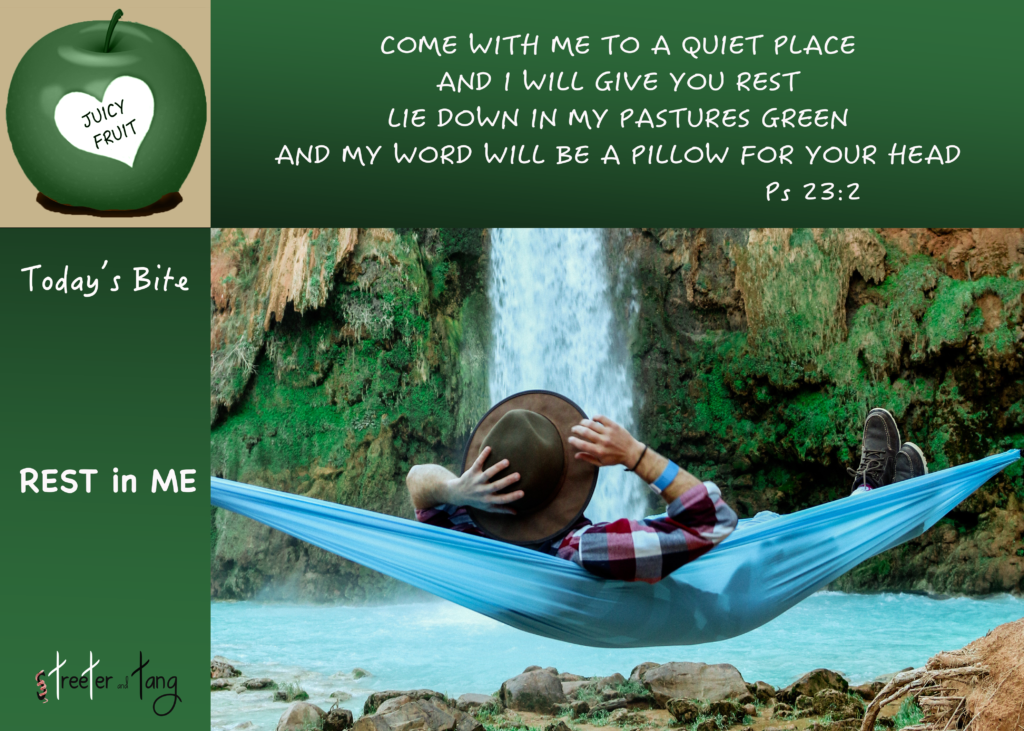 from sermon Skip Heitzig https://www.youtube.com/watch?v=IATSfIPcsxM The Quarantined Life
Thoughts on Quarantine
1. Biblical- Lev 13:4-8 4 If the shiny spot on the skin is white but does not appear to be more than skin deep and the hair in it has not turned white, the priest is to isolate the affected person for seven days. 5 On the seventh day the priest is to examine them, and if he sees that the sore is unchanged and has not spread in the skin, he is to isolate them for another seven days. 6 On the seventh day the priest is to examine them again, and if the sore has faded and has not spread in the skin, the priest shall pronounce them clean; it is only a rash. They must wash their clothes, and they will be clean. 7 But if the rash does spread in their skin after they have shown themselves to the priest to be pronounced clean, they must appear before the priest again. 8 The priest is to examine that person, and if the rash has spread in the skin, he shall pronounce them unclean; it is a defiling skin disease.
2. Beneficial- Paul wrote Ephesians, Philippians, Colossians and Philemon will in prison. John Bunyan wrote Pilgrim's Progress also from prison.
3. Practical- more family interactions; journal your experiences; be helpful to others- pick up their groceries, etc.
Benefits of Solitude
1. Physical Restoration
-renewed physically
31 And He said to them, "Come away by yourselves to a secluded place and rest a while." (For there were many people coming and going, and they did not even have time to eat.) 32 They went away in the boat to a secluded place by themselves. Mk 6:31,32
2. Spiritual Edification
-enjoy God's presence
He says, "Be still, and know that I am God; I will be exalted among the nations, I will be exalted in the earth." Ps 46:10

The Lord is good to those whose hope is in him, to the one who seeks him; 26 it is good to wait quietly for the salvation of the Lord. 27 It is good for a man to bear the yoke while he is young. 28 Let him sit alone in silence, for the Lord has laid it on him. Lam 3:25-28
Jesus' example
35 Very early in the morning, while it was still dark, Jesus got up, left the house and went off to a solitary place, where he prayed. Mk 1:35
3.Self Evaluation
-let God show you your shortcomings.
You have searched me, Lord, and you know me. 2 You know when I sit and when I rise; you perceive my thoughts from afar. 3 You discern my going out and my lying down; you are familiar with all my ways.4 Before a word is on my tongue you, Lord, know it completely.5 You hem me in behind and before, and you lay your hand upon me. Ps 139:1-5
13 Nothing in all creation is hidden from God's sight. Everything is uncovered and laid bare before the eyes of him to whom we must give account. Heb 4:13
-helps in making good decisions.
12 One of those days Jesus went out to a mountainside to pray, and spent the night praying to God. 13 When morning came, he called his disciples to him and chose twelve of them, whom he also designated apostles. Lk 6:12,13
4. Inner Consolation
-pour out your grief to God.
Jesus example.
41 He withdrew about a stone's throw beyond them, knelt down and prayed. Lk 22:41
-emotional purification.
Why, my soul, are you downcast? Why so disturbed within me? Put your hope in God, for I will yet praise him, my Savior and my God. Ps 42:5