AS YOU JOURNEY THROUGH THIS NIGHT
EACH STEP IS A LEAP OF FAITH
AND WHEN YOU'RE ON THE BLEAKEST PATH
COME TO ME HE SAYS
IT'S MY HAND YOU NEED TO TAKE
DON'T STOP BELIEVING IN YOUR DREAMS
DON'T STOP TRUSTING IN HIS WAYS
FOR HE IS THE LIFE THAT'S WITHIN YOU
AND HIS LOVE WILL BRIGHTEN THE DARKEST OF DAYS
SOMETIMES LIFE MAY NOT SEEM FULL
NO GRAND OR LOFTY GOALS
BUT IF YOU LET HIM LEAD YOU
THIS PROMISE HE HAS MADE
I'LL BE WITH YOU ALL OF YOUR DAYS
CHORUS
EACH TIME YOU LIFT YOUR HANDS TO PRAY
OR TEND ANOTHER'S CARES
EACH TIME YOU GIVE UNSELFISHLY
CHRIST'S LOVE IS WORKING THERE
IN A MILLION PERFECT WAYS
EVEN WHEN THE NIGHT OVERTAKES THE DAY
CHRIST'S LOVE WILL LEAD THE WAY
CHORUS 2X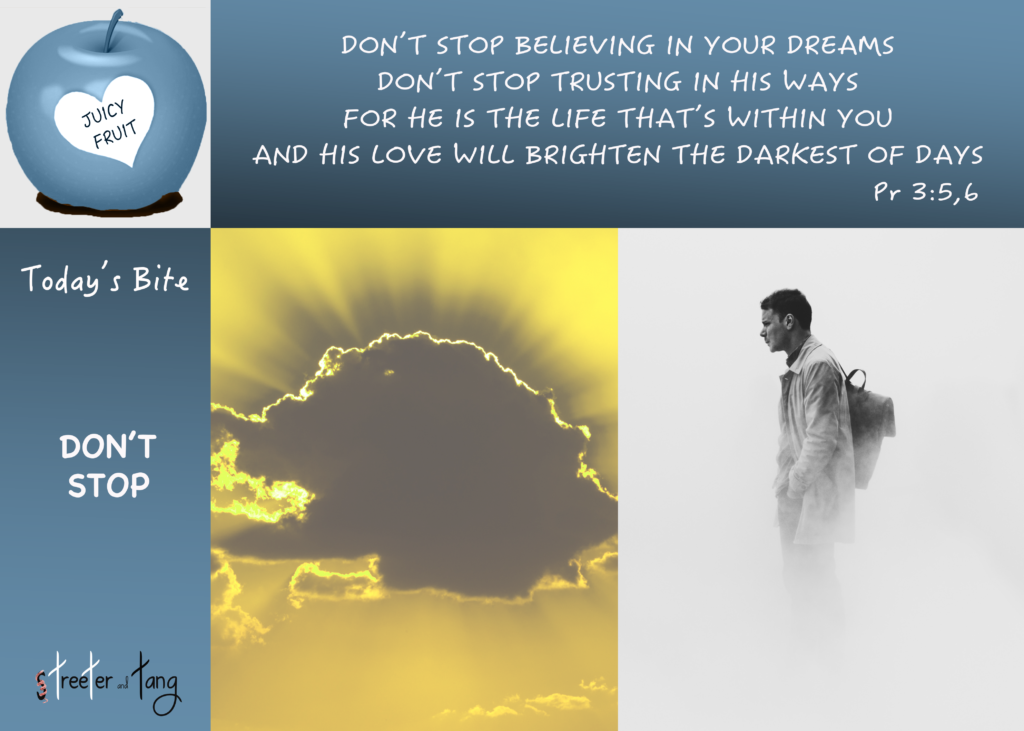 Joseph is the best example of a believer continuing to trust God while experiencing the death of his dream. He was given two dreams revealing that his family would bow before him (Gen 37:5-11) but was rebuked by his father and hated by his jealous brothers. Because of his dreams, his brothers planned to kill him but God intervened and he was sold as a slave (Gen 37:23-28). He continued to trust God and was well respected until Potiphar's wife lied and had him thrown into prison (Gen 39:5-20). After correctly interpreting the dream of the cupbearer, he was forgotten and left in prison for two more years, but Joseph continued to trust God (Gen 40:6-23). Finally, when Joseph interpreted Pharaoh's dreams, he was rewarded with the second highest position in the land (Gen 41:41-42). Because of the famine, his family came to Egypt for food supplies and bowed before him (Gen 42:6). His dream came true because Joseph did not stop believing and trusting in God.
We need to continue to pursue our dreams, the ones that God has revealed to us, and trust Him to fulfill them just as He did for Joseph.
A word of caution, we need to be certain that our dreams are God's dreams, for He only answers requests that are in His will (1 Jn 5:14,15). Ps 37:4 God's desires will become your desires, if you truly delight in the Lord.