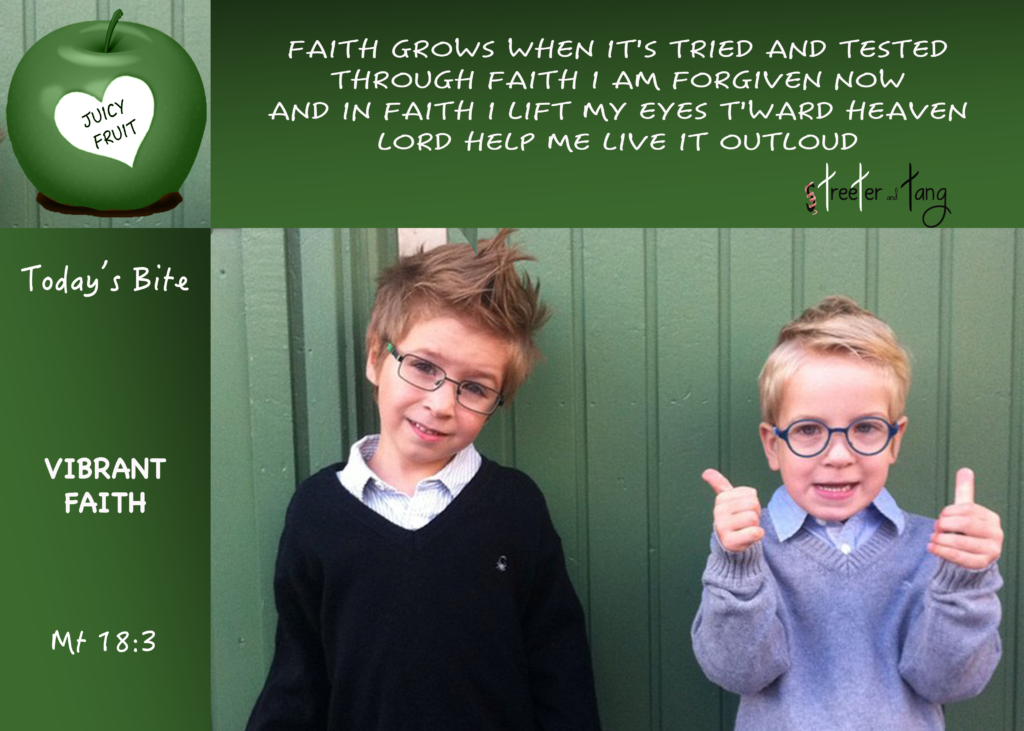 FAITH GROWS WHEN IT'S TRIED AND TESTED
THROUGH FAITH I AM FORGIVEN NOW
AND IN FAITH I LIFT MY EYES T'WARD HEAVEN
LORD HELP ME LIVE IT OUT LOUD (2X)

THERE ARE DAYS THAT I SIT AND WONDER
IF I TRULY CARRY YOUR CROSS
AND DO I CHERISH YOU LORD
AND WHAT MY FREEDOM COST
BY GRACE I HAVE THE GIFT OF FAITH
AND EYES THAT I MIGHT SEE
GRANT ME THE STRENGTH TO GROW IN LOVE
AND TO LIVE WHAT I BELIEVE FOR

CHORUS

THERE ARE TRIALS THAT WILL SURELY COME
MY SWEET LORD, YOUR MY HIDING PLACE
THERE'S NO STORM THAT CAN CRUSH ME NOW
WHEN I SEEK YOUR FACE
BY GRACE I HAVE THE GIFT OF FAITH
AND EYES THAT I MIGHT SEE
GRANT ME THE STRENGTH TO GROW IN LOVE
AND TO LIVE WHAT I BELIEVE, FOR

CHORUS
Jesus explains how a vibrant faith begins, "unless you change and become like little children, you will never enter the kingdom of heaven" (Mt 18:3). Little children believe whatever their parents teach them. They don't question the validity of what they have been told. Likewise, we need to believe Jesus' words and then act upon them. James describes the importance of exercising these truths, "do not merely listen to the word, and so deceive yourselves. Do what it says" (Jas 1:22). The word vibrant is a great adjective to describe a faith that pleases God. It is energetic, exciting, and full of enthusiasm; pulsating with life, vigor, or activity. Its word origin comes from the concept of vibrating, such as to produce a sound from a string. The more intense the vibration, the louder the sound. When we are in harmony with God, we truly produce a pleasant sound that is sweet to everybody's ears. 
Looking down the railroad tracks, by sight, we would believe that at some point the two rails come together, but by faith, we know that they remain parallel. This reality in the natural realm leads us to a powerful spiritual truth. Those who trust God, "live by faith, not by sight" (2 Co 5:7).
Abraham was one hundred years old (Gen 21:5) and was promised as many descendants as the stars (Gen 15:5). He faced the fact that his body was dead and so was Sarah's womb but trusted in God's promise, believing God had the power to accomplish this act (Ro 4:19,20,21).
Mary was told that she would conceive a son as a virgin (Lk 1:34,35). How can a virgin conceive a child? Only, if the One making the promise has the power to fulfill the pledge.
Faith is better than sight. Faith sees beyond observable reality and trusts in the word and work of God. Faith also leads to lasting joy because these individuals believe that God is in control of all circumstances and can work them out for their good (Ro 8:28).