VERSE 1

EACH DAY SEEMS TO WEIGH SO HEAVY
ON THIS FEEBLE HEART OF MINE
LORD IN THE MORNING WHEN I RISE UP
LET THY WORD RENEW MY MIND

COMMENTARY

I face a spiritual battle every day. The moment I wake up, I can choose to abide in Jesus and commit my day to Him and let His Word speak to me, or I can listen to the enemy fill my mind with anxieties.

CHORUS

 

LORD GIVE ME YOUR HOLY PEACE 
THOUGH STORMS RAGE OVER ME
IN YOUR STRENGTH I SHALL ABIDE
I SHALL ABIDE (2x) 

 

God's peace comes only when I place my trust in the sovereignty of God. Even in trials, James tells me to consider it joy Jas 1:2,3,4 because through these trials my character will be strengthened, thus I can be more useful to God in future assignments.

VERSE 2

 YOUR PERFECT LOVE CASTS OUT ALL FEAR FATHER 1 Jn 4:18
AND YOUR TRUTH IT SETS US FREE
THERE IS NOTHING THAT CAN STAND AGAINST YOU
YOU ARE ALL THE STRENGTH I NEED

When I placed my faith in Christ, He forgave all my sins Col 2:13, taking the punishment I deserved upon Himself.   I now walk in His love, knowing that there is no longer any condemnation for me Ro 8:1, thus freeing me from the enemies lies and fears.

CHORUS
 
VERSE 3

 YOU WELCOME ME WITH OPEN ARMS LORD
AND YOUR LOVE IT KNOWS NO BOUNDS
LET MY HEART BE FOREVER GRATEFUL
AND MY PRAISE BE A JOYFUL SOUND

Jesus tells me to come to Him and He will give me rest Mt 11:28. It does not matter how bad I was in the past, His love covers all sin, if I embrace His wonderful sacrifice.

CHORUS
 
BRIDGE

 

I SHALL ABIDE, OH_OH

 

The solution to living a blessed life is abiding in the One who loved me and gave Himself for me Gal 2:20.

CHORUS 2

EVERYDAY I LOOK TO YOU
AND WITH YOUR WORD I'M RENEWED
IN YOU I SHALL ABIDE
I SHALL ABIDE

LORD GIVE ME YOUR HOLY PEACE
THOUGH STORMS RAGE OVER ME
IN YOUR STRENGTH I SHALL ABIDE
I SHALL ABIDE, I SHALL ABIDE

Making Jesus my closest friend and reading and obeying His Word daily conquers all trials that come my way. Jesus gives me His strength when I abide in Him Jn 15:5.

When you think you're gonna drown Lk 8:24, know that He is the One who directed you into the storm Lk 8:22 and He is the One who will deliver you also, so "where is your faith?" Lk 8:25.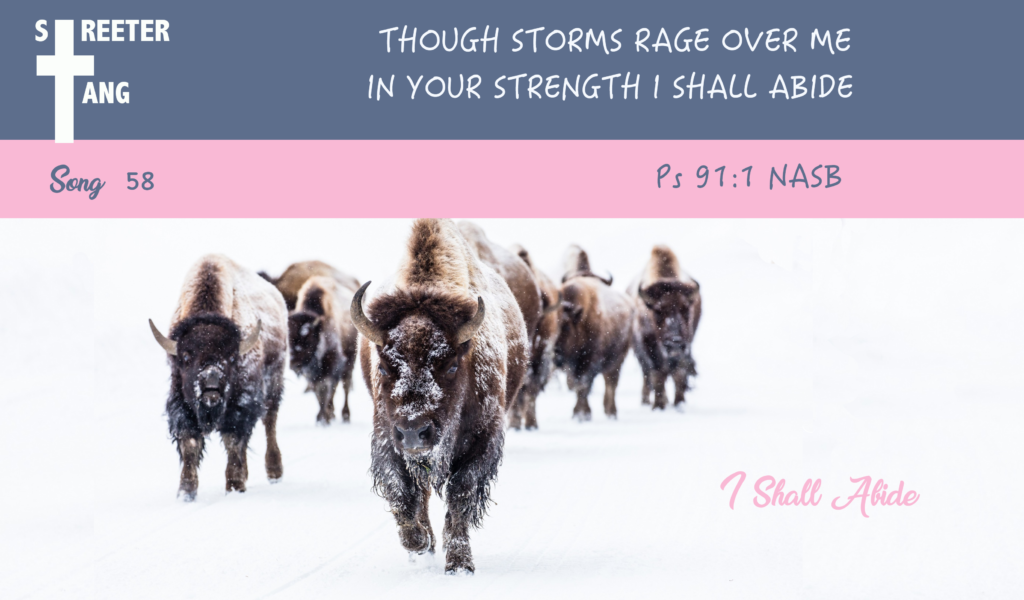 The bison survive harsh winters because God has provided them with a thick coat to keep them warm in the winter and then it is shed in the summer to keep them cool. God has provided His Word for us to survive our harsh storms of life. When we abide in God and his Word, we can overcome all obstacles.
SELAH
When I ask myself, "where is my faith?" I take heed to the words of the saints that knew Christ intimately.
Job said, "I've lost everything, only to gain a double portion."
David said, "I know the Lord is my shepherd, I lack nothing and fear no evil."
Paul said, "All things are dog dung compared to knowing Christ first hand."
The writer of Hebrews said, "My eyes are on Jesus," for he never lost sight of where he was headed.
Thomas said, "My Lord and my God."
And the twenty-four elders said, "Worthy are You, to receive glory and honor and power."