SLEEPY DREAMER LISTEN HERE
YOU'VE GOT NOTHING LEFT TO FEAR
DON'T RUN AWAY YOUR TEARS WILL STAY
ALONE IS SUCH AN EMPTY PLACE TO BE
WHEN THE SON SHINES, MY GOD SMILES
AND NOW I KNOW THE REASON WHY
SLEEPY DREAMER LOOK AND SEE
IF THERE'S ROOM ENOUGH FOR ME
DON'T HESITATE WE MUSTN'T WAIT
TOGETHER'S SUCH A LOVELY WAY TO BE
CHORUS
SLEEPY DREAMER WON'T YOU RISE
WIPE THOSE CLOUDS FROM YOUR SLEEPY EYES
BREAK ALL CONTROL JUST FREE YOUR SOUL
LET IT FILL WITH PRAISES SO YOU CAN FLY
BRIDGE
SHAKE OFF YOUR SLUMBER
THERE IS NO OTHER
WHO CAN CHANGE
DARKNESS INTO LIGHT
CHORUS (2X)
THE REASON WHY
Verse 1: Sleepy Dreamer typifies many today. They may have suffered tribulation, or not been able to cope with life's pressures, so they retreat, run away from reality and hope. Inwardly, they are lonely, fearful of facing life, yet wanting to be loved and accepted and that is exactly what God wants them to experience.
Chorus: When Jesus breaks through their stony hearts Eze 36:26, God smiles for He loves his creation Lk 15:20; 2 Pe 3:9.
Verse 2: God pleads that they would make time for him. He made us for his pleasure Col 1:16, to be together forever Jn 3:16; Rev 21:2-4.
Verse 3: God pleads for them to wake up and seek him. He implores them to wipe away their spiritual blindness Lk 15:17. Break Satan's chains that have bound them and experience the life God wants to give them.
Bridge: Come to your senses, only Jesus can enlighten hearts and give meaning and purpose to life Col 1:13.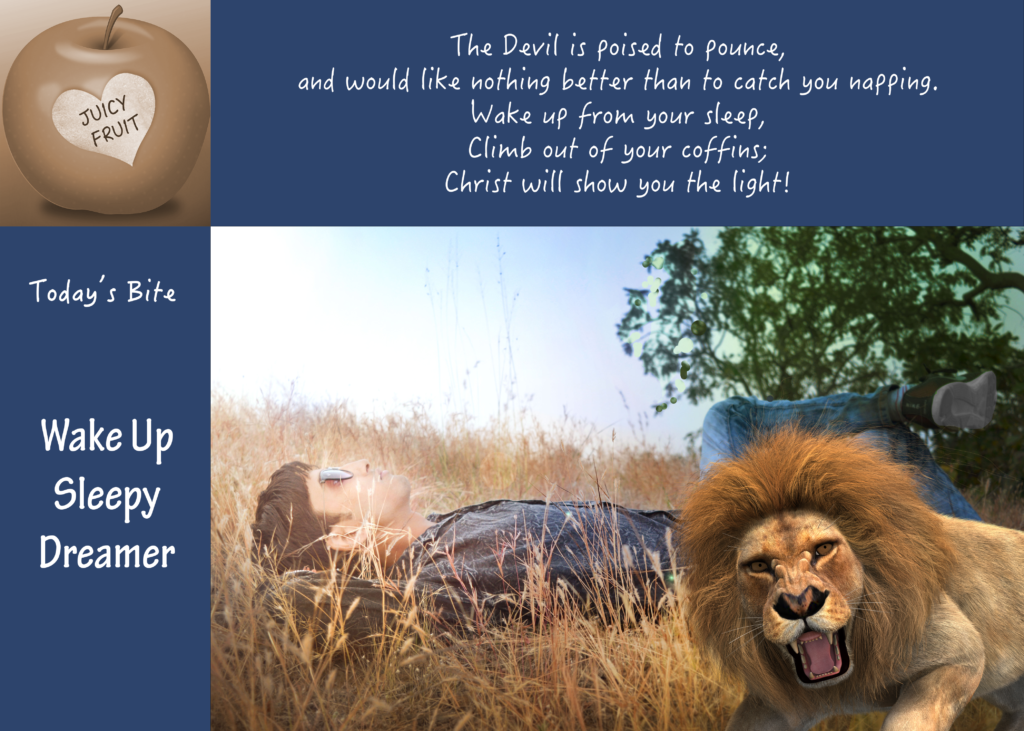 Bible Verse: Eph 5:14
1. Awake, sleeper
2. arise from the dead,
3. Christ will shine on you."
Interpretation: Gospel invitation.
1. Recognize you are dead in sins separated from God's life
2. Obey the Gospel by receiving Christ, to live and serve Him in joy.
3. When Christ saves, His light gives new understanding and purpose for living a holy life.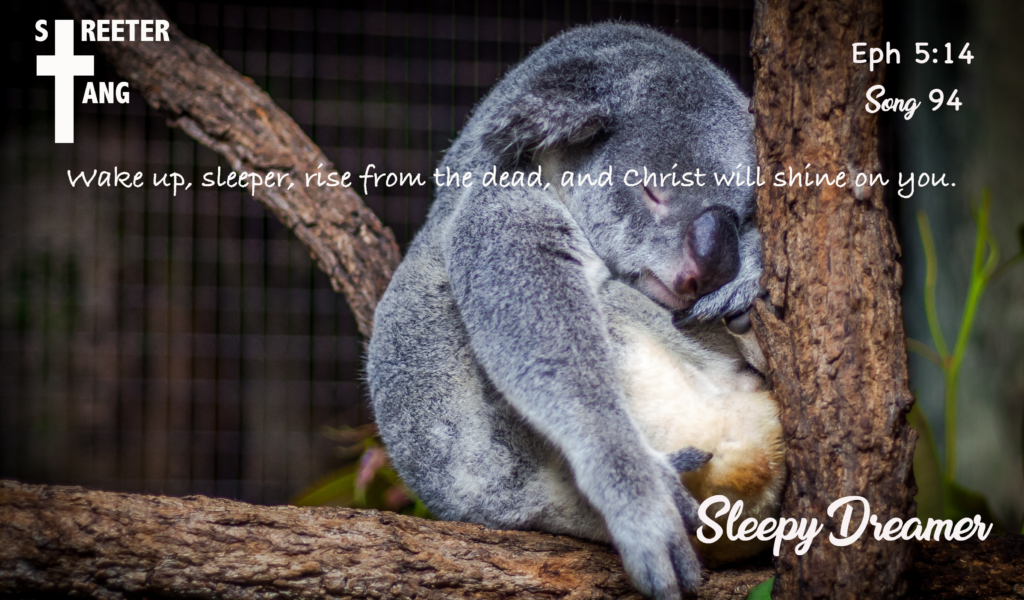 Eph 5:14
My sister Jeannie had sent me a cheque for $514.00. I'm not sure why, I think it was money left over in an account my parents had. But I felt the amount had more significance than a dollar amount, so I prayed and asked God if 514 meant something more. I searched all the passages in the Bible, and two of them spoke to my heart, Mt 5:14 and Eph 5:14.
"You are the light of the world. A town built on a hill cannot be hidden.
"Wake up, sleeper, rise from the dead, and Christ will shine on you."
That evening at Gordon's house church, a twenty-year-old, during the praise time shouted out a prophetic message.  I have always been caution in this area as Scripture says to test all prophecies. 
Do not treat prophecies with contempt 21but test them all; hold on to what is good. 1 Th 5:20,21
To my shock, it was Eph 5:14. I believe God was speaking to our Bible study youth group. Rachael had started a youth group study at our home, in which Julia and I supplied supper every week. The first few months were amazing as some of the youths had real breakthroughs in personal areas of their lives. However, we noticed some of them were continuing to attend bars on the weekend, and Rachael and I worried about their double lifestyles. Shortly after this prophecy, our Bible study disbanded, as these young people did not like the teaching they were receiving.
The prophetic message was to tell the youth to wake up from their sleep and stop playing church and start living a truly Christian life without seeking the world's approval in bars from worldly people. Unfortunately, they did not want to listen, at least at this point.