I DON'T KNOW, WHY I DIDN'T GET THE CHANCE
TO HOLD YOU AND SAY HELLO, I JUST DON'T KNOW
I DON'T KNOW, WHY I NEVER GOT THE CHANCE
TO WATCH YOU BLOOM AND GROW, WELL I JUST DON'T KNOW

BUT FOR YOUR GLORY MY GOD I WILL TRUST YOU IN ALL THINGS
YES FOR YOUR GLORY MY GOD THIS HEART OF MINE WILL SING
I DON'T KNOW, WHY I NEVER GOT TO TELL YOU STORIES
OF LONG AGO, I JUST DON'T KNOW
I DON'T KNOW, WHY I NEVER GOT THE CHANCE
TO ROCK YOU TO AND FRO, I JUST DON'T KNOW

BUT FOR YOUR GLORY MY GOD I WILL TRUST YOU IN ALL THINGS
YES FOR YOUR GLORY MY GOD THIS HEART OF MINE WILL SING

I DON'T KNOW, WHY YOU NEVER SAW THE SUN
OR FELT THE WARM WIND BLOW, I JUST DON'T KNOW
AND I DON'T KNOW WHY I HAD TO LOSE YOU LIKE I DID
AND FEEL THIS SORROW, I JUST DON'T KNOW

BUT FOR YOUR GLORY MY GOD I WILL TRUST YOU IN ALL THINGS
YES FOR YOUR GLORY MY GOD THIS HEART OF MINE WILL SING
YES FOR YOUR GLORY MY GOD I WILL TRUST YOU IN ALL THINGS
FOR YOUR GLORY MY GOD THIS HEART OF MINE WILL SING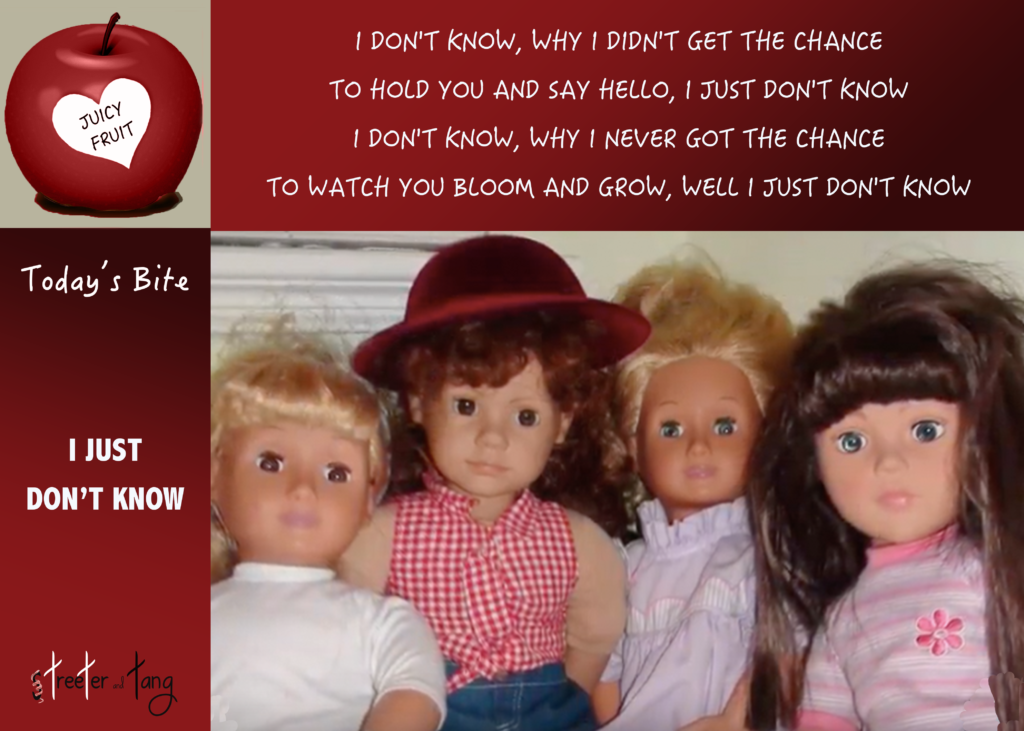 What encouragement can a believer give a person that has just experienced a non-fixable life trial? An irreversible life trial could be the loss of a loved one, a permanent medical condition, loss of a limb, sight, hearing, speech, mental faculty and so on. The answer is found in Isa 40:1 in which God told Isaiah to "comfort His people." In the previous chapter, Hezekiah was judged by God for exposing Judah's wealth to the Babylonians Isa 39:2,6. Isaiah informed Hezekiah that some of his descendants would be exiled and be in bondage to the Babylonians Isa 39:7. Isaiah must have wondered, what words he could use to comfort these Jewish parents Isa 40:6, as this judgment would be a non-fixable future event. 
The good news is discovered in Isaiah 40. God declared His power Isa 40:28,29 and sovereignty Isa 40:10, His love for them Isa 40:11, and His ability to work out all things for the believers' good Ro 8:28. By the people trusting God Isa 40:31, He would complete the good work that He began in them Php 1:6. 
You might have believed, your irreversible life trial had ended any hope of future service to God. Wrong! God was aware of this event before you were born Eph 2:10 so this temporary setback could be the zenith rather than the base, of a mighty ministry. The greater the trial, the greater the glory! Just keep your eyes fixed on Jesus Heb 12:2 for he will produce His fruit through you Jn 15:5.
J. Stuart Holden was an English pastor in the early 1900's in London, England. He and his wife had two tickets for the maiden voyage of the Titanic, as Holden was to attend a six-day conference in New York. However, his wife became ill, a week before the excursion and Holden then decided to stay home to take care of his sick wife. He returned the tickets the day before the ship's departure. After the sinking of the vessel, Holden framed the two envelops that the tickets came with and displayed it above his fireplace.
One day, an acquaintance visited Holden, and as was his habit, Holden shared his Titanic story and praised God for the testimony of the love of God. The visitor agreed with his marvelous outcome but informed Holden, it would be better to praise God for the testimony of the sovereignty of God. A fellow pastor from Glasgow, John Harper was on the Titanic and lost his life while sharing the gospel, as the ship was sinking and while drifting in the frigid waters before dying. Did God love Holden more than Harper? No. Harper glorified God through his death whereas Holden was glorying God with his life.
So, when you are working through your trial, don't believe God loves you any less than someone who is experiencing temporal blessings. Just as we all have unique fingerprints, God has ordained unique plans. True success is accepting and being faithful to whatever God allows in your life.