HEAR ME
I'VE GOT DREAMS AND I'VE GOT THOUGHTS
AND I'VE GOT A LIFE TO SHARE
I'VE GOT A HEART THAT WANTS TO LOVE
AND A HOPE THAT SOMEONE CARES
HEAR ME,
HEAR ME,
I'M A VOICE THAT'S CRYING
HEAR ME
AH PLEASE HEAR ME
REPEAT VERSE
CHORUS
BREAK
REPEAT VERSE
CHORUS
HEAR ME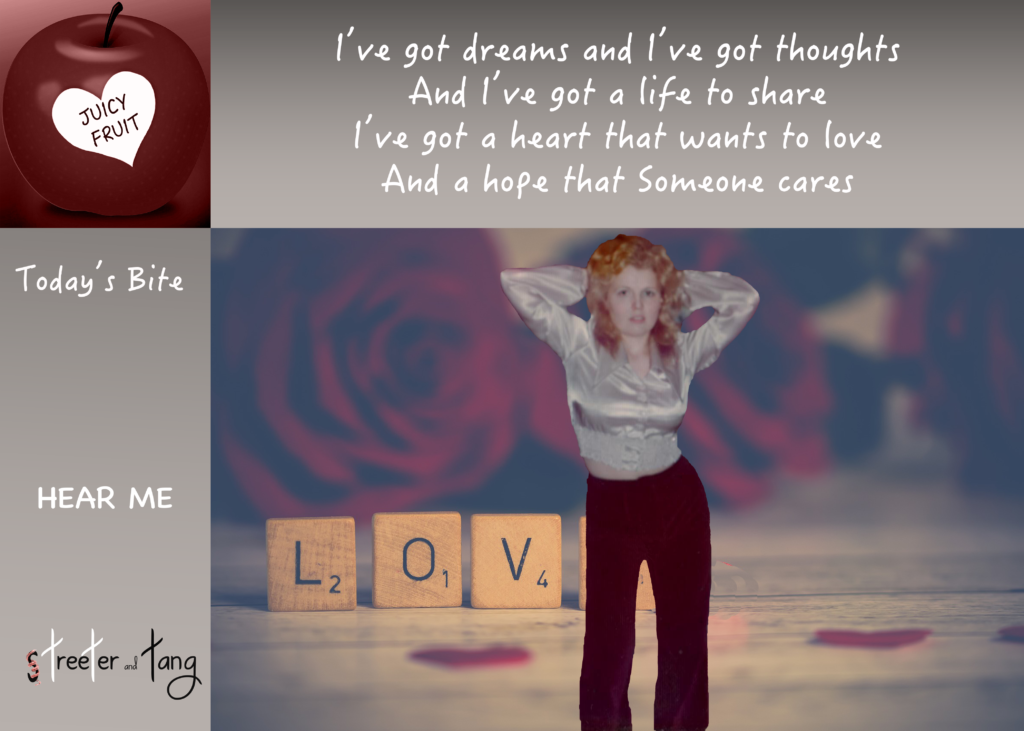 Every person has a need to be known Gal 4:9, loved Ro 8:38,39 and  to be valued Jn 1:12. God is the only One that can meet these needs and He calls out to the world, "Whoever has ears, let them hear" Mt 11:15.
"Then you will call on me and come and pray to me, and I will listen to you. You will seek me and find me when you seek me with all your heart. I will be found by you," declares the Lord, "and will bring you back from captivity. Jer 29:12,13,14.
This original speech was to rebellious Israel, held in physical captivity by the Babylonians. However, it is applicable to all today, who are in spiritual bondage to this world, and have rebelled against acknowledging the goodness of God Ps 119:68. If you are in need of being known, loved and valued, repent and turn to Jesus, receive the One who cares for you 1 Pe 5:7.