Sacrifice, Sacrifice, Sacrifice


Verse 1
OUR EYES HAVE SEEN
OUR HANDS HAVE TOUCHED
THE WORD OF LIFE
THE FINAL SACRIFICE
COME TO KNOW HIM
WALK IN HIS LIGHT
HES THE BOND
WE HAVE WITH EACH OTHER
Gnostics were teaching that Jesus did not come in the flesh (1 Jn 4:2,3) thus denying Jesus' Incarnation. The Apostle John refutes this teaching by saying we (the apostles) have seen Jesus with our eyes and our hands have touched Him. Jesus did come in the flesh and He is the living Word, the final sacrifice for all sins.
John encourages seekers to come to faith in Christ and walk righteously as Jesus is the bond that binds His body together.
Chorus
HOW GREAT IS YOUR LOVE FATHER
SENDING JESUS THROUGH BLOOD AND WATER
PLACED OUR SINS ON YOUR HOLY ONE
GAVE US LIFE THROUGH YOUR SON
What love has the Father for us, that He would punish His only Son to grant us eternal life.
The Father sent Jesus to forgive our sins (through His shed blood Eph 1:7) and then renew us to eternal life (through His living water Jn 4:14; Rev 22:17).
Verse 2
HOLY SPIRIT
ALIVE IN US
RENEW OUR MINDS
WITH THE OIL OF JOY
COME AND GUIDE US
WORK IN TRUTH
YOU'RE THE ONE
WHO HEALS ALL OUR WOUNDS


The Holy Spirit will renew our minds Ro 12:2, and will guide us into all truth Jn 16:13. All hurts from our past life, He will heal these wounds and replace our pain with His love and joy Gal 5:22,23.
Chorus
Bridge:
THIS IS LOVE FOR GOD, TO OBEY HIS COMMANDS
OH AND THIS IS THE VICTORY THAT OVERCOMES,
WHEN ITS ON FAITH WE STAND

We can show our gratitude and love for God by our obedience to His commands Jn 14:15. There is victory in living a life of faith in Jesus Christ 1 Jn 5:4,5.
Repeat Verse 1
Chorus 2x
Sending Jesus through blood and water = Death and Resurrection
Blood = Death Gen 9:6; Lev 17:11 / Forgiveness Heb 9:22
Water = Resurrection Ro 6:4 / Eternal Life Jn 4:14; Rev 22:17
BIBLE PROPHESIES
FULFILLED by JESUS
Predicted
PROPHECY
Fulfilled
Mic 5:2
1. He was Born in Bethlehem
Mt 2:1
2 "But you, Bethlehem Ephrathah, though you are small among the clans of Judah, out of you will come for me one who will be ruler over Israel, whose origins are from of old, from ancient times. 1After Jesus was born in Bethlehem in Judea, during the time of King Herod, Magi from the east came to Jerusalem…
Ps 41:9
2. He was Betrayed by a Friend
Jn 13:25,26
9 Even my close friend, whom I trusted, he who shared my bread, have lifted up his heel against me. … "Lord, who is it?" 26 Jesus answered, "It is the one to whom I will give this piece of bread when I have dipped it in the dish." Then, dipping the piece of bread, he gave it to Judas Iscariot,
Zec 11:12,13
3. He was Betrayed for Thirty Pieces of Silver
Mt 26:14,15
"Throw it to the potter"—the handsome price at which they priced me! So I took the thirty pieces of silver and threw them into the house of the Lord to the potter. 14 Then one of the Twelve—the one called Judas Iscariot—went to the chief priests 15 and asked, "What are you willing to give me if I hand him over to you?" So they counted out for him thirty silver coins.
Ps 22:18
4. They Casted Lots for His Garments
Jn 19:23,24
18 They divide my garments among them and cast lots for my clothing. 23 When the soldiers crucified Jesus, they took his clothes, dividing them into four shares, one for each of them, with the undergarment remaining. This garment was seamless, woven in one piece from top to bottom. 24 "Let's not tear it," they said to one another. "Let's decide by lot who will get it."
Isa 50:6
5. He was Beaten and Spat Upon
Mt 27:26,30
6 I offered my back to those who beat me, my cheeks to those who pulled out my beard; I did not hide my face from mocking and spitting. 26 Then he released Barabbas to them. But he had Jesus flogged, and handed him over to be crucified…30 They spit on him, and took the staff and struck him on the head again and again.
Ps 69:21
6. He was Given Vinegar in Thirst
Mt 27:34,48
21 They put gall in my food and gave me vinegar for my thirst. 34 There they offered Jesus wine to drink, mixed with gall; but after tasting it, he refused to drink it. 48 Immediately one of them ran and got a sponge. He filled it with wine vinegar, put it on a stick, and offered it to Jesus to drink.
Ps 34:20
7. Not One of his Bones was Broken
Jn 19:33
20 he protects all his bones, not one of them will be broken. 33 But when they came to Jesus and found that he was already dead, they did not break his legs.
Zec 12:10
8. He was Pierced
Jn 19:34,37
10They will look on me, the one they have pierced… 34 Instead, one of the soldiers pierced Jesus' side with a spear, bringing a sudden flow of blood and water.
Isa 53:9
9. He was Buried in a Rich Man's Tomb
Mt 27:57
9 He was assigned a grave with the wicked, and with the rich in his death… 57 As evening approached, there came a rich man from Arimathea, named Joseph, who had himself become a disciple of Jesus. 58 Going to Pilate, he asked for Jesus' body, and Pilate ordered that it be given to him. 59 Joseph took the body, wrapped it in a clean linen cloth, 60 and placed it in his own new tomb
Isa 53:11
10. He was Resurrected from the Dead
Mt 28:5,6
11 After the suffering of his soul, he will see the light of life and be satisfied… 5 The angel said to the women, "Do not be afraid, for I know that you are looking for Jesus, who was crucified. 6 He is not here; he has risen, just as he said. Come and see the place where he lay.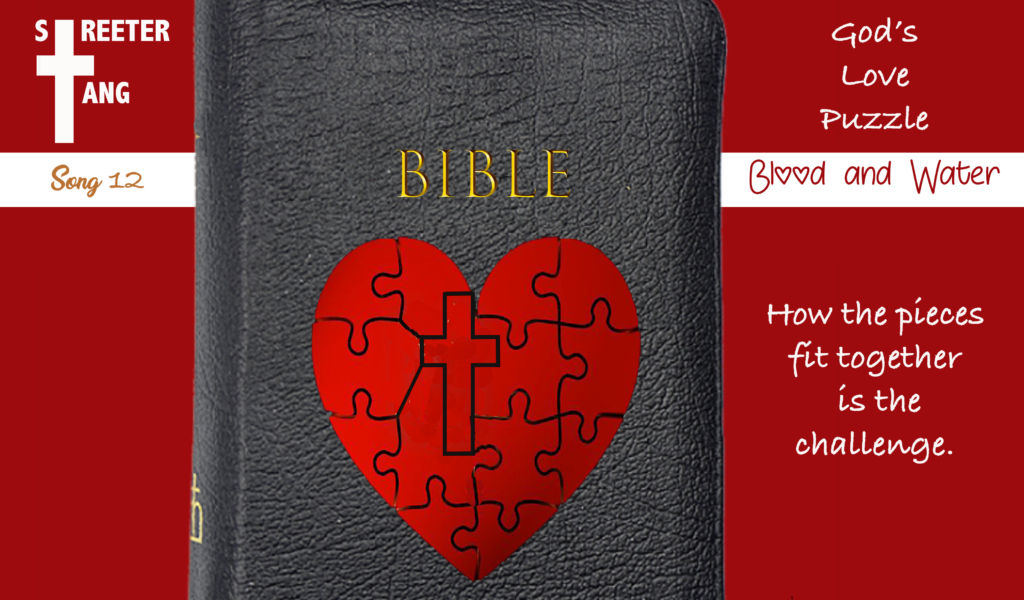 GOD'S LOVE PUZZLE
No one buys a puzzle to find out what the picture will look like because the picture is already on the box cover. People enjoy completing puzzles because of the challenge to fit the right pieces together. God's Bible is like the picture on the cover of a puzzle and the verses are the pieces. He wants everyone to discover how much He loves them and has included the entire "Love Story" within the pages. That's the easy part, like the border of a puzzle. However, the more intriguing work is discovering God's character and how to please Him once we have fallen in love with Him. The secret things belong to God, but the things He allows us to discover belong to us (Dt 29:29).
BLOOD OF CHRIST (Symbolic meanings)
I become holy/righteous by washing/applying the water/blood of Christ through believing the word/Gospel message.
To make her holy, cleansing her by the washing with water through the word. Eph 5:26
Believing the word/Gospel message cleanses/forgives me of all my sins.
You are already clean because of the word I have spoken to you. Jn 15:3
Sprinkle:
I will sprinkle clean water on you, and you will be clean; I will cleanse you from all your impurities and from all your idols. Eze 36:25
Only a few drops of Jesus' blood is necessary to cleanse/forgive me of my sins for the full measure of His blood was the propitiation for the whole world's sin 1 Jn 2:2.
According to the foreknowledge of God the Father, by the sanctifying work of the Spirit, to obey Jesus Christ and be sprinkled with His blood: May grace and peace be yours in the fullest measure. 1 Pe 1:2
Clean water:
People would wash their bodies with clean water to remove the dirt that they had gathered throughout their day's travel.
let us draw near to God with a sincere heart and with the full assurance that faith brings, having our hearts sprinkled to cleanse us from a guilty conscience and having our bodies washed with pure water. Heb 10:22
Clean water is symbolic of Jesus' blood that cleanses/forgives me of all my impurities/sins.
But if we walk in the light, as he is in the light, we have fellowship with one another, and the blood of Jesus, his Son, purifies us from all sin. 1 Jn 1:7
Jesus' blood purifies/forgives me from all sin.
For the life of a creature is in the blood, and I have given it to you to make atonement for yourselves on the altar; it is the blood that makes atonement for one's life .Lev 17:11
Only Christ's blood can save and give me a new/eternal life.
The blood of animals could only cover sin, never take away sin Heb 10:4,10,11,12. 
In fact, the law requires that nearly everything be cleansed with blood, and without the shedding of blood there is no forgiveness. Heb 9:22
Jesus' blood cleanses/forgives me.
For my flesh is real food and my blood is real drink. Whoever eats my flesh and drinks my blood remains in me, and I in them. Jn 6:55,56
(Intimate fellowship) eats my flesh/bread = feeds on the Word of God. 
drinks my blood = believes Jesus' sacrifice forgave my sins.
These are they who have come out of the great tribulation; they have washed their robes and made them white in the blood of the Lamb. Rev 7:14
Righteousness comes from the blood of Christ 2 Co 5:21.
A FINAL THOUGHT
Jesus began His ministry by turning water into wine Jn 2:9. The water symbolizing natural man who can become saved man through the blood of Christ symbolized by the wine Lk 22:20. 
Jesus ended His ministry by having blood and water come out of His side Jn 19:34. Just as Eve came out of the side of Adam Gen 2:22, God birthed Jesus' bride out of His side. The water representing unredeemed man Jn 3:4,5,6 while the blood paying for His redemption to become the Bride of Christ Eph 1:7.