Isa 12 WELLS OF SALVATION
Tuesday, December 1, 2020.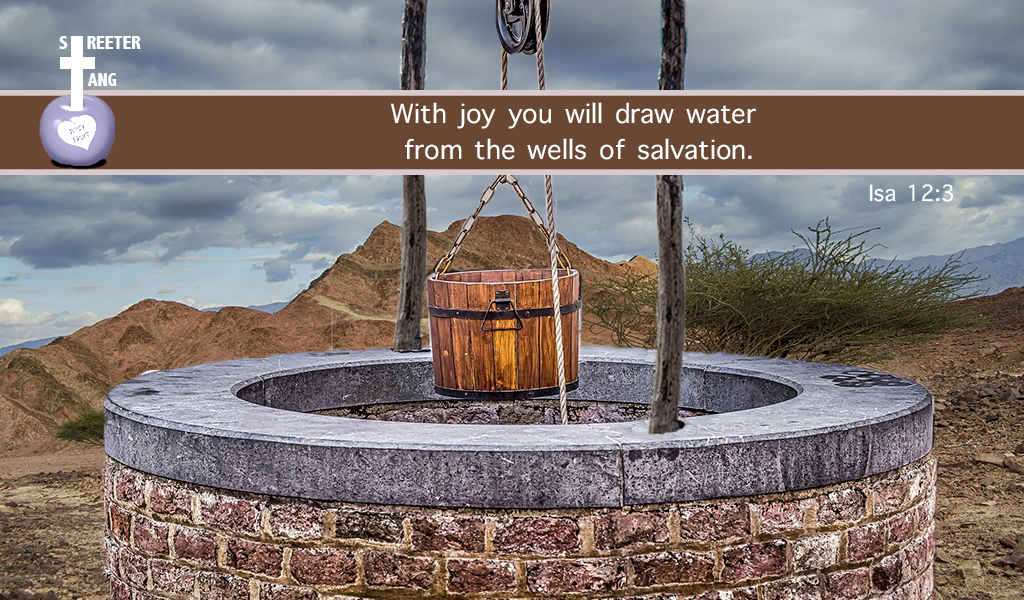 With joy you will draw water from the wells of salvation: a well in the desert meant life, as man cannot survive more than three days without water. Spiritually, Jesus is our well of salvation Jn 4:14 providing us with spiritual life and refreshing our souls. He brings purpose to meaninglessness, which produces joy in our hearts. Jesus is the only well to eternal life Jn 14:6—one water table but many wells to drink from. Living water that will flow constantly from within us Jn 7:38,39.
We must draw the water, but the Holy Spirit will be our Helper. He is committed to lead us into all truth Jn 16:13 and conform us into the image of Christ Ro 8:29; 2 Co 3:18.
---
.
Isa 11 THE KNOWLEDGE OF GOD
Monday, November 30, 2020.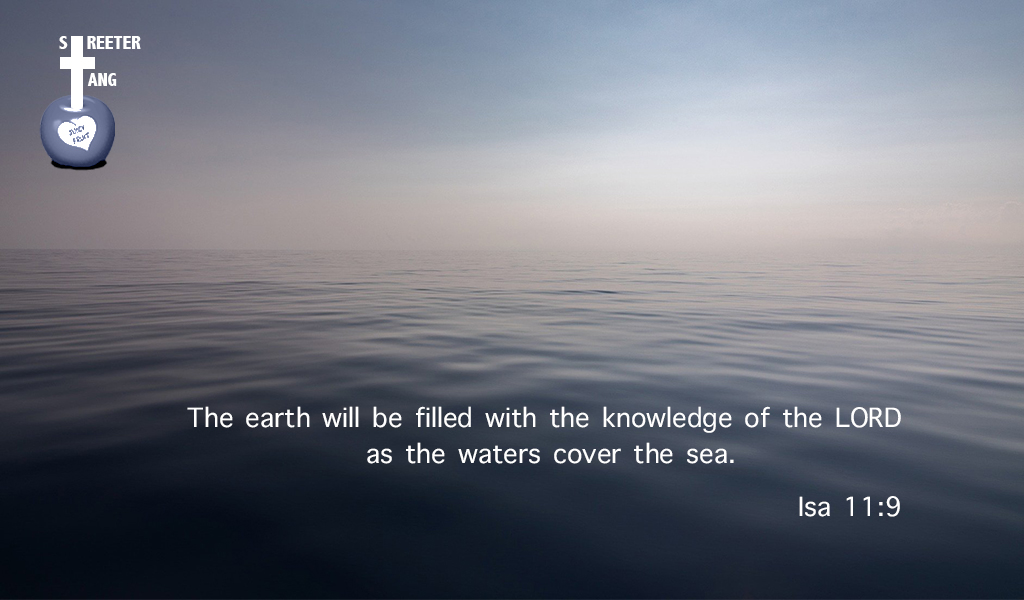 Isa 11:9
They will neither harm nor destroy on all my holy mountain: in the Millennium, when Christ is ruling the curse will be reversed. Animals will no longer kill for food as they will become herbivorous animals, eating only plants Isa 11:7. Infants will not be in any danger when playing around snakes Isa 11:8.
for the earth will be filled with the knowledge of the Lord as the waters cover the sea: the reason why there is an abundance of harmony is because God's rules are understood and followed. People live out God's will to love one another as they love themselves Mk 12:31.
---
.
Isa 10 STAND FIRM
Sunday, November 29, 2020.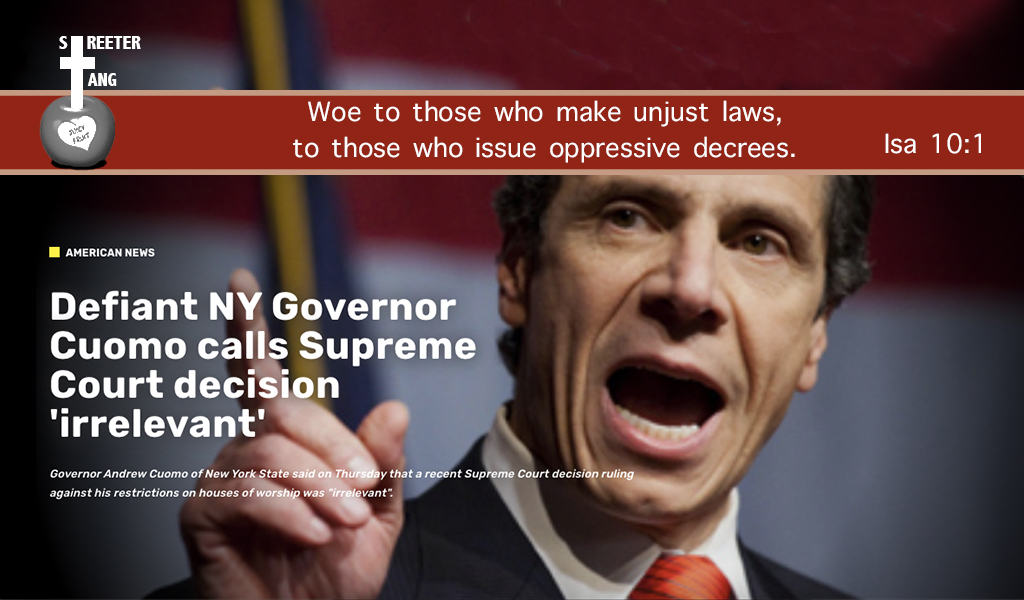 Isa 10:1
Woe to those who make unjust laws: Paul tells us that we are not fighting against human beings but against the wicked spiritual forces in the heavenly world Eph 6:12. Satan wants to destroy God's Church but God can nullify anything Satan plots.
to those who issue oppressive decrees: Satan may issue Co-Vid bans against the Church gathering together but God in the end will bring justice to His people Isa 10:33. We are to stand firm against the enemy Eph 6:10,11.
---
.
Isa 9 JESUS PROPHESIED
Saturday, November 28, 2020.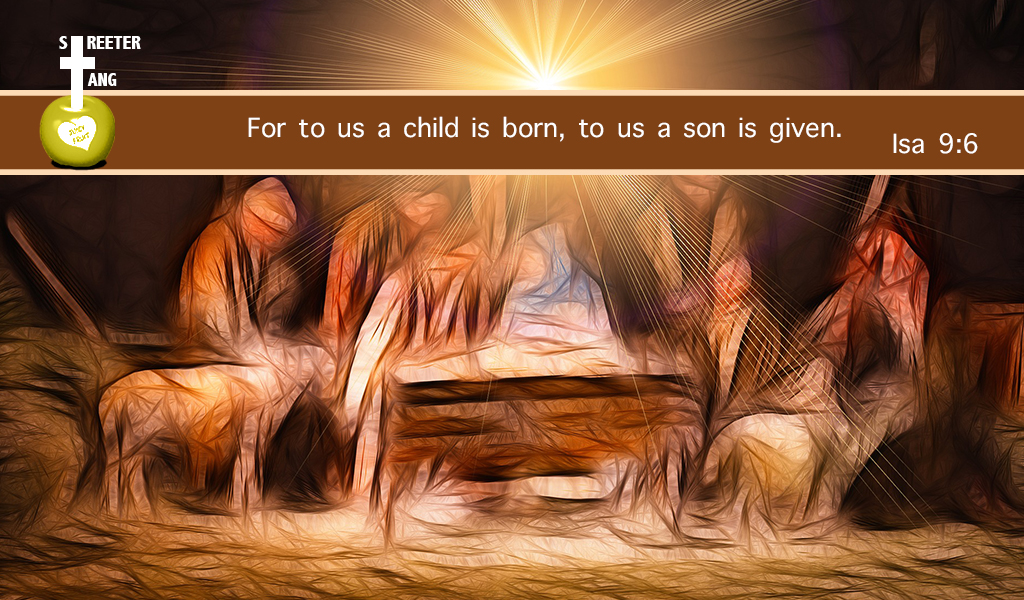 For to us a child is born, to us a son is given: In God's grace He prophesied that the Jewish nation would receive a Son from the line of David which was fulfilled in Mt 2:1,2.
and the government will be on his shoulders: Jesus would rule in the Millennium and forever Lk 1:32,33.

And he will be called Wonderful Counselor, Mighty God, Everlasting Father, Prince of Peace: the names reflect Jesus' character and the titles given to Him: He is the wisdom of God 1 Co 1:30 and therefore is truly Wonderful Counselor; He is the Mighty God who created the universe Col 1:16,17; He is the Everlasting Father, the Father of Eternity since He did create everything Jn 1:1,2,3; He is also the Prince of Peace because He will bring everlasting peace to those that belong to Him Lk 2:14.


---
.
Isa 8 FEAR OF THE LORD
Friday, November 27, 2020.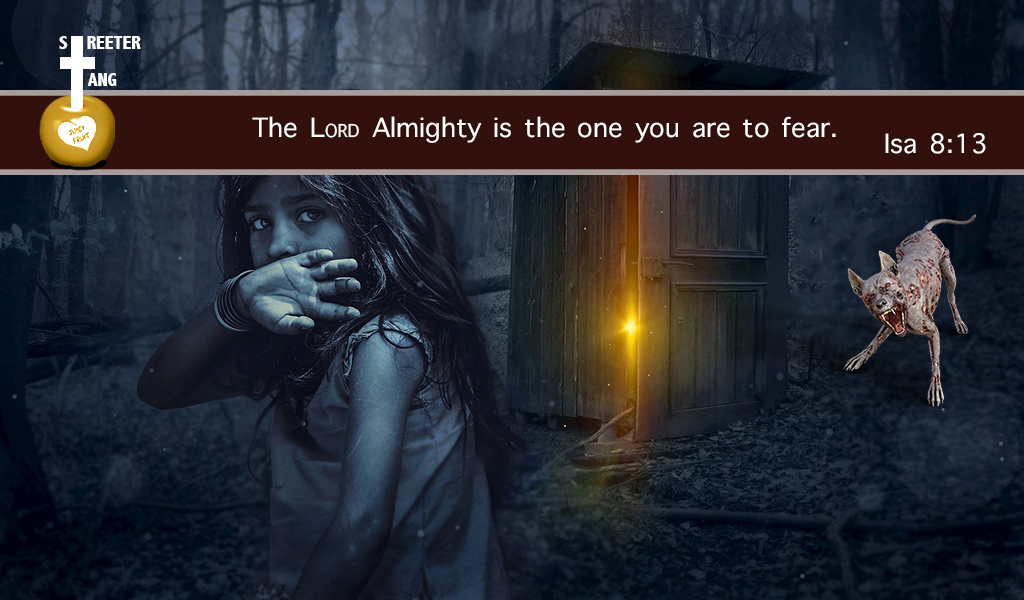 The Lord Almighty is the one you are to regard as holy: Judah was fearing their enemies and all kinds of conspiracies Isa 8:12 but God reminded them that He is holy, He is the all-powerful one and sovereign over the entire universe.

he is the one you are to fear, he is the one you are to dread: Satan and man are not to be feared but God, for He has the power to judge and destroy Mt 10:28.

Presently, many fear the evil and fraud in the US election but God says not to dread any kind of conspiracy but to fear Him, for your future is determined by God not Satan and his minions who are controlling the narrative.

---
.
Isa 7 SIGN
Thursday, November 26, 2020.
Therefore the Lord himself will give you a sign: Judah, including king Ahaz feared the threat from the kings of Israel and Aram, even though Isaiah had prophesied that it would not take place Isa 7:7. Instead of trusting the Lord, Ahaz lost faith in God to deliver them so the Lord told him to ask for a sign Isa 7:10,11. He refused, saying he would not put the Lord to the test but it was because he didn't believe God. Ahaz would trust in Assyria to deliver his people 2 Ch 28:16.
The virgin will conceive and give birth to a son, and will call him Immanuel: this was a double fulfillment prophecy. In the near future, a child would be born to a young girl, who would name the child Immanuel meaning "God with us," to remind the house of David that this sign would prove He would deliver Judah soon (when the baby was a toddler eating curds and honey before he knew right from wrong). But also God was giving the house of David hope for the future when God would give His son to be born of a virgin to deliver His people from their sins.
---
.
Isa 6 GOD'S CALLING
Wednesday, November 25, 2020.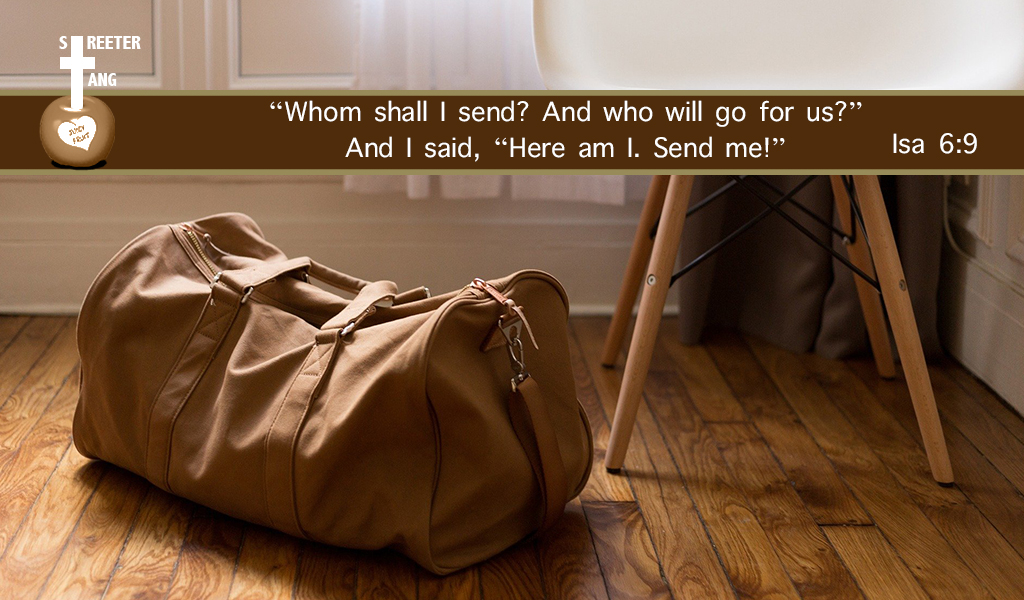 Then I heard the voice of the Lord saying, "Whom shall I send? And who will go for us?": the Lord is always looking for servants to send to do His will and further His program. The Spirit manifests in each believer for the benefit of the entire body 1 Co 12:7 but we must be willing to be used.

And I said, "Here am I. Send me!": this is the response that the Lord is looking for. Soldiers realize that their commitment is to their commanding officer and not to their own interests 2 Ti 2:4. Similarly, we are God's possession 1 Pe 2:9 and need to be focused on doing His will not our own.
---
.
Isa 5 GOOD AND EVIL
Tuesday, November 24, 2020.
Woe to those who call evil good and good evil: God says that people will call evil good and good evil. Killing a baby is good, as a mother should have the right to her own body, even after the baby is delivered Ex 20:13. Looting is justified because people are angry at our slow moving justice system Ro 13:2. It is good to get rid of society's enforcement system and replace it with counsellors for man is basically good Ro 3:12.
who put darkness for light and light for darkness: let's get rid of evil Christianity, because they do not tolerate abortion, gay marriages, transgender rights and child pornography Eph 5:11,12,13.
who put bitter for sweet and sweet for bitter: people that work hard and have become rich need to give their fair share to those of us who have nothing and don't want to be part of the corrupt capitalism workforce 2 Th 3:10.
---
.
Isa 4 BRANCH OF THE LORD
Monday, November 23, 2020.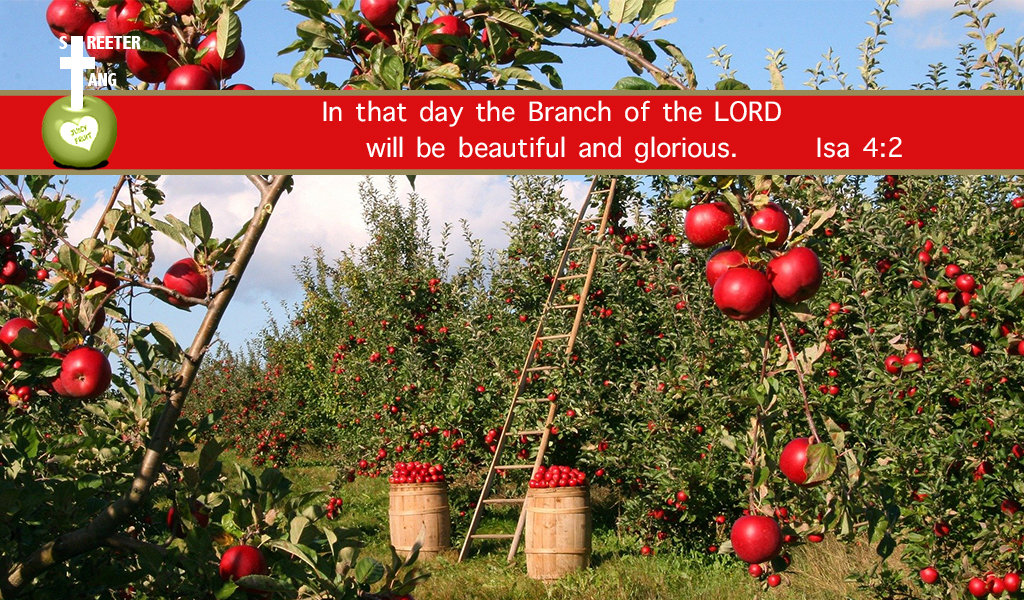 In that day the Branch of the Lord will be beautiful and glorious: the Branch of the Lord represents Jesus who will spring forth from the line of Israel Isa 11:1 to save His people Mt 1:21. In the nation's present depressing circumstances the prophecy of the Messiah is seen as beautiful and glorious.

and the fruit of the land will be the pride and glory of the survivors in Israel: the future coming of Jesus will encourage the people to produce fruit while they wait for their hope to come.
---
.
Isa 3 WICKED REPAID
Sunday, November 22, 2020.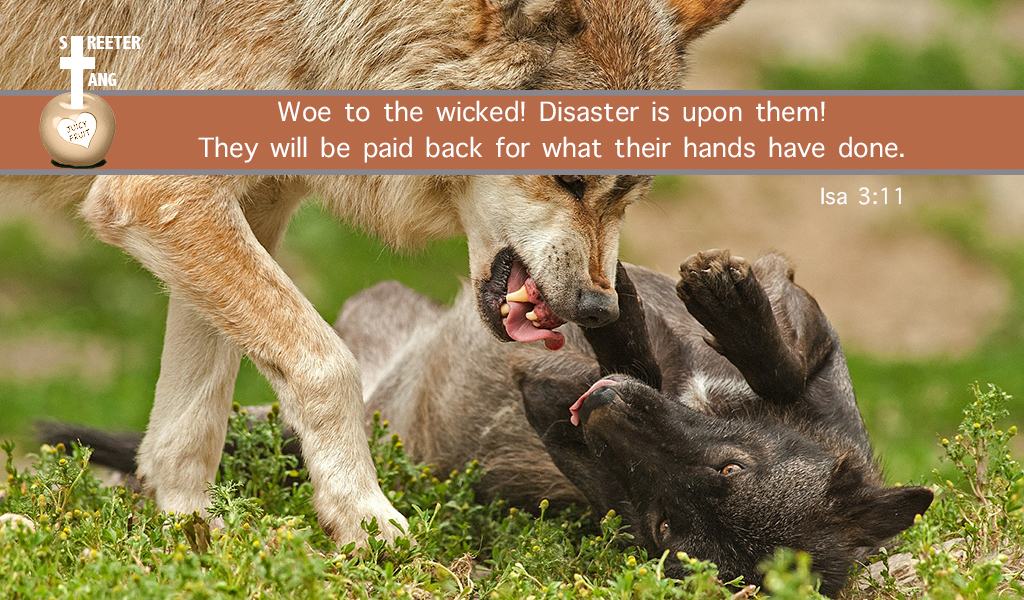 Woe to the wicked! Disaster is upon them: the Bible teaches that all will reap what they sow Gal 6:7. Sometimes God's judgment isn't immediate causing the wicked to become emboldened, falsely believing that there won't be any consequences for their evil actions Ps 10:11.
They will be paid back for what their hands have done: It is only a matter of God's timing 1 Ti 5:24, but all will be repaid for what evil they have done Ro 2:6.
---
.
Isa 2 MILLENNIAL RULE
Saturday, November 21, 2020.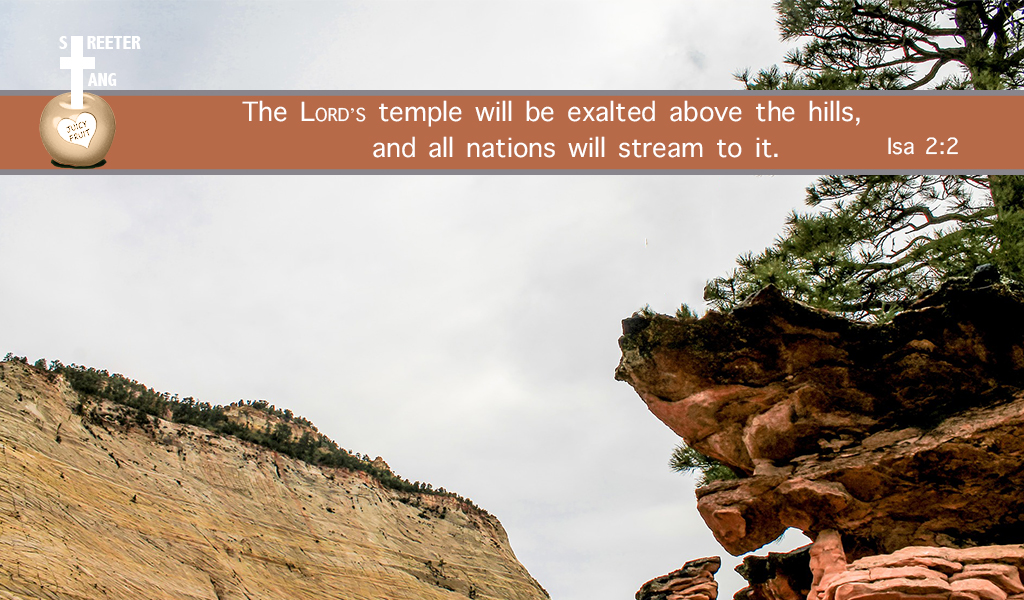 In the last days: when Jesus returns, He will set up His millennial kingdom and establish God's rule on earth Zech 14:16.
the mountain of the Lord's temple will be established as the highest of the mountains; it will be exalted above the hills, and all nations will stream to it: Jesus will install God's temple and the nations will go up to Jerusalem to worship and if they fail to, God will stop rainfall, causing droughts Zech 14:17.
It is a wonderful gift to know the Lord as your desire is to serve and worship Him because you love Him. However, in the Millennium there will be people who don't have a relationship with the Lord and will only serve Him for survival reasons.
---
.
Isa 1 FORGIVENESS
Friday, November 20, 2020.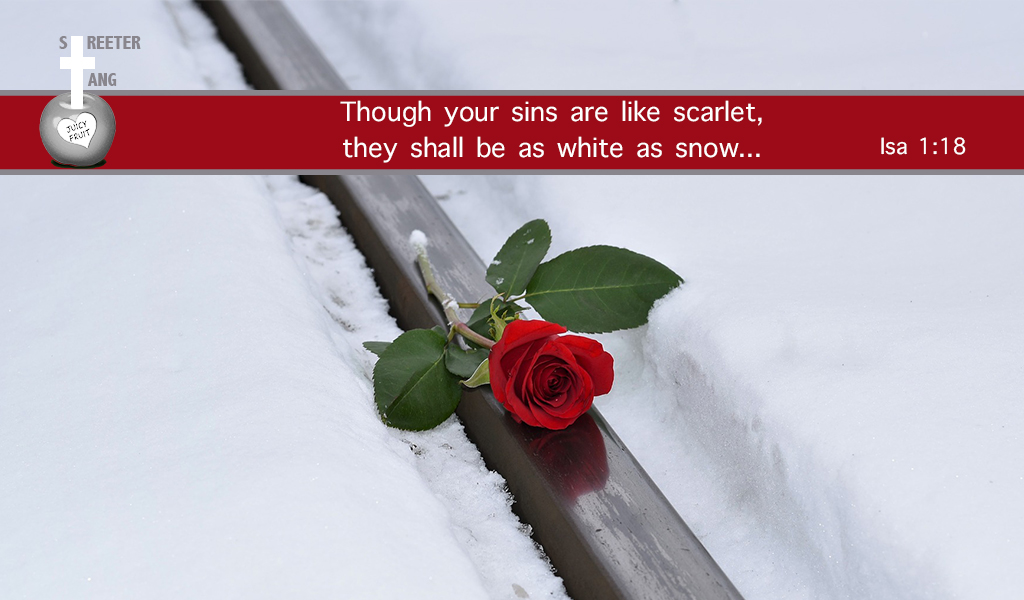 "Come now, let us settle the matter," says the Lord: the Jewish people had been rebellious and sinful, just going through the motions presenting their sacrifices but without any sincere feelings. So, God challenged them to be honest with Him and repent of their sinful ways.

"Though your sins are like scarlet, they shall be as white as snow: God's response to godly sorrow would be to forgive the people of their sins. He was looking into the future when His Son Jesus would be the ultimate sacrifice and take away their sins at the cross.

The rose on the train track is a picture of true salvation where the sinner is willing to die to self and allow Christ to take away his sins and cloth him in His righteousness 2 Co 5:21, then permit Christ to rule his life Gal 2:20.
---
.