Dan 12 THE RESURRECTION
Friday, May 21, 2021.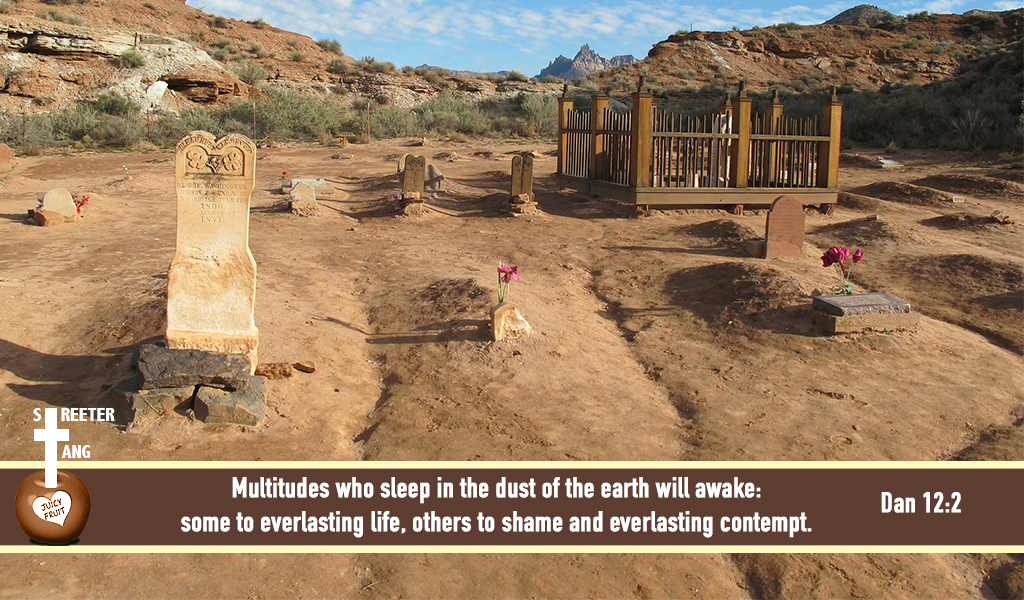 Dan 12:2 Adobe Color: 5e3d32
Multitudes who sleep in the dust of the earth will awake: some to everlasting life, others to shame and everlasting contempt: time is near when God will complete the history of mankind. The Old Testament saints and unbelievers will be resurrected and separated: some to eternal life and the rest to the lake of fire Rev 20:15.
Application: the time of the rapture of God's bride is near. Let us obey Jesus' command and not be found sleeping and unaware of the times Mt 25:11,12,13.
---
.
Dan 11 ANTICHRIST
Thursday, May 20, 2021.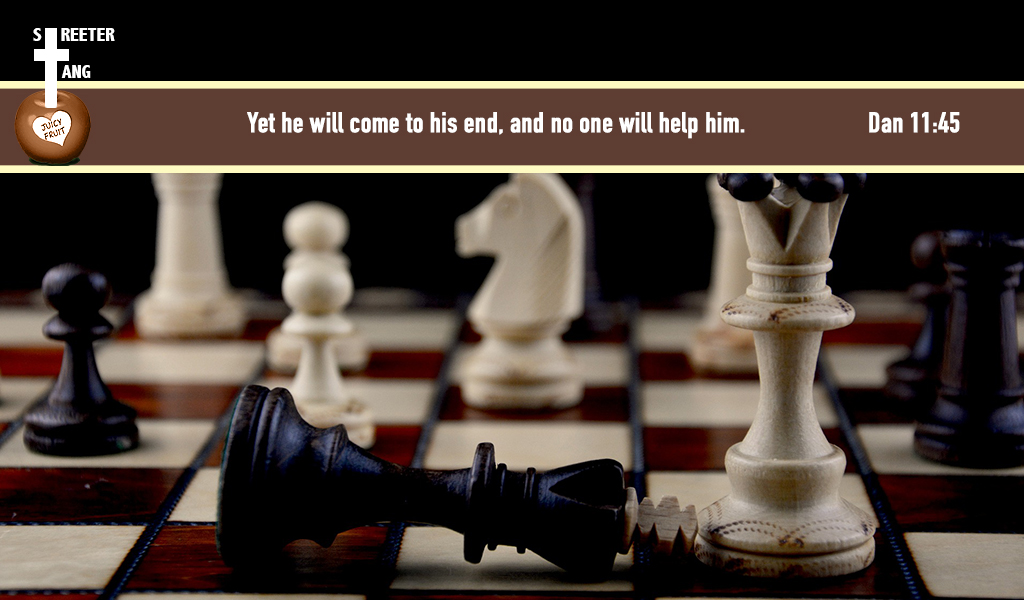 Dan 11:45
He will pitch his royal tents between the seas at the beautiful holy mountain. Yet he will come to his end, and no one will help him: Dan 11:1-30 describe the Grecian, Syrian and Egyptian histories whereas the following verses reveal the final Antichrist. He will rule (pitch his royal tents) at Jerusalem (beautiful holy mountain) Ps 15:1. However, after attempting to usurp God as Lord of the world he will be defeated.
Application: we must choose to obey God despite the pressure from the Antichrist to submit and worship him. Martyrdom will be prevalent for those that remain faithful to our God.
---
.
Dan 10 PERSISTENCE IN PRAYER
Wednesday, May 19, 2021.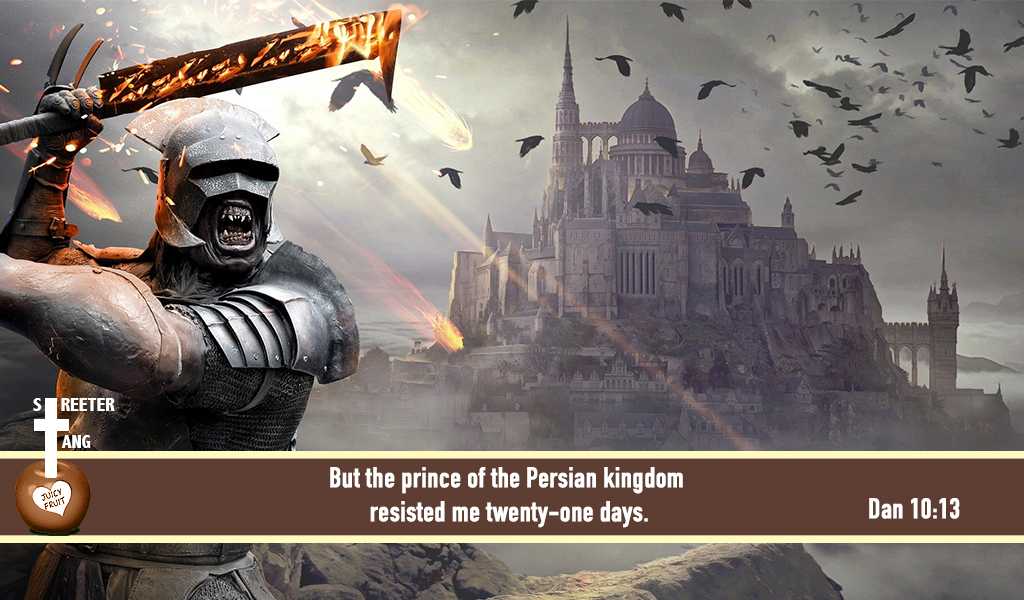 But the prince of the Persian kingdom resisted me twenty-one days. Then Michael, one of the chief princes, came to help me, because I was detained there with the king of Persia: Daniel had prayed for twenty-one days before the angel was able to reach him with the message. In the spiritual realm exist two mighty opposing forces which should enlighten us why our prayers are sometimes delayed. Patience and persistence should be used when praying for an answer from God. If Daniel had have stopped praying after day twenty, his prayer may have never been answered.
Application: even though we don't fully comprehend the battles that are waged in the spiritual realm, we should grasp the importance and power of our prayers Jas 5:16. Be persistent in prayer and never give up Lk 18:1,7.
---
.
Dan 9 END TIMES
Tuesday, May 18, 2021
He will confirm a covenant with many for one 'seven.' In the middle of the 'seven' he will put an end to sacrifice and offering. And at the temple he will set up an abomination that causes desolation, until the end that is decreed is poured out on him: the Antichrist will arrive shortly and will make a treaty with many of the countries of the world. The people will believe this is a man of peace 1 Th 5:3 but after three and a half years he will break the treaty and demand that the world worship him 2 Th 2:3,4.
Application: Our role is to be awake and discern the times and warn others of the approaching tribulation period. Jesus warned us to watch for He will be coming back soon to defeat the Antichrist Mt 24:42,43,44.
---
.
Dan 8 FUTURE TRIBULATION
Monday, May 17, 2021.
It came toward the two-horned ram I had seen standing beside the canal and charged at it in great rage: Daniel had a disturbing vision where he saw a goat with a horn between its eyes Dan 8:5 charge a two-horned ram shattering its two horns Dan 8:7. The two-horned ram represented the kings of Media and Persia Dan 8:20 while the goat depicted the king of Greece Dan 8:21. This scene wore Daniel out, exhausting him for many days as he was appalled by the vision, and it was beyond his understanding Dan 8:27.
Application: We may not be able to discern all end time happenings but we will know enough to trust in God and allow Him to use us in whatever circumstances we encounter.
---
.
Dan 7 WATCH
Sunday, May 16, 2021.
Dan 7:3
Four great beasts, each different from the others, came up out of the sea: this vision Dan 2 confirms Daniel's earlier vision Dan 2 that four great nations will rule history. The four beasts represent: Babylon, gold Dan 2:32 and the lion Dan 7:4; Medo-Persia, silver Dan 2:32 and the bear Dan 7:5; Greece, bronze Dan 2:32 and the leopard Dan 7:6; Rome iron Dan 2:33 and the beast with iron teeth Dan 7:7.
Application: we are very close to seeing the conclusion of world history. Every believer should be studying end time prophecies for the time of our redemption is near Lk 21:28. Jesus warned us about being awake and aware of what was taking place Mt 24:42,43,44.
---
.
Dan 6 POWER OF GOD
Saturday, May 15, 2021.
So the king gave the order, and they brought Daniel and threw him into the lions' den. The king said to Daniel, "May your God, whom you serve continually, rescue you: jealous administrators schemed to get rid of Daniel by having a decree that everyone must pray only to the king with the consequence of being thrown into the lions' den Dan 6:7. Because Daniel was faithful to God he continued to worship the Lord and was sentenced to the lions' den. King Darius was distressed but could not save Daniel Dan 6:14. He hoped that Daniel's God would rescue him and He did! This caused Darius to uplift Daniel's God.
Application: the best witness is to be faithful to our Lord. He can as He did in Darius' heart change unbelieving minds.
---
.
Dan 5 GOD'S MESSAGE
Friday, May 14, 2021.
This is the inscription that was written: mene, mene, tekel, parsin: King Belshazzar was the grandson of Nebuchadnezzar, the term father actually means ancestor Dan 5:2. He was very arrogant and mocked God by drinking from the Jerusalem's temple goblets. God responded by writing on the wall with His finger mene, mene, tekel, parsin. No one could interpret the words to the fearful king until the queen mentioned that Daniel could. He explained the message that Belshazzar was judged and his reign would end and the Medes and Persians would take over his kingdom Dan 5:26-28. That night the prophecy came true Dan 5:30.
Application: King Belshazzar found out that God cannot be mocked without judgment to follow Gal 6:7. We must heed this lesson and reverent the Lord in all we do. Our calling is to share the Good News with all.
---
.
Dan 4 PRIDE
Thursday, May 13, 2021.
You will be driven away from people and will live with the wild animals; you will eat grass like the ox and be drenched with the dew of heaven. Seven times will pass by for you until you acknowledge that the Most High is sovereign over all kingdoms on earth and gives them to anyone he wishes: God allowed Nebuchadnezzar to be the most powerful king in the land but because of his pride gave him a vision which would humble him for seven years. He became like an animal and lived in the wild and ate grass until he repented of his pride. Then God restored him and his kingdom.
Application: when we experience success let us acknowledge that God is the reason for our accomplishment and not become arrogant like King Nebuchadnezzar and have to be humbled Pr 16:8.
---
.
Dan 3 TRUSTING GOD
Wednesday, May 12, 2021.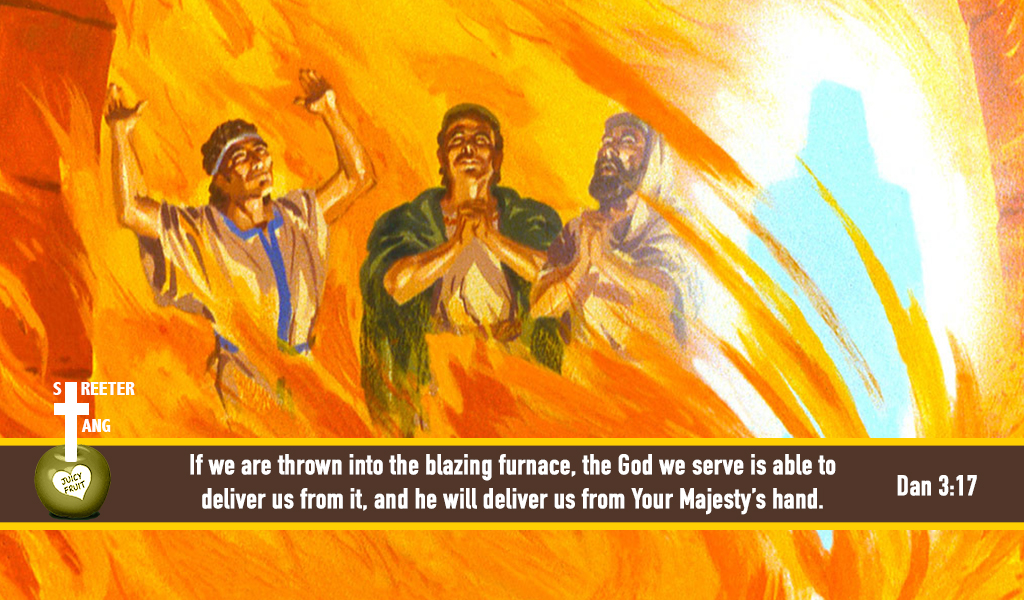 If we are thrown into the blazing furnace, the God we serve is able to deliver us from it, and he will deliver us from Your Majesty's hand: Shadrach, Meshach and Abednego trusted God to deliver them from the fire because they were being obedient to God rather than man as they would not worship King Nebuchadnezzar by bowing to his statue. Even if God decided not to deliver them from the fire they still would not serve false gods Dan 3:18.
Application: today, we are told that we can't meet in person to worship our God. Our response should be the same as these three courageous servants of God and be obedient to God's command to not forsake meeting together Heb 10:25. Peter and the apostles were told not to preach Jesus anymore and their reply was that we must obey God rather than man Ac 5:29. Holy Spirit give us courage to obey God's commands.
---
.
Dan 2 POWER OF PRAYER
Tuesday, May 11, 2021.
Dan 2:19
During the night the mystery was revealed to Daniel in a vision. Then Daniel praised the God of heaven: Nebuchadnezzar had a disturbing dream and wanted the wise men to tell and interpret his dream. No one could tell the dream so he decided to have all the wise men put to death including Daniel and his three friends. They prayed and God revealed the dream to Daniel. Daniel praised God for their deliverance and was rewarded by Nebuchadnezzar.
Application: God gives us a wonderful promise in 1 Jn 5:14,15. If we ask anything according to His will, He will grant us what we asked.
---
.
Dan 1 VISIONS AND DREAMS
Monday, May 10, 2021.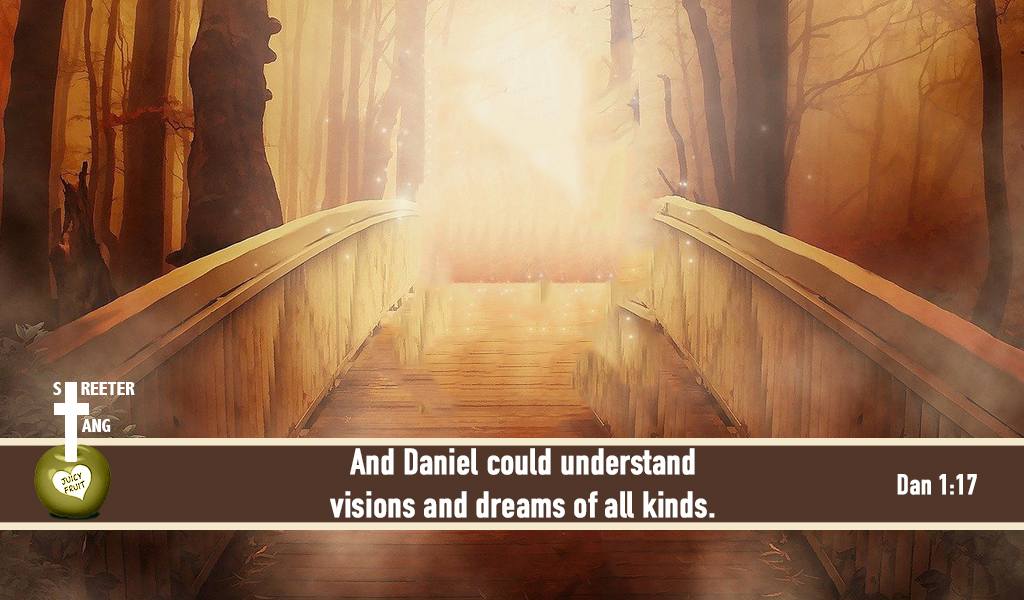 To these four young men God gave knowledge and understanding of all kinds of literature and learning. And Daniel could understand visions and dreams of all kinds: God gifted these four young men to use their talents for God's kingdom. They were faithful in obeying God's commandments and because of it, God's favor was upon them. Daniel's ability to interpret dreams and visions furthered God's purposes.
Application: whatever gifts we have been given, if we dedicate our lives to being faithful to God, He will use our lives for His glory. These faithful young men experienced miracles because of their obedience to God's Word. May we follow in their footsteps.
---
.