LITTLE MAN, BIG ON THE CAPITAL "I"
SEARCHING FOR SOMETHING, OH HEAVEN KNOWS HOW YOU'VE TRIED
JESUS HAS A BETTER WAY
HE'LL TURN YOUR NIGHT INTO A BRIGHT NEW DAY
HE IS LOVE
HE IS GOD ABOVE
AND HE IS THE ONE WHO DIED FOR YOU
CAN'T YOU SEE YOU'VE BEEN SO FULL OF PRIDE
DON'T YOU REMEMBER ALL THOSE EMPTY TEARS YOU'VE CRIED
JESUS WILL WIPE THEM ALL AWAY
ASKING FOR NOTHING BUT A LITTLE FAITH
CHORUS
SOMETIMES YOUR CARES CAN CUT YOU RIGHT TO THE BONE
AREN'T YOU TIRED OF STANDING THERE ALL ALONE
JESUS WILL BE YOUR SWORD AND YOUR SHIELD
WITH HIM AT YOUR SIDE YOU'LL HAVE NO FEAR
CHORUS 2X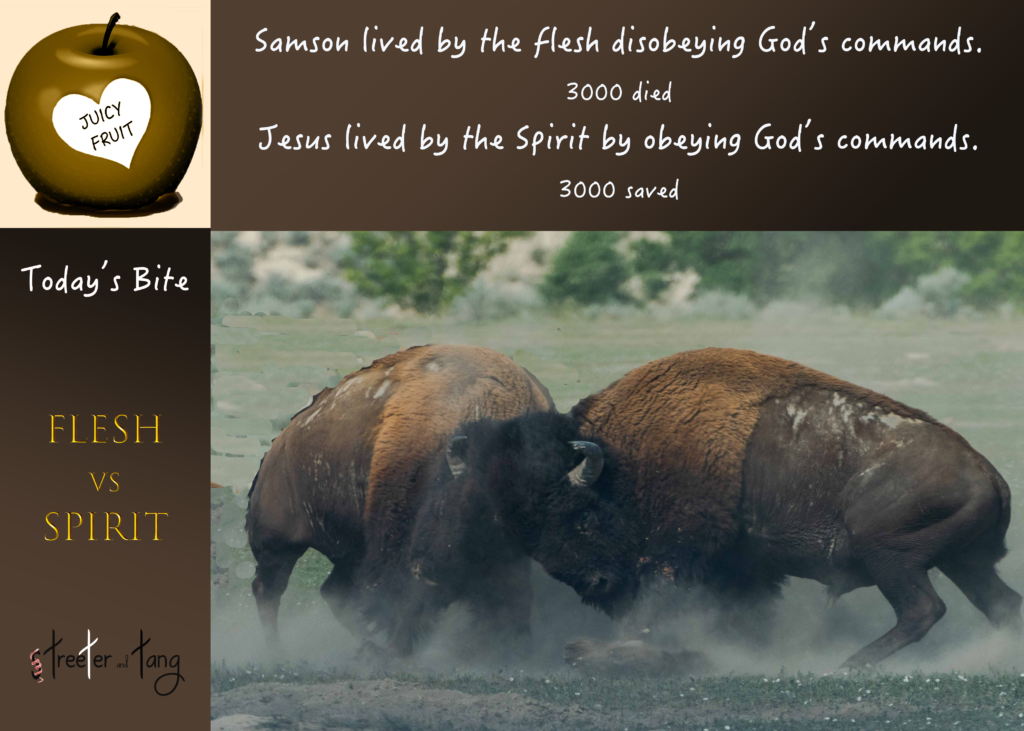 Samson lived by the flesh (Gal 5:13) disobeying God's commands (Jdg 16:1) and when the Philistines captured Samson they gouged out his eyes (Jdg 16:21). Samson prayed to God to allow him revenge against the Philistines for gouging out his eyes (Jdg 16:28). God granted his request and about 3,000 people were killed that day (Jdg 16:27,30).
The Old Testament covenant was an eye for an eye and so the Philistines received judgment for their treatment of Samson (Ex 21:23,24). However, under the New Covenant of Grace Jesus taught to love and forgive your enemies (Mt 5:44, Eph 4:32).
So, Jesus lived by the Spirit (Gal 5:16; Lk 4:1) by obeying God's commands (Heb 4:15) and when He was mocked and tortured He prayed that His Father would forgive His enemies (Lk 23:34) God granted His request and on the day of Pentecost about 3,000 people were saved (Ac 2:41).