AS I SCAN THE HORIZON 
WHAT DO I SEE 
A GREAT FALLING AWAY 
IN THE LAND OF THE STRONG AND THE FREE 
NO LONGER IS OUR GOD REVERED 
NO LONGER IS HIS WORD SPOKEN 
ASHAMED TO PREACH THE GOSPEL 
ALL VOWS AND PROMISES BROKEN 

PEOPLE SAY HE IS ELIJAH 
HE'S THE PROPHET OF OLD 
BUT HE IS THE ALMIGHTY 
THE SAVIOUR OF ONCE DEAD SOULS 

LITTLE BABIES LOSE THEIR LIVES 
WHILE OUR COUNTRY VOTES FOR CHANGE 
OUR MINDS HAVE BEEN DRUGGED 
AND OUR GOVERNMENT HAS GONE INSANE 
DO YOU THINK YOU CAN CHANGE THESE TIMES 
HOLDING NO TRUTH TO THE FLAME 
THERE IS ONLY ONE WHO CAN SAVE US 
HE'S THE NAME ABOVE ALL NAMES 

CHORUS 

ETERNITY IS SUCH A LONG TIME 
TO PAY FOR A PRIDEFUL MISTAKE 
DON'T BE SO FOOLISH 
THERE IS A FIERY LAKE 
AND IF THIS TRUTH OFFENDS YOU 
THEN BELIEVE IN THE SERPENT'S LIE 
THAT GOD IS A LIAR
AND YOU'RE NEVER GOING TO DIE 

CHORUS 
OUTRO
HE IS THE HOLY COMPASS 
POINTING THE WAY THROUGH THE NIGHT 
THE BEACON THAT SHINES IN THE DARKNESS 
HE IS THE TRUTH AND THE LIFE 
THE TRUTH AND THE LIFE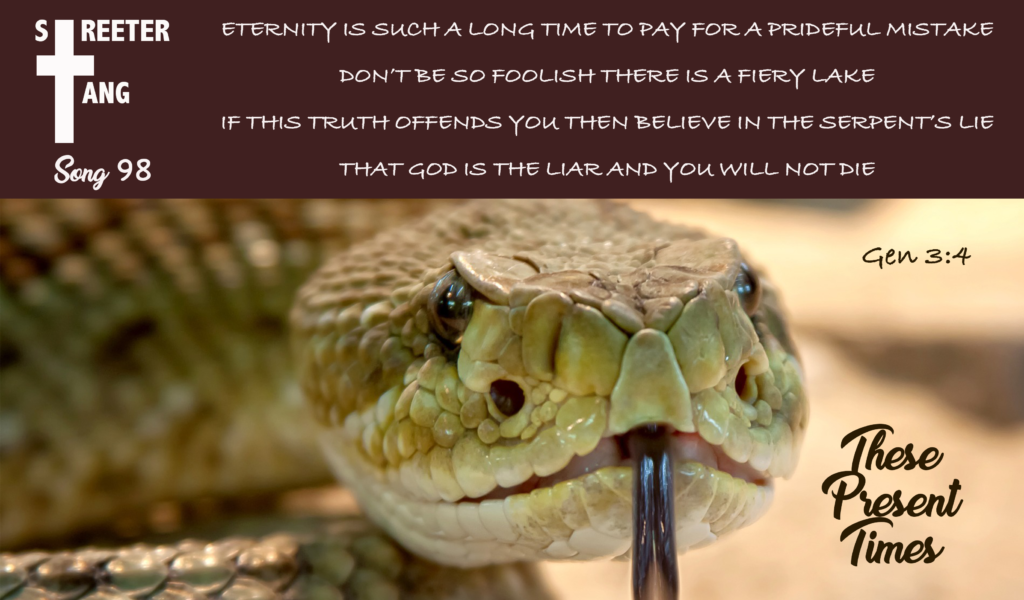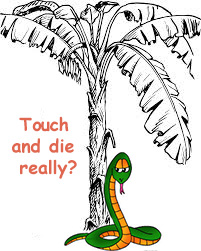 What led Eve to sin against God? It all began when Eve added to God's words by telling the Serpent that God had said "you must not touch the tree, or you will die" Gen 2:17; Gen 3:3.  At that point, Satan may have leaned up against the tree and said "you will not surely die" Gen 3:4. Then he began to add more doubt to the credibility and motives of God. Before too long, Eve would rationalize that God's words were not the most reliable and she would choose to believe the Serpent and eat the forbidden fruit. She even encouraged Adam to eat, by giving him some Gen 3:6.  Legalism occurs whenever anyone adds to God's perfect words and the result is always contrary to God's will, as His words are complete and He does not need man to tweak any of his commandments 1 Co 4:6.
Let's examine a few instances where man has tried to improve on God's commands. God gave man a Sabbath rest which was unheard of in the ancient world, for survival required man to work everyday. God's intent was to refresh man, for him to spend one day a week with his family meditating, studying, fasting and praying to God. Jesus said that the Sabbath was made for man, not man for the Sabbath Mk 2:27.  Unfortunately, the legalistic Pharisees had added 39 categories of forbidden activities associated with Sabbath keeping making it a burden rather than a rest. Since Jesus was Lord of the Sabbath Mk 2:28 he had the power to overturn the rules added by the Pharisees, who believed, they, were the Lords of the Sabbath.
When people turn away from God, many times it is actually legalism (religion) that they are running from. They have become frustrated with all the rules which they must obey and have given up on the God that said, come to me and I will give you rest Mt 11:28. In Jesus' days, the Jews had added 613 extra rules to follow but Jesus said that keeping this one commandment would fulfill the entire law: to love God with all your mind, strength, heart and soul and to love your neighbor as you would want to be loved yourself Mk 12:30.
Today, many denominations forbid things that God has not, for example: dancing, yet David danced before the Lord 2 Sa 6:14.  These legalists want to build fence laws, laws that keep one from the temptation of certain sins. They reason that dancing could end up in a one night stand. Possibly, but God did not say to add fence laws, what He did say was to walk in the Spirit (non-sexual dancing that praises God) and you will not fulfill the desires of the flesh Gal 5:16.
Another similar thinking legalistic measure is the accountability group, composed of a few male friends that would inquire of an individual struggling with pornography, to see if he had looked at any pornography in the last few days. If Jesus cannot stop one from looking at porn, how can fallen men deliver this type of individual from this sin. The truth is, that this reveals to God that this legalist fears man more than God, and that he is more worried about his self image as a Christian than what God thinks about his sin. If God was his first love, then he would honor God by avoiding all types of pornography without any of man's legalistic solutions.
One of the greatest slights to God because of legalism is the misinterpretation of 1 Jn 1:9. It is used as a bar of soap verse to acquire more forgiveness from God, whereby failing to ask for additional forgiveness results in that individual being out of fellowship with God (for the complete commentary of 1 John 1:1-10 click on verse). Jesus stated that the sin issue was finished (paid in full) Jn 19:30 and that there is no longer any type of sacrifice for sin (including asking God to forgive you Heb 10:17).  If you have been redeemed (become a child of God) then you have the forgiveness of sins Eph 1:7.  When we command others to ask God to forgive them or they will be out of fellowship with God, we are not being holy, we are truly slighting God's finished work on the cross, contradicting God that the sin issue has not been paid in full. Jesus has given us a wonderful gift, the forgiveness of sins: past, present and future Col 2:13. When we sin, we should confess, that means agree with God that what we did was sinful, but then thank him for the forgiveness of sins, not ask him to do something He has already accomplished for us. God's forgiveness is completed and as His ambassadors we are told to tell the world that God is not counting men's sins against them anymore 2 Co 5:19; 1 Jn 2:2.
Legalism brought down Eve and it will bring down anyone who tries to earn God's approval through good works. Jesus gives us God's approval when we believe in the Gospel Jn 6:27.