Ac 28 OVERCOMING THE SECOND DEATH
Sunday, November 20, 2021.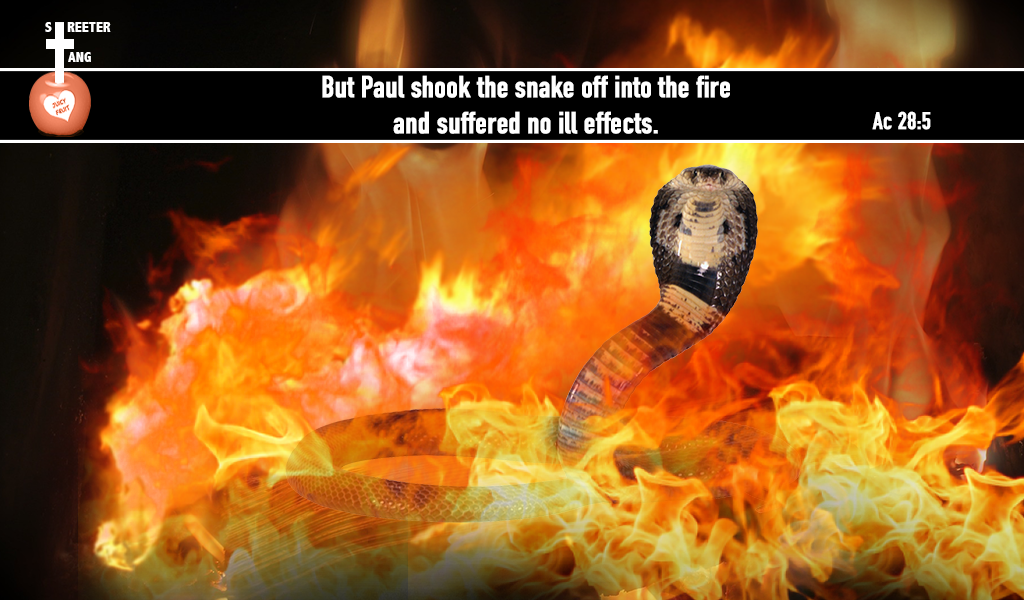 Acts 28:5
But Paul shook the snake off into the fire and suffered no ill effects: the snake would have reminded the readers of the incident in the desert, where the Israelites were bitten by snakes and died. Moses had made a bronze snake and placed it on a pole, which represented the judgment of God for sin Nu 21:8,9, a picture of Jesus becoming the Savior of the world, as He took the sin upon Himself Jn 1:29.
Here, Paul is around a fire, which represented judgment, the snake depicted sin, whose wages are death Ro 6:23. He is bitten and should receive the punishment of death, however, he survives because he has trusted in Jesus' sacrifice, who's blood has overcome death 1 Co 15:55,57.
Application: just as Paul was not affected by the viper's bite, we, who believe in Christ will not be hurt by the second death Rev 21:8; Rev 2:11—eternal punishment, which is everlasting separation from God Mt 25:46.
---
.
Ac 27 THE STORMS OF LIFE
Saturday, November 19, 2021.
Acts 27:37
Altogether there were 276 of us on board: Why was it important for Paul to include this fact? Firstly, it added credibility to his eye witness account. Secondly, it confirmed that the angel was sent by God, for the prophecy was fulfilled completely—not one soul perished Ac 27:44. Thirdly, it teaches how crises can unite large numbers of people. When their journey began there were many divisions among the 276 persons: crew/passengers, soldiers/prisoners, with different reasons why each were on board, whereas the storm united everyone with one purpose—survival. Paul at the beginning of the voyage was a prisoner, the least important person of the 276, whereas, during the crises he became the commander and deliverer Ac 27:31,32.
Application: Mentioning the number 276 persons, as opposed to a handful of souls, revealed that this was a miracle, like the feeding of the 5,000 Lk 9:14. Our God is always present and when one finds himself or herself in a hopeless circumstance, this story can renew the resolution to trust God. He cares for each soul, even the 276th one Lk 15:4.
---
.
Ac 26 FROM DARKNESS TO LIGHT
Friday, November 18, 2021.
Acts 26:17,18
…I am sending you to them 18 to open their eyes and turn them from darkness to light, and from the power of Satan to God, so that they may receive forgiveness of sins and a place among those who are sanctified by faith in me.' Jesus told Paul that He would send him to the lost to receive salvation. The lost were spiritually blind and Paul would open their eyes to see the truth of their spiritual condition.
Jesus blinded Paul on the road as an object lesson. Paul remained blind for three days until Ananias came and restored his sight Ac 9:17,18; physically going from darkness to light. God symbolized Paul plight, by turning him from the power of Satan where he had persecuted the Lord's people, to the power of God where he would bring deliverance.
Application: we are born into this world as sinners Ps 51:5 and live in spiritual darkness under the power of Satan, doing his will. But, when the Gospel is preached and we believe it, our spiritual scales fall off our eyes as did Paul's physical ones. We are no longer joined to the power of Satan for Jesus has translated us into God's kingdom of Light Col 1:13; 1 Pe 2:9. We are to demonstrate this change of ownership by working deeds of righteousness Ac 26:20.
---
.
Ac 25 STAND FIRM
Thursday, November 17, 2021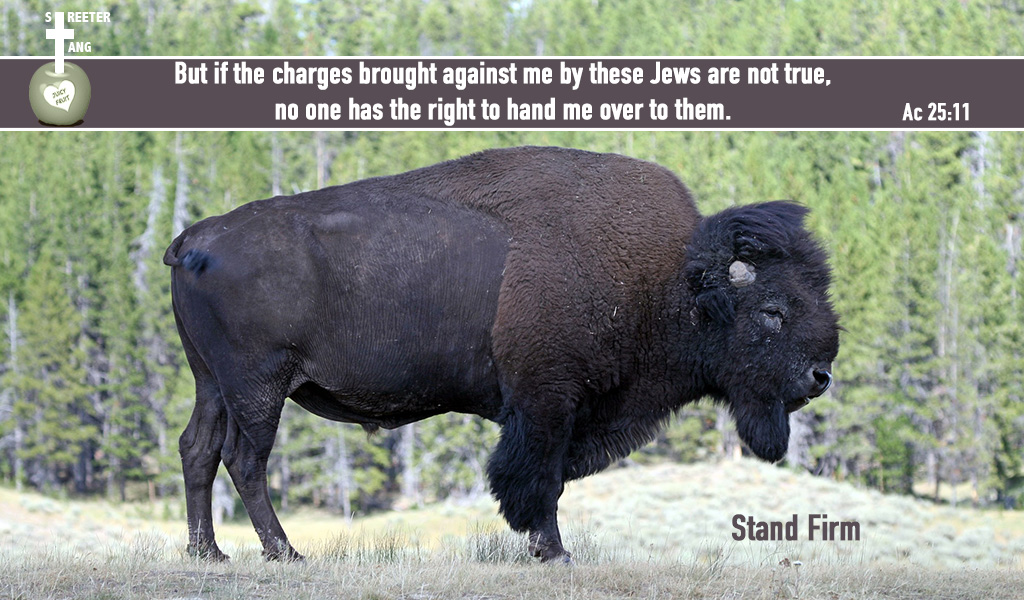 Acts 25:11
If, however, I am guilty of doing anything deserving death, I do not refuse to die. But if the charges brought against me by these Jews are not true, no one has the right to hand me over to them. I appeal to Caesar!" Paul told Festus he was innocent of the alleged crimes that the Jews had accused him of committing. But as a Christian, Paul was willing to accept the punishment of death, if he was truly guilty.
Application: just as Paul was willing to accept justice, we must be willing to accept our punishment, if we have committed a crime. However, if we have not committed a crime, such as wanting to remain unvaccinated from an experimental drug, which has caused many serious illnesses and deaths, then we must stand firm. We are told that our bodies are the temple of the Holy Spirit 1 Co 6:19 and it is our responsibility not to destroy them prematurely. We do not battle against flesh and blood but against wicked evil spirits controlled by Satan Eph 6:12 and God's commandment is to stand firm by relying upon the Lord and His mighty power Eph 6:10.
---
.
Ac 24 RESURRECTION AND THE JUDGMENT
Wednesday, November 17, 2021.
Acts 24:15
And I have the same hope in God as these men themselves have, that there will be a resurrection of both the righteous and the wicked: Paul confirmed that God will resurrect all of His creation—both the righteous and the wicked, which was revealed to Daniel, years before Dan 12:2. The righteous will receive eternal life, while the wicked will experience eternal punishment Mt 25:46. Paul's preaching on judgment put fear into Felix' heart, but rather than repent, he sent Paul away Ac 24:25.
Application: many are like Felix, in that they want to benefit financially from others, but rather not think about future judgment Ac 24:26. By avoiding this unpleasant topic, they believe that it won't come to pass. However, only the foolish would avoid taking action when told by a doctor that he had discovered early signs of cancer. Some people escape the pain of this world by committing suicide, however God's Word is clear that all will be resurrected and face the judgment Heb 9:27.
---
.
Ac 23 SUCCESS IN DIVISION
Tuesday, November 16, 2021.
Acts 23:7
When he said this, a dispute broke out between the Pharisees and the Sadducees, and the assembly was divided: Paul used wisdom to get himself out of an unjust charge. He realized that the Pharisees strongly disagreed with the Sadducees on the issue of the Resurrection in which the Sadducees denied its reality. Paul won the favor of the Pharisees and they then advocated for him.
Application: today, Satan is using the same strategy that Paul employed—divide the world to fight each other, then allow his evil Cabal to defeat God's plan. Satan has tried to divide by race: white against black; by gender: male against female; by wealth: rich against poor; and now vaccinated against unvaccinated. He only comes to kill and destroy Jn 10:10 and desires to be worshipped above God Rev 13:15-17. We need to awaken from our spiritual sleep Eph 5:14 and not let Satan deceive us Mt 24:11; through his minions Lk 21:8.
---
.
Ac 22 JESUS' WITNESSES
Monday, November 15, 2021.
Acts 22:15 Adobe Color: 9c6f57
You will be his witness to all people of what you have seen and heard: Jesus told Paul that he would be a witness to all people of the miracles, he had seen God do, and the truth that God would in the future reveal to him, especially the Gospel message.
Application: we are to be Jesus' witnesses Ac 1:8, sharing the Good News, making disciples and teaching all, to obey God's commandments Mt 28:19,20. When Jesus told Paul to witness what he had seen, we too, are to use those experiences in our lives that testify to the goodness of God. What we have heard relates to the Bible truth we have been taught by others.
---
.
Ac 21 WOMEN AND THE GIFT OF PROPHESY
Sunday, November 14, 2021.
---
'
Ac 20 WHAT RACE ARE YOU IN?
Saturday, November 13, 2021.
Acts 20:24
However, I consider my life worth nothing to me; my only aim is to finish the race and complete the task the Lord Jesus has given me—the task of testifying to the good news of God's grace: Paul considered his life worth nothing, but to use it to complete the work that Jesus had assigned him. Jesus remarked, "What good is it for you to gain the whole world, yet forfeit your soul" Mk 8:36. Paul understood his purpose in life and devoted all of his energies to that end.
Application: many place high value on satisfying their own needs and storing riches in this life Mt 6:19,20. How sad it will be for them on Judgment Day, when they realize the folly of their ways Rev 20:11,15. Paul recognized the evil purposes of Satan and warned his friends to be on their guard Ac 20:29,31. Today, many are unaware of Satan's schemes 2 Co 2:11, His "Great Reset," and like Eutychus have fallen asleep, failing to hear God's warnings and are about to plunge to their death Act 20:9. Wake up, Church!
---
.
Ac 19 THE COMPLETE GOSPEL
Friday, November 12, 2021.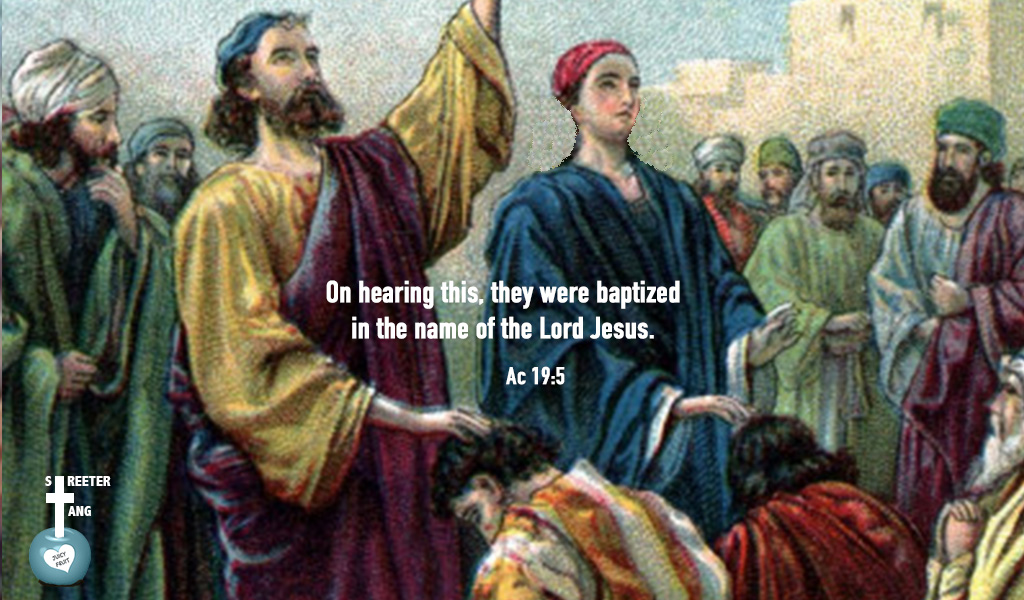 Acts 19:5
On hearing this, they were baptized in the name of the Lord Jesus: Paul had asked the disciples at Ephesus if they had received the Holy Spirit when they believed? Their answer was that they had not even heard that there was a Holy Spirit Ac 19:2. They had received John's baptism which was for repentance—the washing away of their sins, but what was necessary, was to receive the life of Christ. Paul then laid hands on the disciples and they were baptized in the name of the Lord Jesus of which the Holy Spirit came upon them and they spoke in tongues and prophesied Ac 19:6.
Application: many people receive the forgiveness that Jesus provided but do not realize that there are two sides to the salvation coin. Forgiveness is what was accomplished at the Cross, but new life was gained at the resurrection. It is not enough to believe that Jesus died for your sins, you must make Jesus Lord of your life, believing that He was raised from the dead and desires to raise you to new life Ro 10:9 by dying to self-rule and allowing Jesus to be Lord of your life Gal 2:20.
---
.
Ac 18 BE WISE AS A SERPENT
Thursday, November 11, 2021.
Acts 18:18
Paul stayed on in Corinth for some time. Then he left the brothers and sisters and sailed for Syria, accompanied by Priscilla and Aquila. Before he sailed, he had his hair cut off at Cenchreae because of a vow he had taken: Paul was not under the Law and didn't have to take a vow to cut his hair Ac 21:24. However, his desire was to save as many men as possible, and was willing to do whatever was necessary to win their approval, then be able to share the Gospel 1 Co 9:19,20.
Application: we should follow Paul's example and be willing to limit our freedom, if it will allow us favor in presenting the Gospel to unbelievers. However, we must not cross the line and commit sin to win favor with skeptics. Befriending lost people is a great opportunity to later share the Gospel, but participating with them in activities that are sinful would be wrong.
---
.
Ac 17 EXAMINING THE WORD
Wednesday, November 10, 2021.
Acts 17:11
Now the Berean Jews were of more noble character than those in Thessalonica, for they received the message with great eagerness and examined the Scriptures every day to see if what Paul said was true: Paul commended the Berean Jews because they received the Gospel with zeal and confirmed the truth of his teachings by comparing them with the Scriptures.
Application: people fall to false teaching when they accept instruction without comparing it to the Word. Paul wasn't offended because his listeners didn't take him at his word, but examined for themselves the doctrines he shared. We all need to be diligent in weighing what is taught 1 Co 14:29. It is important to pray for discernment and not to deceive ourselves 2 Ti 4:3,4; or believe the teacher because he appears righteous 2 Co 11:14,15.
---
.
Ac 16 GIVING THANKS IN ALL THINGS
Tuesday, November 9, 2021.
Acts 16:25
About midnight Paul and Silas were praying and singing hymns to God, and the other prisoners were listening to them: Paul and Silas had just been severely flogged and thrown into prison for no lawful reason Ac 16:23. They are then heard praying and singing. How many of us, would be praising God after receiving an unjustly beating? God rewardingly answers with an earthquake, freeing everyone from their chains Ac 16:26. Rather than escaping, Paul and Silas remain in prison and later have the opportunity to save the jailor and his family.
Application: if God places us in a bad circumstance, we need to remember that He can work it out for our good Ro 8:28. Therefore, let us have the same attitude as Paul and Silas, and give thanks in everything 1 Th 5:18.
---
.
Ac 15 PAUL CHECKING ON NEW BELIEVERS
Monday, November 8, 2021.
Acts 15:36
Some time later Paul said to Barnabas, "Let us go back and visit the believers in all the towns where we preached the word of the Lord and see how they are doing." Paul had concern for new believers—that they were on the right path to growing in the Lord, so he wanted to re-visit them to check on their spiritual condition.
Application: We should have a concern for others in our church or Bible study and keep a discerning eye on their spiritual condition. For those, who are struggling, we need to encourage them and do whatever we can to get them to thirst again for God and His Word. Satan's best weapon is to get individuals separated from the body of Christ and thus God's command not to neglect the fellowshipping of believers Heb 10:25.
---
.
Ac 14 PAUL'S PASSION FOR THE GOSPEL
Sunday, November 7, 2021.
Acts 14:20
But after the disciples had gathered around him, he got up and went back into the city. The next day he and Barnabas left for Derbe: Paul had just been stoned by the Jews and dragged out of the city, left for dead Ac 14:19. After recovering, Paul headed back to the city, which is incomprehensible. If the stoning had happened to me, and I had survived, I would have headed in the opposite direction, far away from my enemies, not back to Lystra. This story demonstrated the fearlessness and dedication that Paul had for sharing the Gospel.
Application: the majority of Christians wouldn't have the courage of Paul, but all have been given a gift from the Holy Spirit 1 Co 12:11. We are to use it passionately for God. We can be just as tenacious as Paul, by loving, the unlovable, and meeting the needs of ungrateful people and being persistent in prayer. It's not the kind of gift that is important, it's how we use the gift.
---
.
Ac 13 A MAN AFTER GOD'S HEART
Saturday, November 6, 2021.
---
.
Ac 12 POWER IN THE WORD
Friday, November 5, 2021.
---
.
Ac 11 SALVATION
Thursday, November 4, 2021.
---
.
Ac 10 WHOSOEVER BELIEVES
Wednesday, November 3, 2021.
---
.
Ac 9 POWER OF PRAYER
Tuesday, November 2, 2021.
---
.
Ac 8 PHILIP CONNECTS THE DOTS
Monday, November 1, 2021.
---
.
Ac 7 JESUS HONORS STEPHEN
Sunday, October 31, 2021.
---
.
Ac 6 PRAYER AND THE WORD
Saturday, October 30, 2021.
---
.
Ac 5 LYING TO THE HOLY SPIRIT
Friday, October 29, 2021.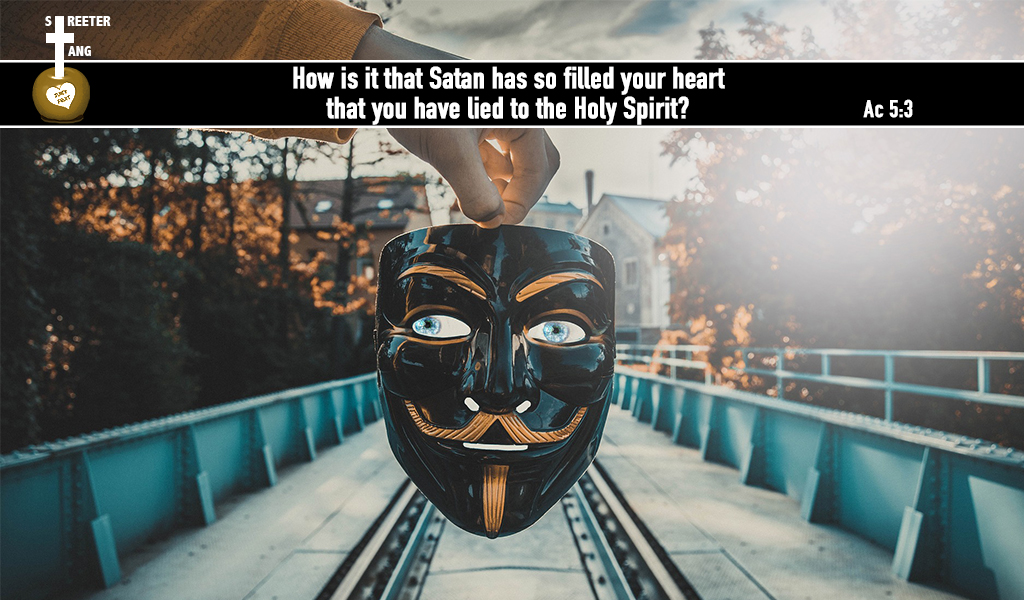 ---
.
Ac 4 WHOM WILL YOU SERVE?
Thursday, October 28, 2021.
---
.
Ac 3 AUTHOR OF LIFE
Wednesday, October 27, 2021.
---
.
Ac 2 THE COMING OF THE HOLY SPIRIT
Tuesday, October 26, 2021.
---
.
Ac 1 JESUS' WITNESSES
Monday, October 25, 2021.
---
.