1.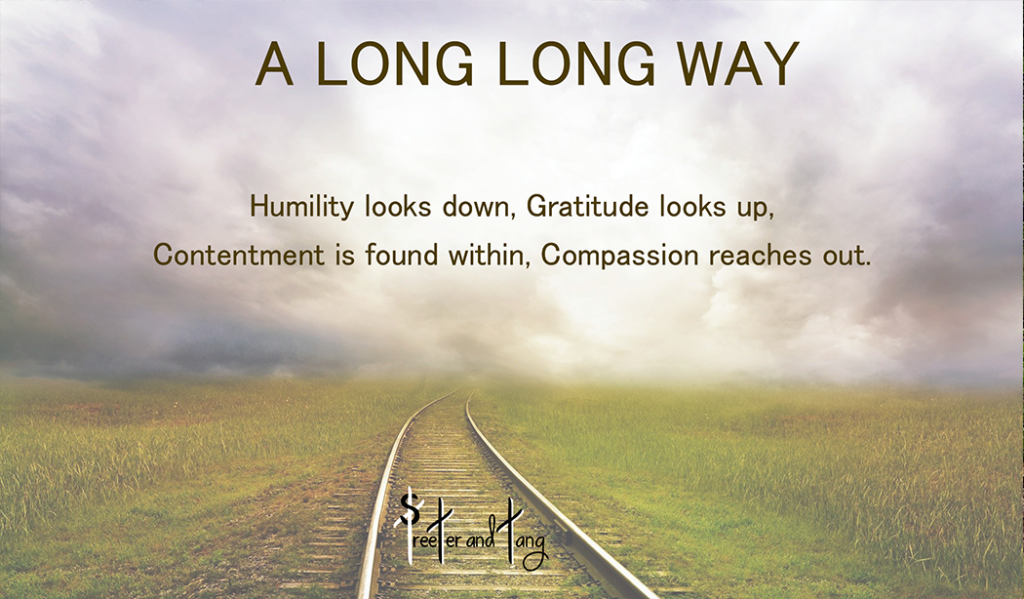 Humility: The Bible calls us to have a right view of ourselves, recognizing our need for God's grace and acknowledging that all we have comes from Him. Humility invites us to look down, not in a demeaning way, but with a servant's heart, considering others as more important than ourselves (Php 2:3). Jesus, our perfect example, demonstrated humility by taking on the form of a servant and humbling Himself to the point of death on the cross (Php 2:5-8).
Gratitude: Scripture encourages us to cultivate an attitude of gratitude, recognizing God as the source of all good things. Looking up in gratitude involves directing our hearts and minds towards God, acknowledging His goodness, faithfulness, and provision in our lives. The Apostle Paul exhorts believers to "give thanks in all circumstances" (1 Th 5:18) and to continually offer prayers of thanksgiving to God (Col 4:2).
Contentment: True contentment is not found in external circumstances or worldly possessions. The Bible teaches that contentment is rooted in our relationship with God and the assurance of His presence and provision. The Apostle Paul writes, "I have learned in whatever situation I am to be content" (Php 4:11). Contentment is a state of inner satisfaction and peace that comes from trusting in God's goodness and resting in His promises.
Compassion: Compassion is a central theme in the teachings of Jesus. It involves reaching out to others with love, empathy, and practical acts of kindness. Jesus Himself showed great compassion toward the multitudes, healing the sick, feeding the hungry, and ministering to the marginalized. As followers of Christ, we are called to imitate His example and extend compassion to those in need (Mt 25:35-40).
---
2.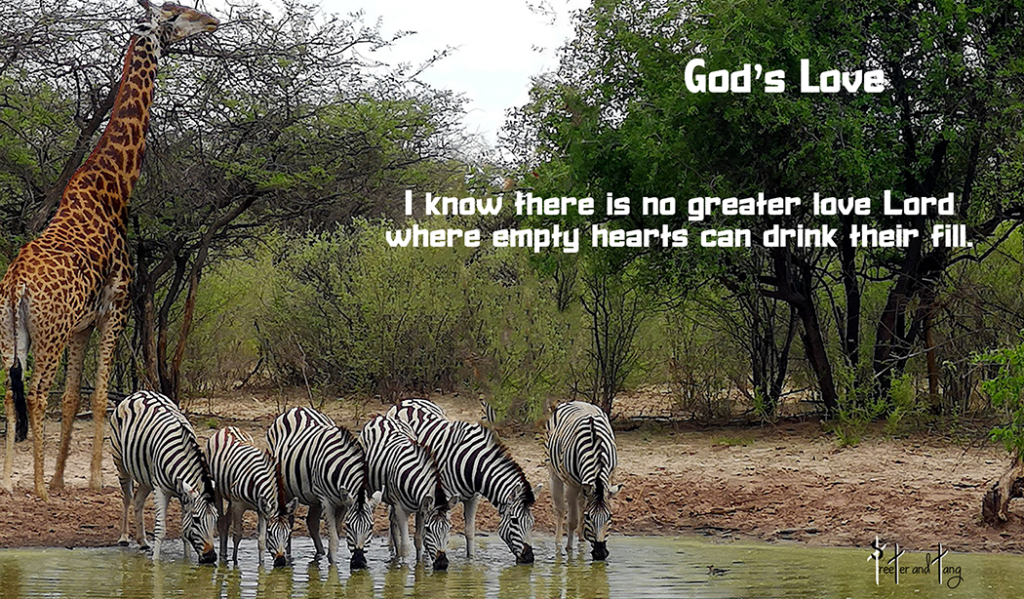 Empty hearts, long for meaning and purpose, and they can find their fill in God's love and grace, drawing from the life-giving flow of God's Spirit.
God's love surpasses all other forms of love. It is a love that is unconditional, sacrificial, and boundless in its nature.

When we speak of God's love, we recognize that it is a love that fills the emptiness within our hearts. It is a love that satisfies our deepest longings and provides true fulfillment. In a world where people often seek satisfaction in various pursuits and relationships, it is only in God's love that our hearts can truly find their fill.
God's love is all-encompassing, reaching out to every individual, regardless of their past, mistakes, or shortcomings. It is a love that extends grace and forgiveness, offering redemption and restoration. It is through the sacrificial act of Jesus Christ, who willingly gave His life on the cross, that we can experience the fullness of God's love.
God's love is not based on our performance or worthiness. It is a gift freely given, demonstrating His unchanging nature and His desire for a relationship with us. This love provides a firm foundation of security, acceptance, and purpose.
---
3.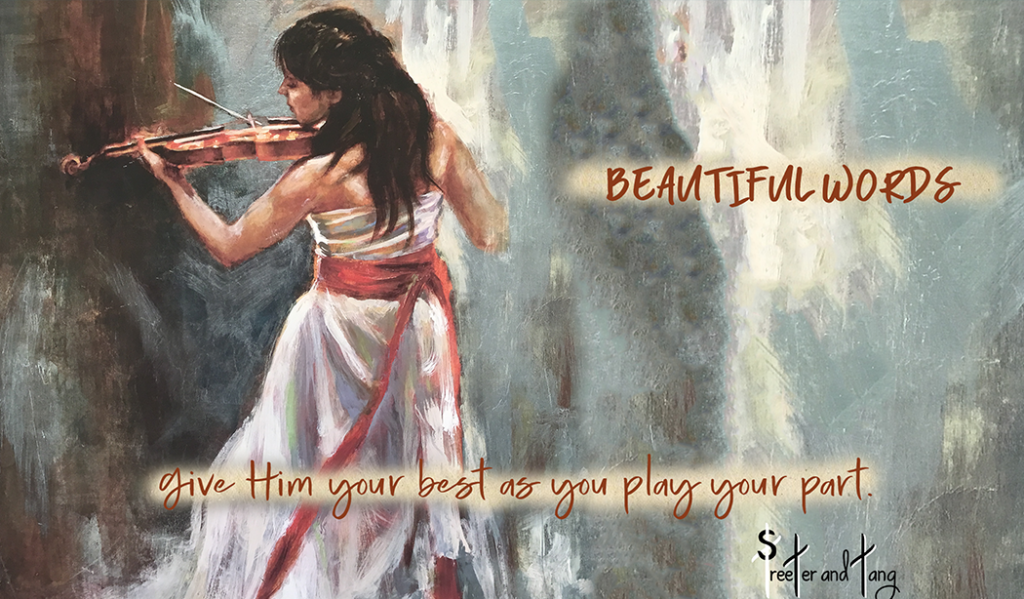 In all aspects of life, giving your best is an act of worship and devotion to God. It is a way of expressing gratitude for His grace and seeking to honor Him with your actions. By offering your best in each area of life, you demonstrate your love for God and reflect His goodness to the world around you.
Work Ethic: Whether in a professional setting or daily tasks, giving your best means approaching your work with diligence, integrity, and a commitment to excellence. It involves going the extra mile, being proactive, and striving for quality in everything you do. By offering your best work, you honor God and demonstrate your dedication to being a faithful steward of the abilities and opportunities He has given you.
Relationships: Giving your best in relationships means investing time, effort, and love into nurturing and strengthening them. It involves actively listening, being present, and showing kindness and compassion to others. By valuing and honoring the people around you, you reflect God's love and build meaningful connections that bring joy and encouragement.
Talents and Gifts: Each person has unique talents and gifts bestowed upon them by God. Giving Him your best in this area involves using your abilities to their fullest potential for His glory and the benefit of others. Whether it's through music, art, teaching, or any other talent, offering your best means continually honing your skills, embracing growth, and using your gifts to make a positive impact in the world.
Serving Others: Giving your best in service means selflessly helping and supporting those in need. It involves volunteering your time, resources, and abilities to make a difference in the lives of others. By being attentive to the needs of others and responding with compassion and generosity, you emulate the servant-hearted nature of Jesus Christ.
Spiritual Growth: Giving your best in your spiritual life entails a commitment to grow in your relationship with God. It involves spending time in prayer, studying His Word, and seeking His guidance. By prioritizing your spiritual development, you deepen your connection with God, align your life with His purposes, and become a vessel through which His love and truth can impact others.
---
4.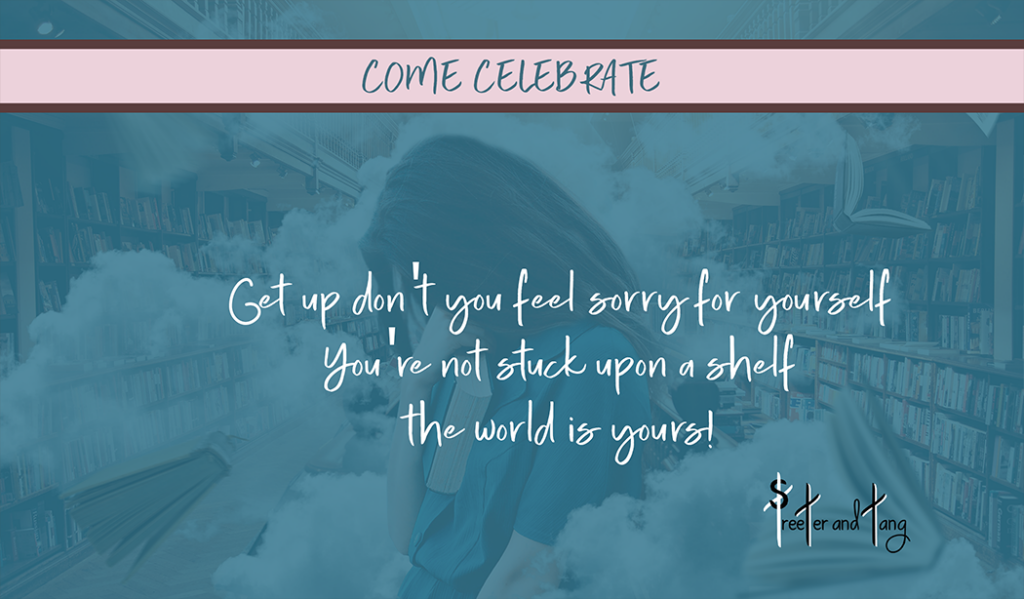 You need not feel sorry for yourself because:
God's Empowering Presence: The Bible reminds us that God is with us and empowers us to overcome challenges. In Isa 41:10, God assures us, "So do not fear, for I am with you; do not be dismayed, for I am your God. I will strengthen you and help you; I will uphold you with my righteous right hand." This encourages us to rise above self-pity and embrace God's strength to face difficulties with courage and resilience.
God's Purpose for Your Life: Scripture affirms that God has a purpose and plan for each person's life. In Jer 29:11, God says, "For I know the plans I have for you, plans to prosper you and not to harm you, plans to give you hope and a future." Recognizing this truth, we are encouraged to get up and actively engage in fulfilling God's purpose, knowing that the world and its opportunities are open to us as we trust in Him.
Consequences of Remaining in Pity:
Hindrance to God's Work: Pity and self-focus can hinder our participation in God's work in our lives and in the world. When we remain stuck in self-pity, we may miss out on the opportunities God presents or fail to use our talents and resources to make a positive impact for His kingdom.
Lack of Trust in God's Provision: Dwelling in self-pity can reveal a lack of trust in God's provision and His faithfulness to guide and provide for us. The Bible reassures us in Php 4:19, "And my God will meet all your needs according to the riches of his glory in Christ Jesus." Trusting in God's faithfulness enables us to move beyond self-pity and embrace His abundant provision.
Missed Opportunities for Growth: Remaining in self-pity can hinder our spiritual growth and maturity. God desires that we grow in faith, character, and love. In Jas 1:2-4, we are encouraged to consider trials as opportunities for growth: "Consider it pure joy, my brothers and sisters, whenever you face trials of many kinds, because you know that the testing of your faith produces perseverance. Let perseverance finish its work so that you may be mature and complete, not lacking anything."
---
5.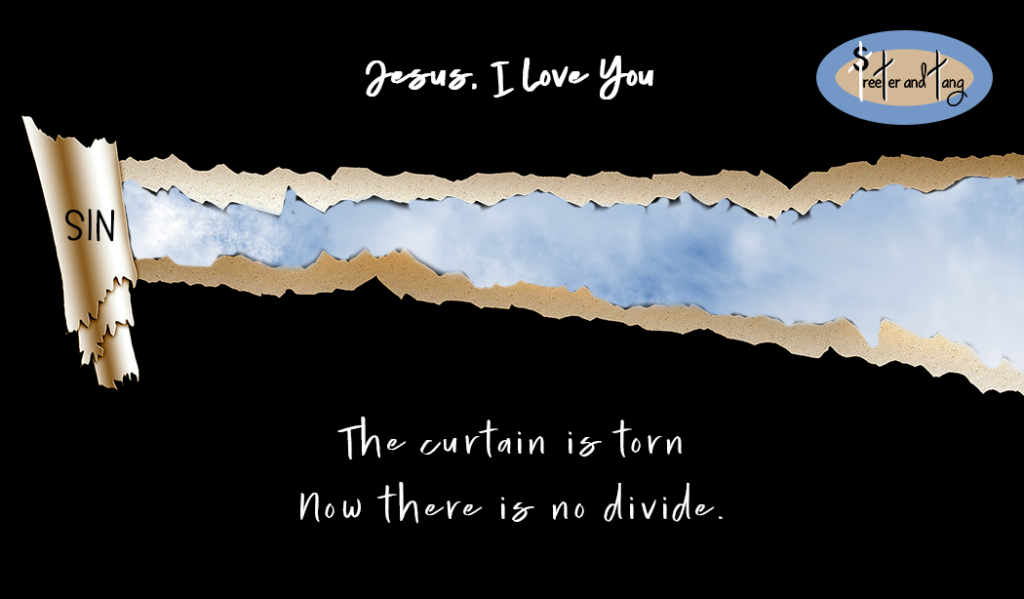 This refers to the tearing of the curtain in the temple that separated the Holy of Holies from the rest of the temple in Jerusalem.
In the Old Testament, the curtain served as a physical barrier that symbolized the separation between God's holiness and the sinful nature of humanity. Only the high priest could enter the Holy of Holies once a year on the Day of Atonement to make sacrifices for the sins of the people. This separation emphasized the reality of sin and the need for a mediator to bridge the gap between humanity and God.
However, when Jesus died on the cross, something remarkable happened. As described in Mt 27:51, "At that moment the curtain of the temple was torn in two from top to bottom." This tearing of the curtain signified a significant shift in the relationship between God and humanity.
Firstly, it symbolized the removal of the separation between God and people. Through His sacrificial death, Jesus atoned for our sins and made a way for us to have direct access to God. Heb 10:19-20 says, "Therefore, brothers and sisters, since we have confidence to enter the Most Holy Place by the blood of Jesus, by a new and living way opened for us through the curtain, that is, his body." As believers in Christ, we can now approach God with confidence, knowing that the barrier of sin has been removed.
Secondly, the tearing of the curtain represents the invitation for all people, regardless of their background or status, to enter into a personal relationship with God. The dividing wall of hostility that once separated different groups of people (Eph 2:14) has been demolished through Christ. Gal 3:28 states, "There is neither Jew nor Gentile, neither slave nor free, nor is there male and female, for you are all one in Christ Jesus." In Christ, we are all united as one, with equal access to God's love, grace, and salvation.
This truth has wonderful implications for believers. It means that we no longer have to rely on an intermediary to approach God, but can have a direct and personal relationship with Him through Jesus Christ. We can come boldly before His throne, pour out our hearts in prayer, and experience His presence and guidance in our lives.
---
6.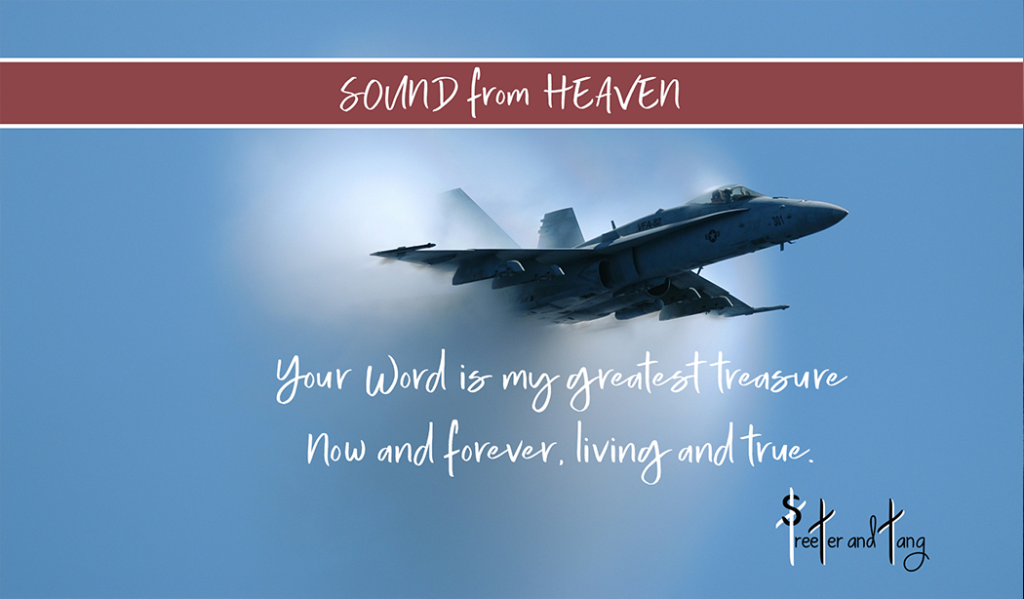 God's Word is not only valuable but also eternally relevant, life-giving, and reliable.
The Word as a Treasure: In Scripture, God's Word is often described as a treasure of great worth. Ps 119:72 says, "The law from your mouth is more precious to me than thousands of pieces of silver and gold." It is a priceless gift that provides guidance, wisdom, and spiritual nourishment. As Christians, we recognize the immeasurable value of God's Word in shaping our lives, transforming our hearts, and directing our paths.
Living and Active: The Bible is not merely a collection of ancient texts but a living and active book. Heb 4:12 declares, "For the word of God is alive and active. Sharper than any double-edged sword, it penetrates even to dividing soul and spirit, joints and marrow; it judges the thoughts and attitudes of the heart." God's Word has the power to speak to us personally, convict us of sin, reveal His truth, and bring about spiritual growth and transformation.
Forever Relevant: Though written in different historical contexts, the Word of God remains eternally relevant. The truths and principles found in the Bible transcend time and culture. Isa 40:8 affirms, "The grass withers, the flower fades, but the word of our God will stand forever." God's Word provides timeless guidance, unchanging moral standards, and eternal promises that offer hope and comfort in every season of life.
True and Reliable: The Bible is the ultimate source of truth, as it reveals God's character, His redemptive plan, and His will for humanity. Ps 119:160 declares, "All your words are true; all your righteous laws are eternal." We can trust in the reliability and faithfulness of God's Word. Its teachings provide a solid foundation for our faith, offering guidance for decision-making, comfort in times of trouble, and assurance of God's unfailing love.
---
7.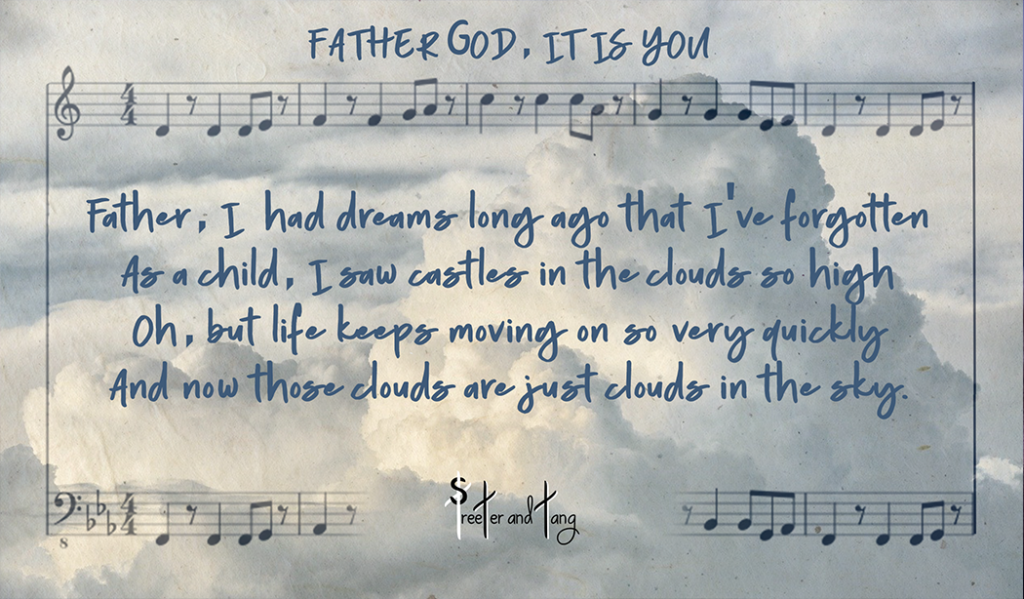 Forgotten Dreams: As time goes by, it's common for people to let go of certain dreams and aspirations they had in their youth. This can happen due to various reasons such as practicality, societal expectations, or the challenges of life. However, as Christians, we are encouraged to seek God's guidance and align our dreams with His purposes. While some dreams may change or evolve, there is room for God to awaken new dreams and passions within us as we surrender our lives to Him.
Castles in the Clouds: The imagery of seeing "castles in the clouds so high" as a child represents the innocence, wonder, and boundless imagination we often possess during our early years. It reflects a sense of hope, possibility, and the belief that anything is achievable. In the context of faith, this can remind us of the importance of maintaining childlike faith in God. Jesus Himself said, "Truly I tell you, unless you change and become like little children, you will never enter the kingdom of heaven" (Mt 18:3). This invites us to approach God with trust, simplicity, and a willingness to believe in His promises, even when circumstances may seem challenging or uncertain.
Life's Transience: The lyric "Life keeps moving on so very quickly, and now those clouds are just clouds in the sky" reflects the reality that life is transient and time seems to pass by swiftly. It highlights the impermanence of worldly pursuits and earthly achievements. In light of this, as Christians, we are called to fix our eyes on eternal things and invest our time and energy in what truly matters. Jesus said, "Do not store up for yourselves treasures on earth, where moths and vermin destroy, and where thieves break in and steal. But store up for yourselves treasures in heaven" (Mt 6:19-20). Our ultimate hope and fulfillment are found in the eternal relationship we have with God and the kingdom that is to come.
---
8.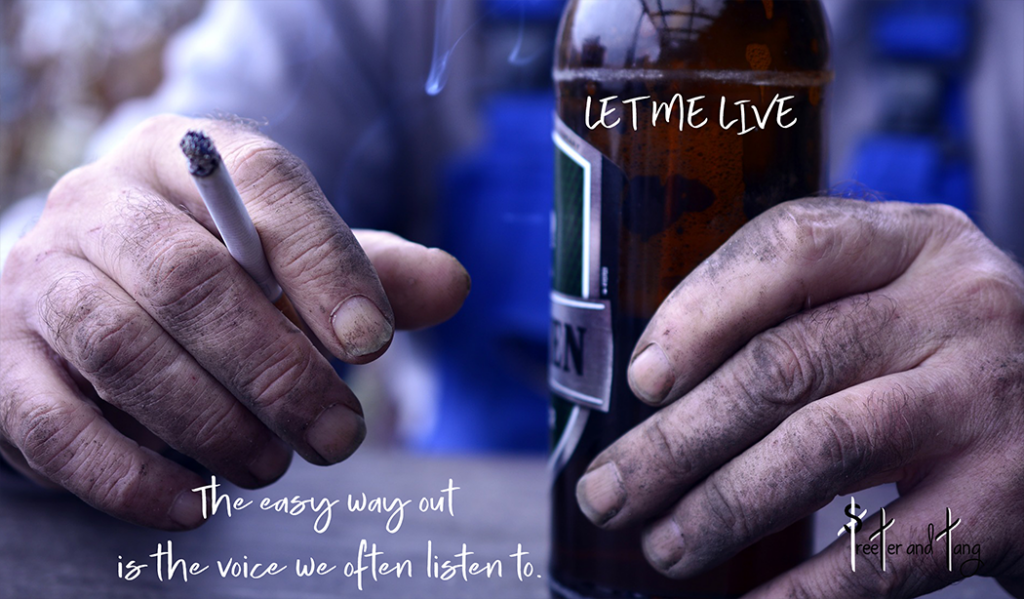 This speaks to the tendency of human nature to seek comfort, convenience, and immediate gratification rather than embracing the challenges and sacrifices that come with following God's will. It highlights the temptation to choose the path of least resistance and the potential consequences of such choices.
As believers, we are called to live according to God's principles and follow His guidance in every aspect of our lives. However, there are times when we encounter situations that require us to make difficult decisions or endure hardships for the sake of obedience to God. The lyrics suggests that our natural inclination is to choose the easy way out, to avoid discomfort or challenges, and to prioritize our own desires and convenience over God's will.
This message serves as a reminder of the importance of self-reflection and discernment in our decision-making process. It prompts us to examine our motives and consider whether we are allowing the desire for ease and comfort to influence our choices instead of seeking God's guidance and surrendering to His plan for our lives.
Seek God's Will: When faced with choices, we should prioritize seeking God's will through prayer, studying His Word, and seeking wise counsel from fellow believers. Rather than relying solely on our own desires or seeking the path of least resistance, we should seek God's guidance and submit to His leading even if it means taking the more challenging or less convenient route.
Embrace Challenges and Sacrifice: Following Christ often requires us to make difficult choices and embrace challenges. It may involve sacrificing our own comfort, desires, or personal ambitions for the sake of God's kingdom and the well-being of others. As believers, we are called to take up our cross and follow Jesus, even if it means facing hardships or going against the prevailing cultural norms.
Trust in God's Provision: Choosing the easy way out can lead to temporary gratification but may hinder our spiritual growth and miss out on God's best for us. When we choose to trust in God's provision and rely on His strength, He enables us to overcome challenges and guides us along the right path. It is through these challenging moments that our faith is strengthened, and we witness God's faithfulness in our lives.
---
9.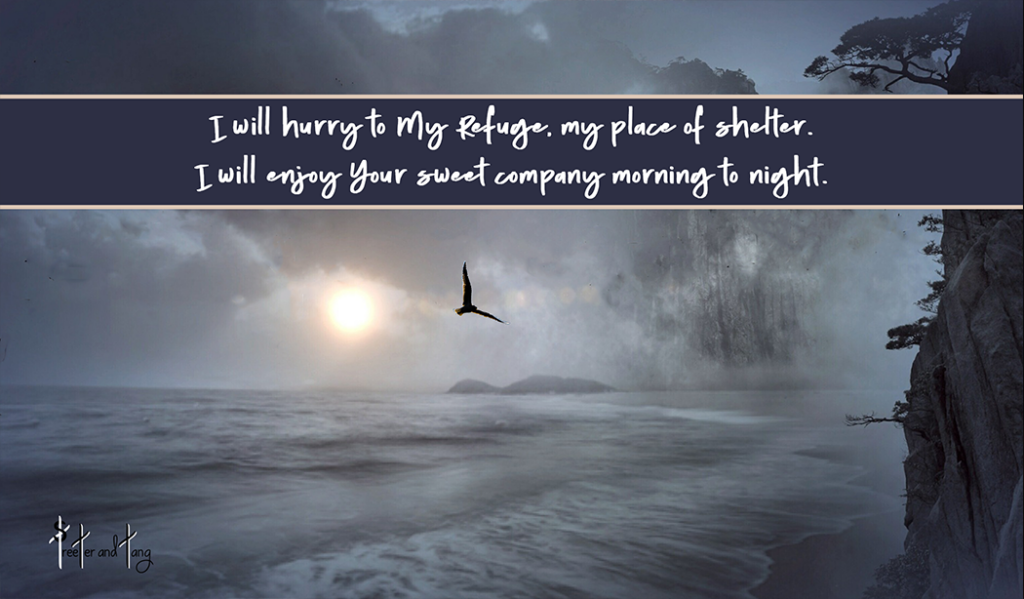 Seeking Refuge and Shelter: In the Bible, God is often described as a refuge, a safe haven where we can find shelter and protection from the storms of life. Ps 91:2 says, "I will say of the LORD, 'He is my refuge and my fortress, my God, in whom I trust.'" As believers, we recognize the need for a place of refuge, a spiritual dwelling where we can find solace, security, and rest in the presence of God.
Enjoying God's Sweet Company: Intimacy with God involves a deep relationship characterized by love, trust, and companionship. Just as we enjoy the company of our loved ones, these lyrics express a longing to experience the sweet fellowship and communion with God. It reflects a desire to spend time with Him, to seek His presence, and to delight in His nearness. It is in this closeness with God that we find peace, joy, and fulfillment.
Morning to Night: The lyrics also highlight the desire for continuous communion with God throughout the day. It signifies the intention to walk in His presence from the start of the day until its end. This encompasses seeking God's guidance, surrendering our plans and concerns to Him, and acknowledging His presence in every aspect of our lives. It is an acknowledgment that our relationship with God is not confined to specific moments or rituals but extends to every moment, every thought, and every activity.
Intimacy with God, is a two-way relationship. God invites us to draw near to Him, and as we respond to His invitation, we experience His love, grace, and transformative presence in our lives.
Seeking God: Intimacy with God begins with a desire to seek Him wholeheartedly. This involves setting aside time for prayer, reading and meditating on His Word, and cultivating a listening heart to hear His voice. It requires intentional effort to prioritize our relationship with Him above the distractions and busyness of life.
Trust and Vulnerability: True intimacy with God requires trust and vulnerability. We must be willing to open our hearts, share our deepest desires, fears, and struggles with Him. It involves surrendering our will to His and allowing Him to shape and mold us into His likeness.
Communion and Worship: Intimacy with God is nurtured through worship and praise. As we worship Him in spirit and in truth, we enter into His presence, acknowledging His worthiness and expressing our love and adoration for Him. It is through worship that we experience a deeper connection with God and align our hearts with His purposes.
Listening and Obedience: Intimacy with God involves not only speaking to Him but also listening and obeying His voice. It requires attentiveness to His leading, a willingness to follow His guidance, and obedience to His commands. Through obedience, we deepen our intimacy with God and align our lives with His will.
---
10.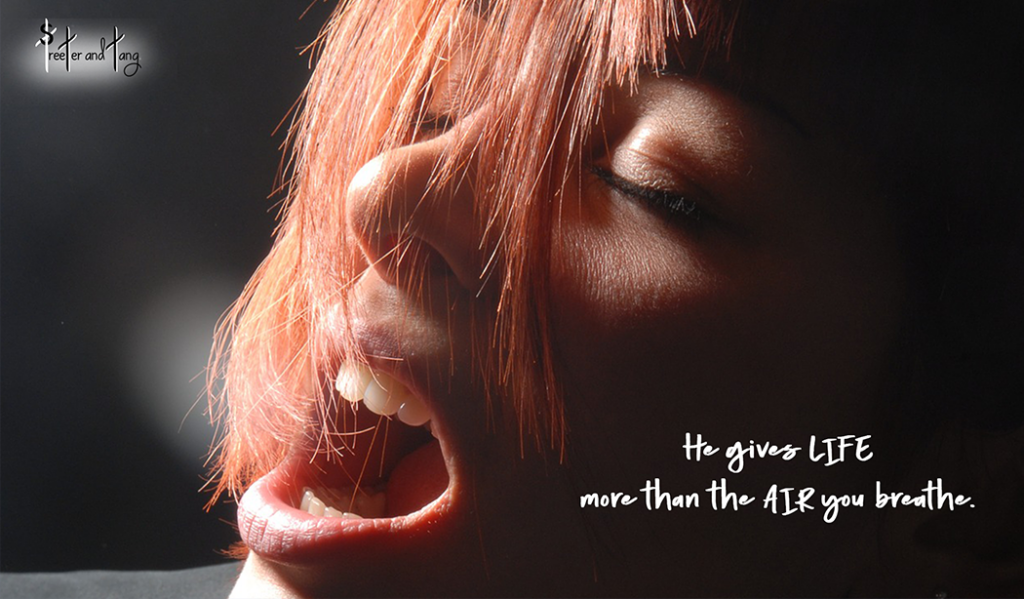 God as the Giver of Life: In the Bible, we learn that God is the creator and sustainer of all life. He breathed life into the first human being, Adam, and continues to sustain every breath we take. Ac 17:25 says, "And he is not served by human hands, as if he needed anything. Rather, he himself gives everyone life and breath and everything else." Our physical existence, our ability to breathe and live, is a gracious gift from God.
Spiritual Life: Beyond physical life, the lyric also points to the spiritual life that God offers through a relationship with Him. Jesus declared, "I am the way, the truth, and the life" Jn 14:6. Through faith in Jesus Christ, we receive the gift of eternal life, a life that goes beyond our earthly existence and extends into eternity. This spiritual life is characterized by a restored relationship with God, forgiveness of sins, and the indwelling presence of the Holy Spirit.
Abundant Life in Christ: In Jn 10:10, Jesus said, "I have come that they may have life, and have it to the full." This speaks of the abundant life that believers can experience in Christ. It is a life filled with purpose, meaning, and a deep sense of fulfillment. This abundant life is not dependent on external circumstances but is rooted in our connection to God and our identity as His children.
Life in Relationship with God: The lyric emphasizes that God gives life, not merely as a physical existence but as a relational reality. Through our faith in Jesus Christ, we enter into a personal relationship with God, becoming recipients of His love, grace, and guidance. It is in this relationship that we find true life, joy, peace, and fulfillment. As we abide in Him, we experience the transforming power of His presence and the abundant life He offers.
Gratitude and Dependence: Understanding that God gives life more than the air we breathe cultivates a sense of gratitude and dependence on Him. We recognize that every breath we take is sustained by His grace and provision. It humbles us to acknowledge our utter dependence on Him for every aspect of our lives and leads us to live in gratitude and surrender.
---
11.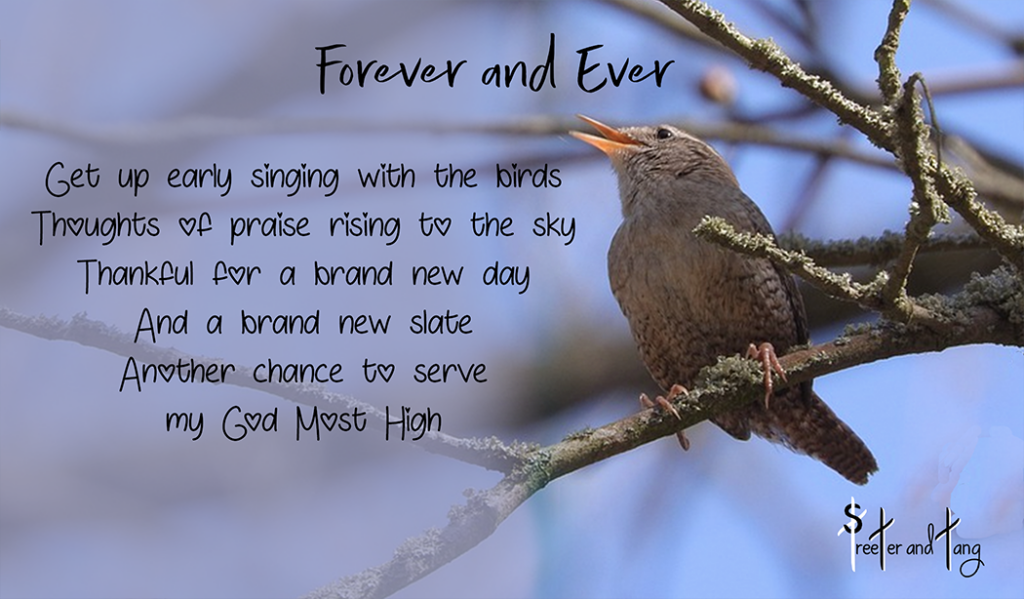 Embracing a New Day: Tang encourages us to greet each day with enthusiasm and anticipation. As believers, we understand that each new day is a gift from God, filled with opportunities for growth, service, and experiencing His goodness. It reminds us of God's faithfulness in granting us another day to live and serve Him.
Singing with the Birds: The imagery of singing with the birds signifies a heart filled with praise and worship. It reflects the joy and gratitude that flow from a relationship with God. The Bible encourages us to worship and praise God with songs and hymns, acknowledging His greatness, love, and faithfulness. Ps 95:1-2 says, "Come, let us sing for joy to the LORD; let us shout aloud to the Rock of our salvation. Let us come before him with thanksgiving and extol him with music and song."
Thoughts of Praise: The lyrics remind us to set our minds on things that are praiseworthy. Php 4:8 encourages believers to dwell on whatever is true, noble, right, pure, lovely, admirable, and praiseworthy. When we intentionally fill our minds with thoughts of praise and thanksgiving, it shifts our focus from ourselves to God and His goodness, cultivating a spirit of worship and gratitude.
A Brand New Slate: The lyrics highlight the concept of a brand new slate, symbolizing God's grace and forgiveness. Each day offers us a fresh start, an opportunity to leave behind the mistakes, regrets, and burdens of the past. Through faith in Jesus Christ, we receive forgiveness for our sins, and His mercies are new every morning (Lam 3:22-23). It reminds us that we can approach each day with hope, knowing that God's grace covers our failures and empowers us to live according to His will.
Another Chance to Serve God: The lyrics emphasize the privilege and responsibility of serving God. As believers, we are called to live a life of obedience, love, and service to Him. Each new day presents an opportunity to honor God, to share His love with others, and to be His ambassadors in the world. It is an invitation to align our hearts with God's purposes and to make a difference in the lives of those around us.
---
12.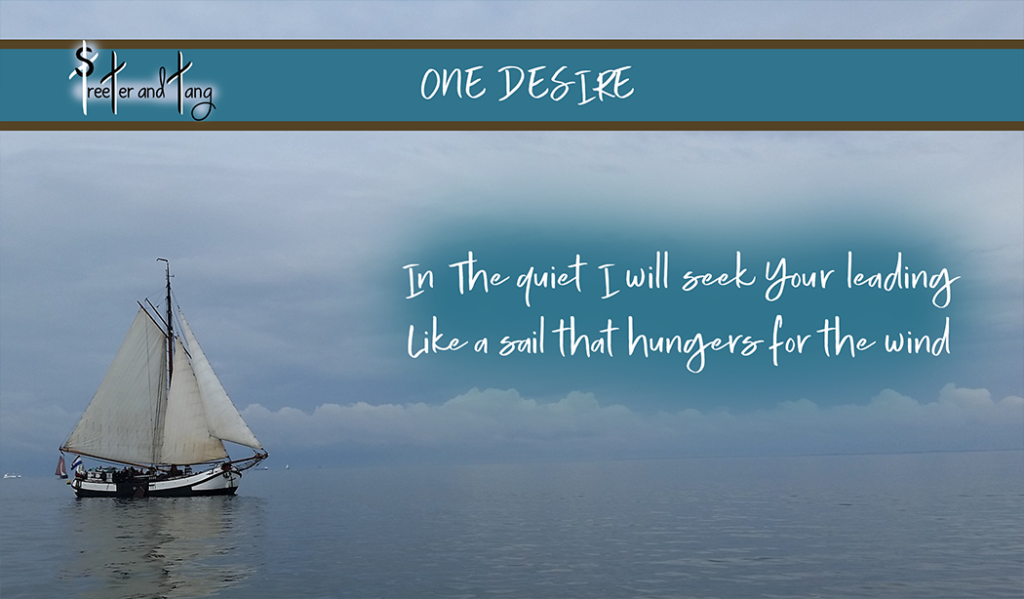 Hungering for God's Presence: The comparison to a sail that hungers for the wind depicts a deep longing and yearning for God's presence in our lives. Just as a sail relies on the wind to propel a ship forward, our hearts hunger for the movement and direction that come from being in alignment with God's will. We desire to experience His presence, His leading, and His transformative power in our lives.
Dependence on the Holy Spirit: The simile highlights our dependence on the Holy Spirit as our guide and source of power. The wind symbolizes the Holy Spirit who empowers and directs us in our spiritual journey. Like a sail needs the wind to navigate and move, we rely on the Holy Spirit to guide us, teach us, and empower us to live according to God's purposes.
Seeking God in the Quiet: The lyrics emphasize the importance of finding moments of solitude and stillness to seek God's leading. Jesus often withdrew to quiet places to commune with the Father and seek His guidance (Lk 5:16). In the busyness and noise of life, it is in the quiet moments of prayer, meditation, and seeking God's presence that we are able to discern His voice and direction more clearly.
Trusting in God's Leading: The simile suggests that just as a sail trusts the wind to guide it, we are called to trust in God's leading in our lives. Pr 3:5-6 reminds us, "Trust in the LORD with all your heart and lean not on your own understanding; in all your ways submit to him, and he will make your paths straight." As we surrender our plans and desires to God, we place our trust in His wisdom and guidance, knowing that He will lead us on the right path.
Aligning with God's Will: The simile also speaks to our desire to align our lives with God's will. A sail that catches the wind is positioned in a way that allows it to move in the intended direction. Similarly, as believers, we seek to position ourselves in a way that allows us to receive and follow God's leading. This involves surrendering our own agendas and aligning our hearts, minds, and actions with His Word and His purposes.
---
13.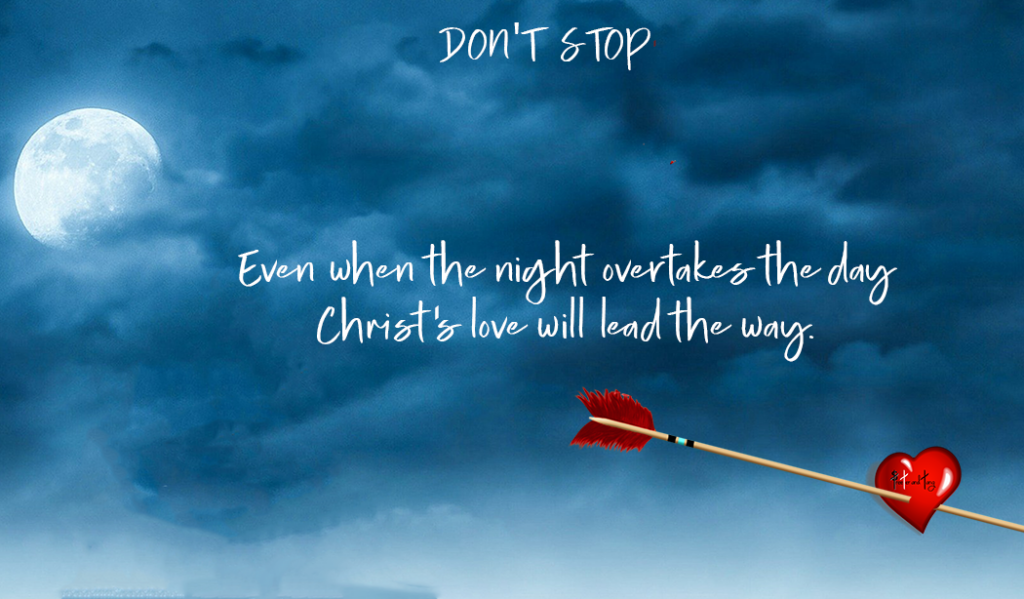 Overcoming Darkness: The night represents difficult seasons, trials, and moments of despair. However, it emphasizes that even in the midst of darkness, Christ's love remains constant and steadfast. It reminds us that no matter how overwhelming or prolonged the night may seem, Christ's love has the power to overcome and bring light into our lives.
Leading the Way: The lyric highlights that Christ's love is not passive but active in leading and guiding us. Jesus is not only our Savior but also our Shepherd, who leads us on the right path and brings us into a place of safety and victory. His love is a guiding force that directs our steps, provides comfort and strength, and leads us toward the fullness of life that He desires for us.
Unconditional and Unchanging Love: The essence of the lyric lies in the truth that Christ's love is unwavering and unconditional. It is not dependent on our circumstances, failures, or the darkness we may face. His love is perfect and complete, reaching out to us in our brokenness and offering redemption, forgiveness, and restoration. It is a love that surpasses human understanding and is available to all who believe in Him.
The Light in the Darkness: As followers of Christ, we are called to be a reflection of His love and light in the world. In Jn 8:12, Jesus says, "I am the light of the world. Whoever follows me will never walk in darkness but will have the light of life." Through His love, we can be instruments of hope, encouragement, and compassion to those who are experiencing darkness in their lives. Christ's love empowers us to bring His light into the darkest places, offering comfort, healing, and the message of salvation.
Trusting in Christ's Love: The lyric encourages us to trust in Christ's love, even in the midst of challenging circumstances. It reminds us that His love is faithful and will lead us through the darkest valleys, providing comfort, guidance, and strength. We can find comfort in knowing that His love is greater than any darkness we may encounter and that His light will ultimately prevail.
14.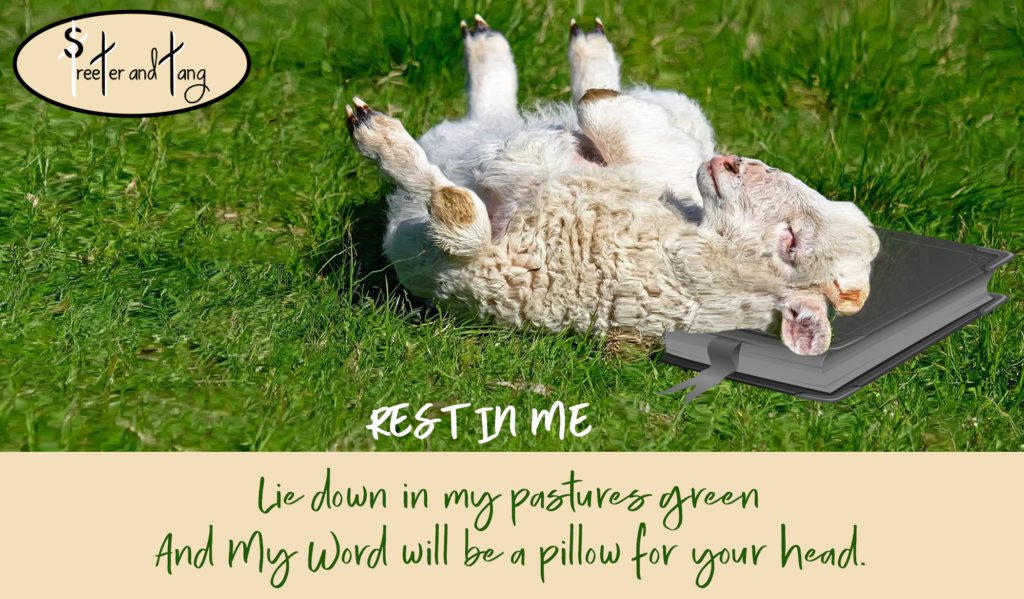 …Taking one of the stones there, he (Jacob) put it under his head and lay down to sleep. He had a dream…Gen 28:11,12
Rest in God's Pastures: The imagery of lying down in green pastures evokes the concept of rest and peace in the presence of God. Just as a shepherd leads his flock to lush, green pastures where they can find nourishment and rest, God invites us to find spiritual rest and refreshment in Him. It speaks of a deep sense of contentment, tranquility, and security that comes from being in God's presence.
God's Word as a Pillow: The lyric suggests that God's Word serves as a pillow for our heads, symbolizing comfort, support, and guidance. Just as a pillow offers comfort and helps us to rest our heads, God's Word provides us with solace, assurance, and wisdom. It becomes a source of comfort in times of weariness, a foundation for our thoughts and beliefs, and a guide for navigating life's challenges.
Spiritual Nourishment: In the context of lying down in green pastures, the lyric also alludes to the idea of spiritual nourishment. God's Word is compared to food for our souls, providing sustenance, nourishment, and growth. As we immerse ourselves in His Word, we are spiritually fed and find the sustenance needed to thrive in our faith journey. It offers truth, encouragement, correction, and direction, guiding us in righteousness and leading us closer to God.
Dependence on God's Word: The lyric emphasizes the importance of relying on God's Word as a source of guidance and wisdom. It encourages us to align our thoughts, desires, and decisions with the principles found in Scripture. By leaning on God's Word, we gain clarity, discernment, and a solid foundation upon which to build our lives. It becomes a source of comfort, strength, and stability in a world that is often uncertain and changing.
Surrender and Trust: To lie down in God's pastures and rest our heads on His Word requires an act of surrender and trust. It involves letting go of our own understanding and submitting to God's wisdom and guidance. It calls us to trust that His Word is true, reliable, and relevant to every aspect of our lives. In doing so, we find peace, assurance, and the guidance we need to navigate life's challenges.
---