If my people, who are called by my name, will humble themselves and pray and seek my face and turn from their wicked ways, then I will hear from heaven, and I will forgive their sin and will heal their land 2 Chr 7:14. If we, the people of Canada, humble ourselves, pray, and seek God's face, and turn from our wicked ways, He promises to heal our land.
"He himself bore our sins" in his body on the cross, so that we might die to sins and live for righteousness; "by his wounds you have been healed"1 Pe 2:24; Isa 53:5. What color are wounds/stripes? Red. What color are the stripes of the Canadian flag? Red. Do you see the connection to Jesus? The Canadian flag is a symbol of Jesus! What do you think the center white of the flag represents. Jesus' righteousness that He gives to people who turn from their sinful lifestyles 2 Co 5:21.
Then the angel showed me the river of the water of life, as clear as crystal, flowing from the throne of God and of the Lamb down the middle of the great street of the city. On each side of the river stood the tree of life, bearing twelve crops of fruit, yielding its fruit every month. And the leaves of the tree are for the healing of the nations Rev 22:2. What do you think the red leaf represents? Jesus, the Tree of Life who can heal our nation, if we obey 2 Chr 7:14.
Jesus the Tree of Life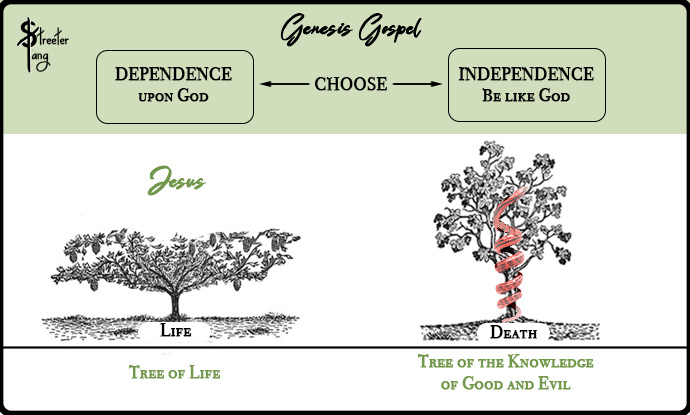 Jesus is the humble, lowly vine tree—the tree that gives life. We are His branches, which apart from Him can do nothing Jn 15:5. Satan represents the fig tree, independence from God, puffed up because of his knowledge 1 Co 8:1b.
To love someone is a choice, forced love is rape. God allows everyone to choose to love Him freely (to be dependent upon Him Gal 2:20) or to be their own god and reject His love (independence Isa 14:14).
God doesn't send anyone to Hell, for we were born separated from Him through Adam's sin Ps 51:5; Jn 3:36 and therefore destined to eternal separation. In God's mercy and grace, He sent Jesus to pay for our sins and became the Bridge to Life for whosoever trusts in Him (is dependent upon Him Jn 3:16).
Tree of Life