JUST LIKE TITANIC, A PROUD FIT MAN
BELIEVING IN HIMSELF, THE WORLD IN HIS HANDS
THEN ONE DAY DARK CLOUDS ARRIVE
POURING DOWN TRIALS AND HE'S BURIED ALIVE
HE WAS DRIVEN TO HIS KNEES
IN DESPERATION CRYING, "PLEASE"
JESUS PROTECT ME THROUGH THIS NIGHT
BE MY PRECIOUS COMPANION AND HOLD ME TIGHT
DEAR LORD LET THIS HEART OF MINE
BE FILLED WITH YOUR LIGHT
YOU SAY THERE'S NO JUDGMENT DAY
IT'S NOT REAL AND YOU GO ASTRAY
ALL EYES ON SELF, A LOVER OF PLEASURE
THE TIME WILL COME FOR EACH MAN'S MEASURE
SO IF YOU HAVE EARS TO HEAR
CALL ON HIM HE'S ALWAYS NEAR
CHORUS
YOU TRAMPLE OTHERS UNDER YOUR FEET
THE MONEY GOD IS THE DRUM YOU BEAT
WAKE UP DREAMER BEFORE IT'S TOO LATE
YOUR BLIND SIGHT WILL ONLY SEAL YOUR FATE
HE GIVES LIFE MORE THAN THE AIR YOU BREATHE
SO PRAY AND TRUST IN A FAITH THAT'S REAL
CHORUS
BREAK
BRIDGE
HALLELUJAH TO THE KING OF KINGS
HALLELUJAH LET THE HEAVENS RING
HALLELUJAH TO THE LORD DIVINE
BRIGHTER THAN ALL THE STARS THAT SHINE
HALLELUJAH TO GOD'S ONLY SON
HALLELUJAH TO THE CHOSEN ONE
CHORUS 2x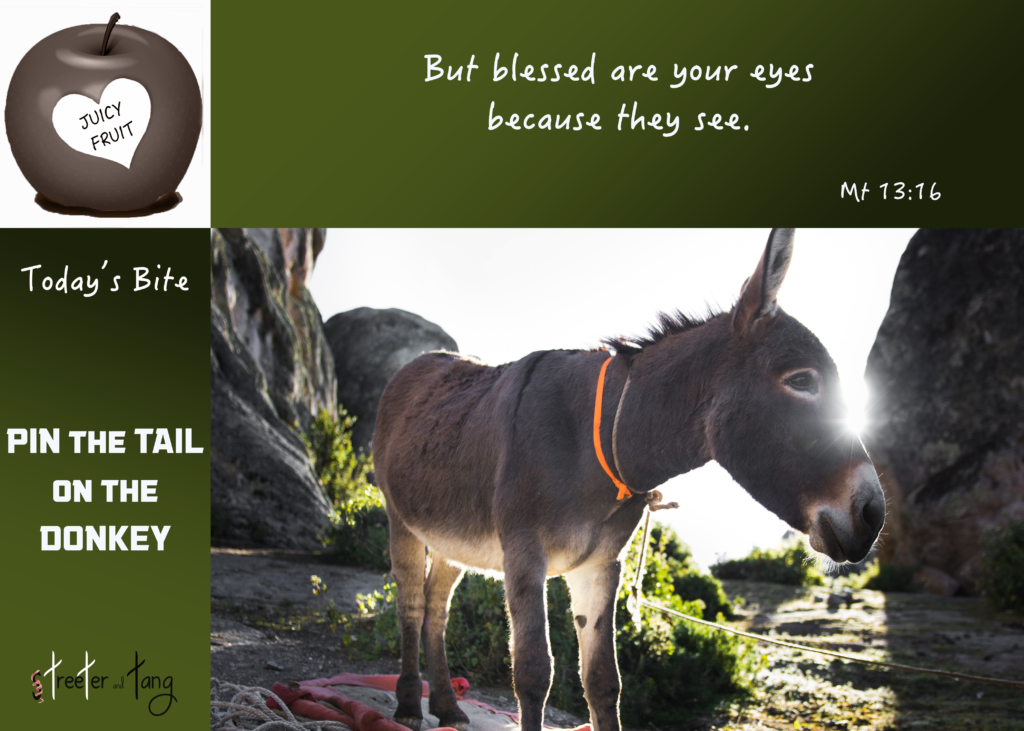 INVENTED IN 1887 BY CHARLES ZIMMERING; ORIGINALLY CALLED "DONKEY PARTY".
Life is like the game "Pin the Tail on the Donkey." Man enters this world blind to truth and in his effort to make sense out of his life, he places the tail where he thinks it best fits. It usually ends up anywhere but where it truly belongs. Take the blindfold off and it is an easy task to place the tail in its correct location. Mk 4:11,12
Jesus called this knowledge, the secrets of the kingdom of God: people that really wanted to know the truth would be able to understand the pictures God had painted for their enlightenment but those that had hardened their hearts towards God's truth would not be able to perceive but would see these truths as foolishness. 1 Co 1:18,21,22,23,24
But how do we get our spiritual cataracts removed? Ac 9:18; 2 Co 4:4,5,6. God's light can only be seen when a person humbles himself and recognizes his sinful ways and his rebellion against God. When a man finally recognizes that his pride has been his enemy and repents and submits to God, the true Master of all, then understanding comes. Jas 4:6,7,8,9,10
Servitude is one of God's first lessons that He teaches His newly adopted children. In God's kingdom, the greatest is the one who is servant of all. Jn 13:13,14,15 The donkey's serving aspect is a wonderful illustration of this truth as it is a domesticated animal, a "beast of burden," valuable in helping man complete his daily tasks. We are to be God's servants used by Him to help fulfill His goals. 2 Ti 2:20,21
Surprisingly, the humble donkey has quite a glorious involvement in major events that are written about in the Bible. The most famous donkey was used by Christ in His Jerusalem entry. It was to be a joyous occasion, with the Jews acknowledging Jesus as their Messiah. However, their hardened hearts prevented this from becoming reality. The humble colt symbolized Jesus' humility and peace, and His desire to be a blessing to His people by saving them from their sinful ways. But, their refusal to submit to Him ended this objective temporarily. In His next coming, the Jewish people will see Jesus riding, not a donkey but on a horse, for He will rule with an iron hand Rev 2:27, with war and justice as his companions Rev 19:11.
Another famous donkey belonged to the false prophet Balaam Nu 22:21-35. This donkey had more sense than his master, yet, was beaten three times for trying to save his life. God miraculously allowed this donkey to speak to Balaam, to try to help him understand the reality of his circumstances, which included the "Angel of the Lord" wanting to take Balaam's life Nu 22:33.
Jesus told a parable about the Good Samaritan saving the life of a man, who had been beaten and robbed, but was given a donkey to ride on, to an inn to be nursed back to health Lk 10:34.
In most cases, the donkey is portrayed as gentle, peaceful and helpful but in Samson's case this donkey's fresh remains were used to kill one thousand men Jdg 15:15,16.
Finally, a donkey was involved in Abraham's test of faith, when ordered by God to kill his son Isaac Gen 22:3.
The application with all these donkey illustrations is that we are to be God's servants (donkeys), involved in minor to major events as the Lord directs us. The donkey's tail is the least significant part, as it submits to its head, which controls its actions, a perfect picture of Christ and His body of believers 1 Co 11:3. The purpose of a tail is to swat the flies that want to suck the animal's blood. Metaphorically, we are the tail in the body of Christ, He is our head. The Holy Spirit wants to present us spotless to Christ as His bride. By exposing those sins that try to attach themselves to the body of Christ we are purifying a holy bride for Christ. Eph 5:25,26,27
As the world continues to pin the tail in the wrong place, our servitude to God, displayed in our positive actions, can demonstrate to the world, the reality of God, and cause them to turn in faith to Christ Mt 5:14,15,16.