When I feel that I am losing the battle and overwhelmed by my circumstances, "God's Promise Clock" revitalizes me to His truths and replaces my depression with His joy.
Start at one o'clock in the morning, read the Promise (Eternal Life), then the verse (Jn 3:16), thank God for this truth and move on to two o'clock repeating this process until you finish at twelve o'clock noon. Just as midnight is the darkest, these promises will bring light into your spirit until you are filled with the Light of the World Jn 8:12, the Sun of Righteousness Mal 4:2, the Bright Morning Star Rev 22:16.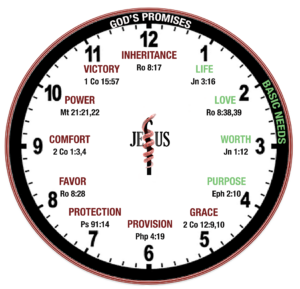 1. Eternal Life Jn 3:16

3. Eternal Worth Jn 1:12

4. Eternal Purpose Eph 2:10

6. Provision Php 4:19

.

Click twice on chart to view up close

7. Protection Ps 91:14

8. Favor Ro 8:28

11. Victory 1 Co 15:57

12. Inheritance Ro 8:17

.

Eternal Life Verses 1 Co 15:53; Rev 21:4, Rev 7:16; Rev 21:27; Rev 22:12; Rev 22:3 Eternal love Verses Col 2:13; Heb 13:5; Jn 14:16,17; 1 Pe 5:7; Eph 5:31,32; Rev 19:7,8 Eternal Worth Verses Eph 2:19; Eph 1:5; Ro 8:15,17; 1 Jn 3:2 Eternal Purpose Verses Jer 29:11; Php 2:13; 2 Co 5:20; 1 Co 12:21,22; Jn 14:13,14
Significance of these numbers in my opinion.
One represents the truth that only Christ could grant me eternal life, for only He could live a perfect life.
Two represents that it takes two to experience love; God and me.
Three represents the Triune God, who alone gives me worth.
Four represents the world and I have been given purpose to be an ambassador for Christ to share the Gospel with the world.
Five represents God's grace in my life when I am weak or downcast.
Six represents man (me) and God provides all my needs.
Seven represents God's perfection and He protects me from all evil.
Eight represents God's favour (new beginnings) in my life working all trials out for my advancement.
Nine represents the nine fruit of the Spirit which brings me comfort and joy.
Ten represents God's power (1) in my nothing being (0).
Eleven represents victory given by God (1) making my nothing being a something (from 0 to 1).
Twelve represents my inheritance in eternity given by God (1) and making it possible for me (it takes 2 to experience love) to receive His love.