HOUND POWER LOVE THAT RED AND WHITE
SEE THEM MOVING, BURNING UP THE ICE
HOUND POWER, LISTEN TO THE ROAR
JUST KEEP SHOUTING, GO HOUNDS GO
OUR REPUTATION IS KNOWN THROUGHOUT THE LAND
MEAN OLD GUNSLINGERS DON'T STAND A CHANCE
THE STORM AND GENERALS, WHALERS, AND THE STING
WANT TO KNOW THE SECRET, TELL YOU WHAT IT IS
CHORUS
COMING FROM THE ASC, UP AND DOWN THE LINE
QUEEN STREET AND BAY, FROM EVERY WALK OF LIFE
WOLVES, SIXTY-SEVENS, SPITFIRES, RANGERS TOO
THE PETES AND THE KNIGHTS, ALL KNOW WHAT WE CAN DO
BRING ON YOUR COWBOYS, LET SEE YOUR GUNS
IT WON'T BE LONG BOYS, WE'LL HAVE YOU ON THE RUN
WHEN YOU CAN'T TAKE IT, WE'LL HIT YOU WITH SOME MORE
ROUND THEM UP, HEAD THEM OUT, SKATE AND SHOOT AND SCORE
CHORUS
STING LIKE A WINTER CHILL, FASTER THAN THE WIND
FIGHT IT ALL THEY WANT, BOYS, THE PUCK WILL STILL GO IN
WE'RE READY FOR THE SHOWDOWN, SHOOTIN' IS OUR GAME
THE WHISTLE BLOWS, THEY DROP THE PUCK, COME ON LET'S PLAY THE GAME
CHORUS 3X
HOUND POWER REVISITED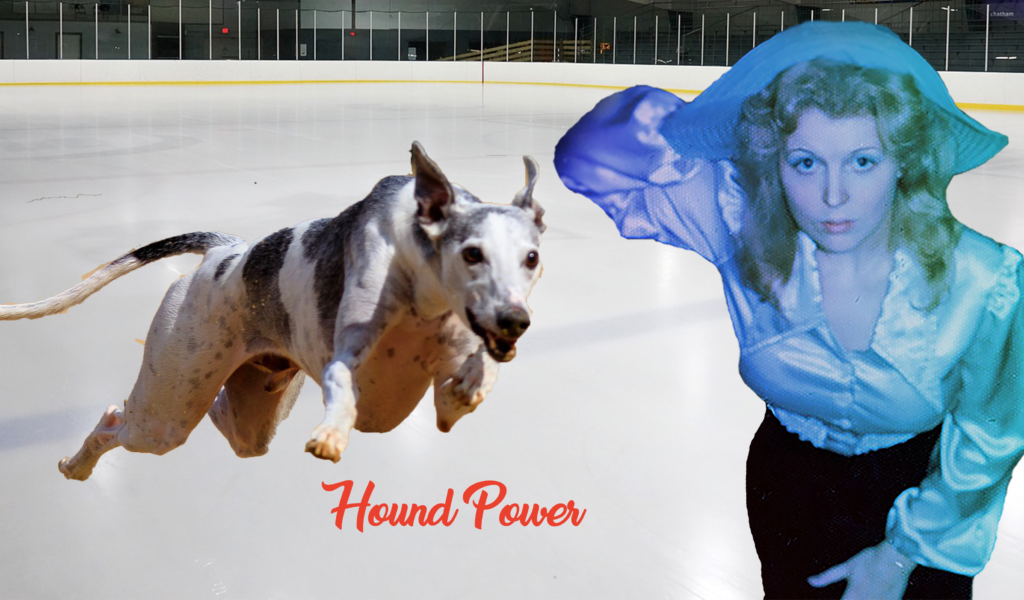 INTRO
HOUND POWER, HOUND POWER, POWER
CHORUS
HOUND POWER LOVE THAT RED AND WHITE
(SEE THEM MOVINGNOT 1ST CHORUS), BURNING UP THE ICE
HOUND POWER, LISTEN TO THE ROAR
JUST KEEP SHOUTING, GO HOUNDS GO
THERE'S A SHOT, RIGHT ON, THEY SCORE
VERSE 1
OUR REPUTATION IS KNOWN THROUGHOUT THE LAND
THOSE OLD ICEDOGS DON'T STAND A CHANCE
THE STORM AND GENERALS, WHALERS, AND THE STING
WANT TO KNOW THE SECRET, TELL YOU WHAT IT IS
CHORUS
VERSE 2
COMING FROM THE ESA, UP AND DOWN THE LINE
QUEEN STREET AND BAY, FROM EVERY WALK OF LIFE
WOLVES, SIXTY-SEVENS, SPITFIRES, RANGERS TOO
THE PETES AND THE KNIGHTS, ALL KNOW WHAT WE CAN DO
COME ON BATTALION, LET SEE YOUR GUNS
IT WON'T BE LONG, WE'LL HAVE YOU ON THE RUN
WHEN YOU CAN'T TAKE IT, WE'LL HIT YOU WITH SOME MORE
ROUND THEM UP, HEAD THEM OUT, SKATE AND SHOOT AND SCORE
CHORUS
VERSE 3
WE'LL HURT YOU LIKE A WINTER CHILL, WE'RE FASTER THAN THE WIND
FIGHT IT ALL YOU WANT BOYS, THE PUCK WILL STILL GO IN
WE'RE READY FOR THE SHOWDOWN, WE'RE LIKE A SPEEDIN' TRAIN
THE WHISTLE BLOWS, THEY DROP THE PUCK, COME ON LET'S PLAY THE GAME
BRIDGE
COME ON, COME ON,
GREYHOUNDS
WE GOT THE POWER, COME ON
CHORUS 2X
OUTRO
WE GOT THE POWER
The original song was written when Julie and I were lost people searching for our worth through other's approval. My dream was to go to Nashville and become stars. Without God, our dreams are pretty shallow and temporary. Even though "Hound Power" made Julie and I, celebrities in our small hockey community of Sault Ste. Marie, it is simply emptiness compared to knowing the True God, who loves us unconditionally and gives us worth by making us children of God (Jn 1:12). There is nothing wrong with hockey or writing songs about your favourite team, unless they become your god. Many hockey fans worship their team faithfully, in all sorts of weather, and talk about their heroes daily; they live for this experience. In a way, they are more dedicated and enthusiastic than many Christians, who serve the true God. Unfortunately, a day of judgment will come and we all will be assessed on our love for God, not our favourite hockey team. Satan has used all sports to drive people to eternal madness!
P.S. Julie's last words are prophetic. "We got the Power," yes, all who receive Christ, have the power of the Holy Spirit living inside of them Eph 3:16,17,18,19,20.