HUMILITY LOOKS DOWN, GRATITUDE LOOKS UP,
CONTENTMENT IS FOUND WITHIN, COMPASSION REACHES OUT
THE ROAD THAT I TRAVELLED CAUSE ME PAIN
CHASING MY RAINBOW BUT ONLY FOUND RAIN
CAME TO THE CROSSROAD TURNED TO YOUR TRUTH
FAR FROM THE THORNS OF MY FOOLISH YOUTH
A LONG, LONG WAY
THIS HEAVEN BOUND JOURNEY
A LONG, LONG WAY
BUT MY FEET ARE READY
A LONG, LONG WAY
I'M FIT WITH THE GOSPEL GUIDE ME THIS DAY
TAKE ALL THE SORROW AND CLEAR MY MIND
GIVE ME A NEW SONG TO PRAISE YOU IN KIND
LET ME NOT FALTER OR WEARY BECOME
I'LL STAY THE COURSE LORD TILL MY RACE IS WON
CHORUS
THE JOY OF YOU LORD WILL BE MY STRENGTH
YOUR PERFECT PEACE MAKES ME CONTENT
WHEN STORM CLOUDS GATHER BLESSINGS I SEE
NO LONGER A PRISONER I'LL FOLLOW YOUR LEAD
CHORUS
BRIDGE
YOU WILL RENEW MY STRENGTH
I WILL NOT GROW FAINT
I WILL MOUNT UP LIKE AN EAGLE
HIGHER AND HIGHER DAY AFTER DAY
CHORUS 2X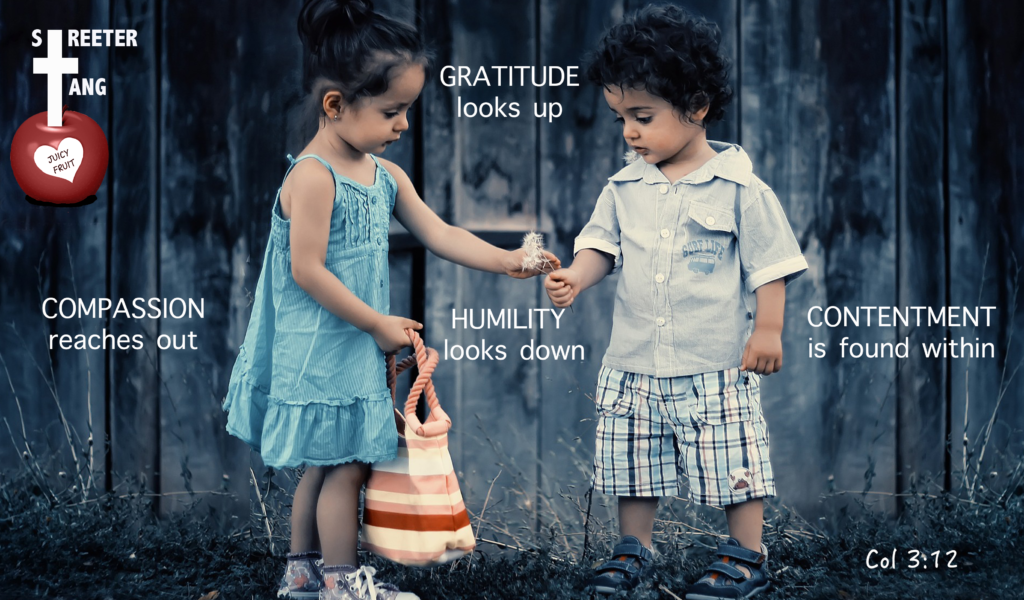 We have been given the Holy Spirit, who is renewing our minds with God's righteousness. We are to clothe ourselves with character traits from the last Adam not the first. A grateful heart always acknowledges God for His goodness. A humble heart remembers its past, a sinner destined for Hell and shows mercy to others. A compassionate heart reaches out to lift others burdens. A contented heart chooses not to grumble and trusts God through difficult trials Col 3:10,12,13.
Our purpose as Christians is to share the Good News as we go about our lives, and to make disciples teaching new believers, God's truths (Mt 28:19,20). It isn't always easy. Jesus warns us about some of the pitfalls after becoming a Christian, such as looking back at our old lives and desiring some of the world's attractions (pleasures, material goods, sinful activities) Lk 9:62. We must keep our eyes fixed on Jesus Heb 12:2 and like a soldier be focused only on what the commander has ordered us to do and not get involved in civilian affairs 2 Ti 2:4. It's a long, long way until we arrive in eternity and endurance is needed for our journey, which can only be acquired by reading the Bible daily Mt 4:4 and continually communicating with God 1 Th 5:17 to renew our strength Isa 40:31.



Today's Chew:

Father, it took me coming to Christ to fully understand my life purpose Eph 2:10. You have prepared good works for me to complete and have gifted me with certain skills to fulfill this purpose. I am Christ's ambassador 2 Co 5:20 and I will use my talents to persuade people to receive the Gospel 2 Ti 2:15. I thank You for Jesus and His provision for the forgiveness of my sins Eph 1:7 and eternal life Jn 3:16. He is truly King of kings and Lord of lords Rev 17:14. I want to give my best at all times Col 3:23 and in every aspect of my life 2 Ti 2:20,21 for I love my Savior because He first loved me 1 Jn 4:19.

It's a long, long way from being a sinner Ro 3:23 destined for Hell to becoming a child of God Jn 1:12 trying to do my best, yet failing so often Ro 7:15, so I ask You, Father to pick me up when I fall and encourage me to keep battling for Your kingdom until my journey's end 2 Ti 4:7.