MY TEARS HAVE BEEN MY FOOD DAY AND NIGHT (Ps 42:3)
IN THESE DAYS OF TROUBLE LORD
OH THE MOUNTAINS THEY SEEM FAR TOO HIGH
BUT I KNOW THERE IS SOMEWHERE I CAN GO
SO TO THE ROCK OF AGES I WILL FLY
HERE I AM LORD BROKEN AND ABUSED
READY TO LAY THIS BURDEN DOWN
HERE I AM WITH NOTHING LEFT TO LOSE
(LORD) PLEASE TAKE IT FROM ME NOW
MY ARMS ARE WEARY LORD
FOR THIS HEARTACHE WELL IT CRUSHES ME
BUT I KNOW THERE IS SOMEWHERE I CAN GO
SO TO THE ROCK OF AGES I WILL FLEE
CHORUS
TEACH ME TO REST IN YOU
AND WITH YOUR OIL OF JOY I WILL SING
FOR I KNOW THERE IS SOMEWHERE I CAN GO
SO TO THE ROCK OF AGES I WILL CLING
CHORUS
BREAK
CHORUS 2X
LAY THIS BURDEN DOWN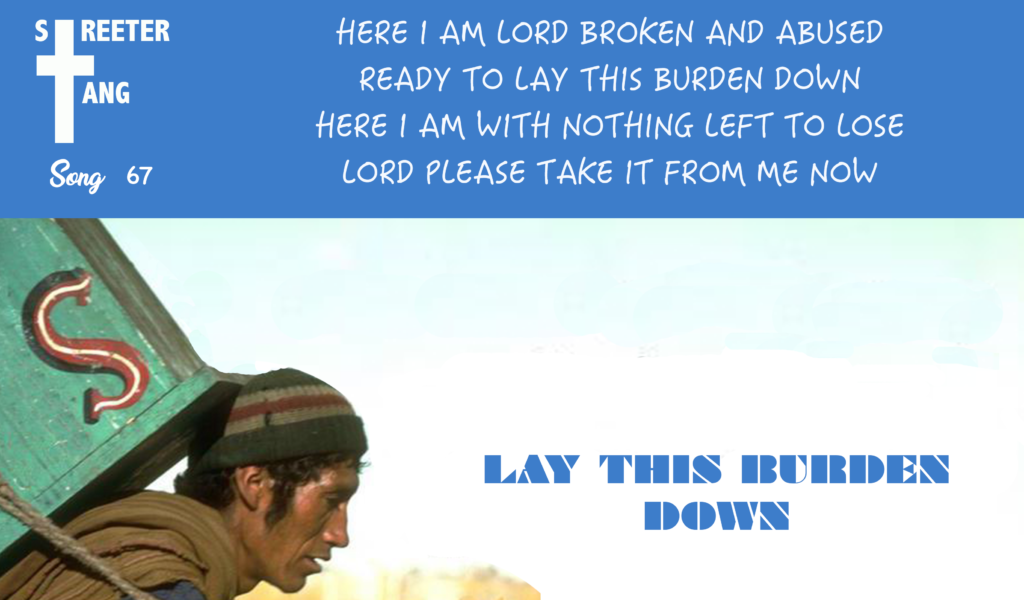 Notice in the pic that Satan is right beside this servant's ear putting lies in his mind to destroy his faith in the Lord. When he lays down his burden, he'll find freedom from Satan and his fears. Jesus tells us to come to him with our burdens and He will give us rest (Mt 11:28,29). God is our Burden Bearer and after we have received His comfort, we can comfort others (2 Co 1:3,4), for He exhorts us to carry each other's burdens (Gal 6:2).
How to maintain good mental health:
1. Rejoice in the presence of the Lord Php 4:4
2. Rely on the power of the Lord Php 4:13
3. Reflect on the provision of the Lord Php 4:19
4. Rest in the peace of the Lord Php 4:7
Circumstances will change but Jesus is the same, yesterday, today and forever (Heb 13:8).