COME SEE THE SON SHINE
AND TASTE THE "BROKEN BREAD"
LET'S DRINK OF HIS WINE,
OUR SAVIOUR IS NOT DEAD
COME SEE THE SON SHINE,
LET'S DANCE IN HIS LIGHT
(1) oh yea (2) oh yes (3) uh-huh
INTRO
WHAT A WONDERFUL WORLD
WHAT A WONDERFUL WORLD WE LIVE IN
OH HOH WHAT A WONDERFUL WORLD
CHORUS
IN GOD'S CREATION WE DELIGHT
CAN'T YOU SEE HIM ALL AROUND
WITH A BLANKET OF STARS HE WRAPS UP THE NIGHT
LOOK AT HIS GLORY FROM SKY TO GROUND
WE'RE LIVIN' IN HIS MASTERPIECE
EVEN THE MOUNTAINS, THEY SING AND REJOICE
WON'T YOU COME AND SIT AT THE FATHER'S BANQUET FEAST
LET US PRAISE HIM WITH ONE VOICE
CHORUS
HIS LOVE IS UNCONDITIONAL
ONLY OPEN YOUR HEART LET HIM IN
DON'T YOU KNOW OUR GOD IS MORE THAN ABLE
TO SET US FREE FROM GUILT AND SHAME
HE'S MADE A PLACE FOR YOU AND ME
UP IN HEAVEN, SO FULL OF LIGHT
IT'S THE GIFT ONLY HE CAN GUARANTEE
AND HIS LOVE GUIDES US DAY AND NIGHT
CHORUS (3X)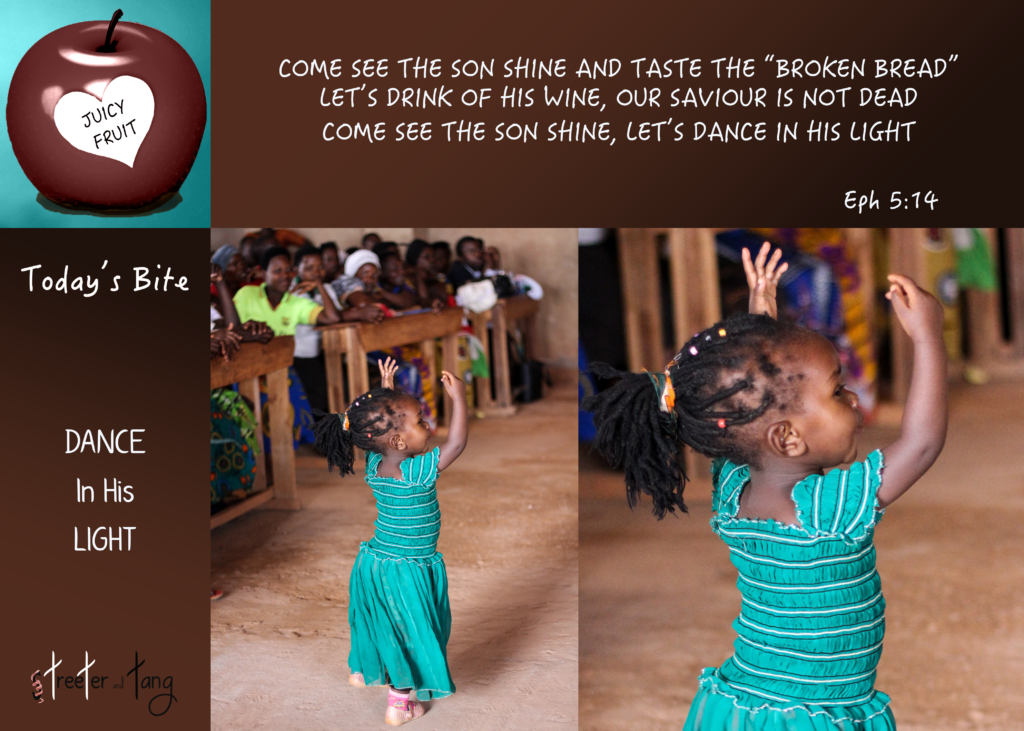 Sports fans are more enthusiastic at sporting events than believers are at a church service. Yet, we have so much more to rejoice about. Long after these sporting games have ended, we will be enjoying the Lord, dancing in His presence and singing Him praises while these temporal happenings will be meaningless. Selah! (which means to pause and carefully consider what you have just read).