WHEN MY TROUBLES SEEM LIKE MOUNTAINS HIGH
FEELING LIKE NO ONE CAN UNDERSTAND
YOU TAKE MY HAND THEN YOUR SPIRIT COMFORTS ME
AND ALL MY PROBLEMS SEEM LIKE GRAINS OF SAND, GRAINS OF SAND
When enduring trials, a marvelous gift from God is His ability to turn our problems from a huge mountain to tiny particles of sand. Grains of sand are insignificant compared to a mountain. However, grains of sand can be a valuable commodity when symbolized as time.
Let a grain of sand in an hourglass represent a day of our lives. Each of us has a finite number of grains and when they run out so do our lives. My spouse, Julia was given 23,943 days. She used them wisely, spending time with her Savior by writing 125 praise songs and devoting her energy to loving others. Her reward will be spending eternity with her bridegroom Jesus, never having to worry that the hourglass in heaven will run out of time, joy, peace or love. I counsel you to use your grains wisely for as surely as day comes after night, eternity will follow the end of your grains.
Julia wrote quite a few lyrics about time. Meditate on these lines and get a better perspective on this priceless entity that is nonrenewable.
GOD OF PATIENCE, GOD OF MIGHT
YOU CHOSE US BEFORE THE BEGINNING OF TIME
TO BE BLESSED, TO BE YOURS
SO WE'LL THANK YOU LORD FOREVER MORE 
from the song "Blessed"


THE
TIME
WILL COME FOR EACH MAN'S MEASURE

SO IF YOU HAVE EARS TO HEAR

CALL ON HIM, HE'S ALWAYS NEAR

from the song 
"Blind Sight"
EACH TIME YOU LIFT YOUR HANDS TO PRAY
OR TEND ANOTHER'S CARE 
EACH TIME YOU GIVE UNSELFISHLY
 CHRIST'S LOVE IS WORKING THERE, IN A MILLION PERFECT WAYS 
from the song "Don't Stop"
LORD YOU GIVE ME HOPE FOR SWEETER TIMES 
AND THE REST THAT WILL GIVE ME PEACE,
YOUR PEACE WITH THE SOUND OF YOUR TENDER VOICE SAYING
WON'T YOU COME UNTO ME AND I'LL SET YOU FREE 
from the song "Fly"
SOMETIMES WE FORGET HOW TRULY BLESSED WE ARE
from the song "He Lives in You"
IN THIS LIFE WE WILL HAVE TROUBLES
THE ROAD WE TRAVEL CAN GET SO ROUGH
MAKING IT THROUGH ONE DAY AT A TIME 
AND SOMETIMES WE FEEL LIKE JUST GIVING UP
BUT I WILL TRUST IN YOU ONLY AND
I WILL WALK IN YOUR RIGHTEOUSNESS 
I WILL DELIGHT IN YOUR WORD 
FOREVER AND EVER AND EVER MY SAVIOUR 
from the song  "I Will Trust"
AFTER ALL THIS TIME WE KEEP CARRYING ON
AND WE LOVE YOU MORE AND MORE
AFTER ALL THIS TIME WE KEEP CARRYING ON
AND IT'S YOU THAT WE ADORE
from the song "It's You That We Adore"
SOMETIMES IN THIS WORLD
WE CAN GET TURNED AROUND, UPSIDE DOWN
THE EASY WAY OUT IS THE VOICE WE OFTEN LISTEN TO
SOMEWHERE IN THIS CONFUSION LORD I HEAR YOU SAYING
PLEASE LET ME LIVE, PLEASE LET ME LIVE,
PLEASE LET ME LIVE IN YOU
I'LL BE YOUR ARMS THAT REACH
I'LL BE YOUR VOICE TO TEACH
JUST KEEP THIS HEART OF MINE INSIDE OF YOU
from the song "Let Me Live"
THERE ARE TIMES I FORGET LORD
YOUR GREAT SACRIFICE TO GIVE ME LIFE
AND THEN I GO AND SHUT YOU OUT SO EASILY
BUT LORD I HEAR YOU PLEAD SAYING LISTEN TO ME
from the song "Let Me Live"
MORNING COMES UP WITH THE DAWN
ANOTHER DAY ROLLS BY
SOMETIMES I'M JUST HANGING ON
TILL I SEE A BLUER SKY
LORD YOU SPOKE THE UNIVERSE BEGAN
CREATION OBEYED YOUR VOICE
ON CHRIST THE SOLID ROCK I STAND
IN HIM I WILL REJOICE
from the song "The Living Stone"
I SPENT SO MANY DAYS JUST WASTING MY LIFE
FULL OF EMPTY THINGS THAT ONLY TOOK UP MY TIME 
I NEVER KNEW PEACE THAT LASTED
TOOK ALL YOU GAVE FOR GRANTED
BUT NOW I'M ON MY KNEES AS I CRY AND PRAY 
NO MORE GOING BACK TO MY SINFUL WAYS 
I WILL WALK WITH YOU AND BE NOT AFRAID 
NEVER GOING BACK AGAIN 
from the song "Never Going Back Again"
SOMETIMES THE ANSWERS NEVER COME
NO MAKING SENSE OF IT ALL
SOMETIMES WE LIVE OUR LIVES WITH BLINDERS ON
AND CANNOT SEE THE BLESSING THAT HAS COME
BUT YOU SAY SOMEDAY ALL WILL BE REVEALED
YOU SAY LORD ON THAT DAY THERE WILL BE NO MORE TEARS
from the song "No More Tears"
THERE'S LIVING WATER RUNNING THROUGH MY VEINS
NO MORE A PRISONER BOUND UP ALL IN CHAINS
MAKE MY LIFE A SHINING TESTAMENT
WITH NO REGRETS HOW MY TIME WAS SPENT OH YEAH
CAUSE JESUS YOU ARE OUR GLORY
JESUS YOU ARE THE STORY
ONLY YOU COULD DRINK FROM THE CUP
AND ONLY YOU COULD SWALLOW DEATH UP
from the song "Psalm of Praise"
          WHAT I NEED IS YOUR SOUND FROM HEAVEN 
YOUR MELODY FOR ALL TIME 
WHAT I NEED IS YOUR SOUND FROM HEAVEN 
          I AM YOURS AND YOU ARE MINE
          from the song "Sound from Heaven"
DO YOU THINK THEY CAN CHANGE THESE
TIMES 
HOLDING NO TRUTH TO THE FLAME 
THERE IS ONLY ONE WHO CAN SAVE US 
HE'S THE NAME ABOVE ALL NAMES
from the song "These Present Times"
ETERNITY IS SUCH A LONG
TIME 

TO PAY FOR A PRIDEFUL MISTAKE
DON'T BE SO FOOLISH 
THERE IS A FIERY LAKE 
IF THIS TRUTH OFFENDS YOU 
THEN BELIEVE IN THE SERPENT'S LIE 
THAT GOD IS THE LIAR 
AND YOU WILL NOT DIE 
from the song "These Present Times"
SOME PEOPLE SEARCH A LIFETIME 
TO FIND THAT DIAMOND IN THE STREAM
BUT TO BE LOVED BY YOU IS EVERY THING I NEED
from the song "To be Loved by You"
THE WORLD WITHOUT YOU IS EMPTY AND DRY
WHERE BLINDED FOOLS SEARCH THE DARKENING SKIES
WASTING THEIR TIME, THEY WILL NEVER GET IT BACK
LIKE A SHOOTING STAR IT'S GONE IN A FLASH  
from the song "True Blue"
WE GOT THE POWER TO MARCH AT YOUR SIDE
WE'RE MOVIN UP NOW, LOOK IT'S OUR TIME  
READY TO DO BATTLE, WE'RE EAGER AND WILLING
WE FOUND OUR VOICE NOW AND IT'S WORTH HEARING
WE'RE CARRYING THE MESSAGE, WE'RE CARRYING HIS MESSAGE
EVERYONE WHO HEARS US LET US LIFT YOUR HEAVY LOAD
from the song "We're Carrying His Message" 
WATCHING AS THE WIND BLOWS ALL AROUND THIS WORLD
IT DANCES THROUGH THE TREES TO YOUR ANCIENT MELODY
WATCHING AS THE TIME GOES AND THE CHANGING SEASONS
OF THIS BEAUTIFUL LIFE, IT'S A MIRACLE EVERYDAY
from the song "You Are Magnificent"
WE ALL NEED A FRIEND SOMETIMES
ONE AND ONE MAKES TWO  
MAKE UP YOUR MIND TO WALK WITH ME  
I'M NOT ALONE WHEN I HAVE YOU
from the song "The Beauty of Life"

LOVE IS LIKE A GARDEN, SOMETIMES IT BLOOMS SO WELL 
BUT WHEN THE SUN STOPS SHINING, WE SING SAD TALES TO TELL 
from the song "Broken Hearts"

SOMETIMES THE REASON FOR LIVING 
WALKS THROUGH THE DOOR WITH A MEMORY 
LOOK FOR THAT NEW BEGINNING 
THERE IN FRONT OF YOU SO EASY TO REACH 
from the song "Going Home"

WE RUN THROUGH ALL OUR DAYS 
BUT THERE ARE SOME WHO GET LEFT BEHIND 
LET US STOP AND TAKE THE TIME 
TO SHARE THE STORY OF THEIR LIVES
from the song "Rays of Hope"


TURN AROUND AND THE TIME GOES
IT QUICKLY PASSES AS WE ALL KNOW
BUT WHEN I LOOK AND SEE WHERE I HAVE GONE
I KNOW WITHOUT YOU IT WOULD NOT BE DONE
from the song "Thank You"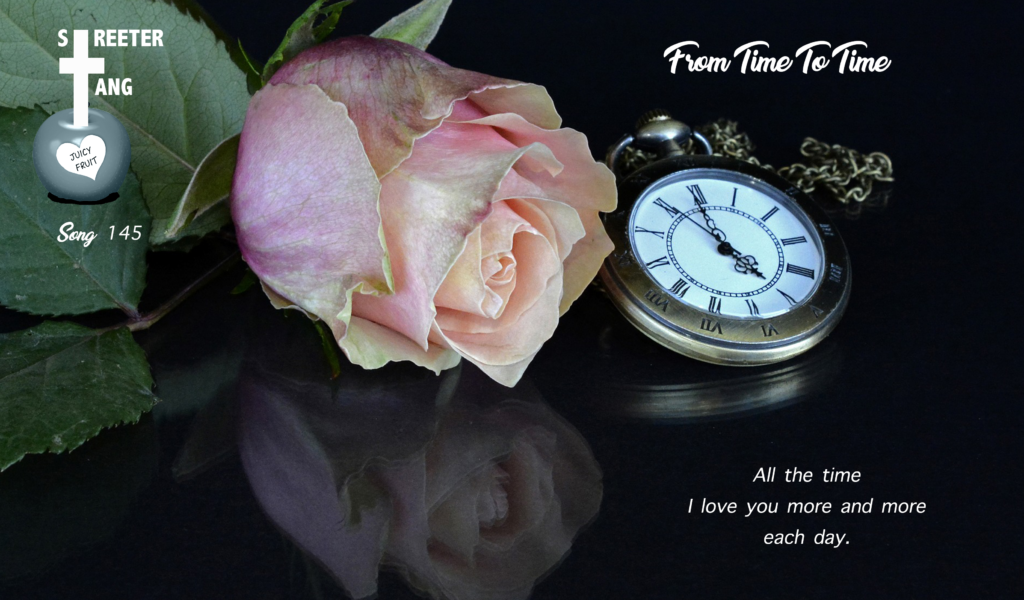 FROM TIME TO TIME
 FROM TIME TO TIME
I THINK OF ALL THE THINGS YOU'VE DONE
ALONG THE WAY HEY HEY, OOH-WHO
AND FROM TIME TO TIME
I THINK OF ALL THE THINGS THAT I KNOW
THAT I SHOULD SAY TO YOU OOH-OH -WHO
BUT THE WORLD KEEPS TURNING ROUND
AND THE REASONS THAT I FOUND
THEY ALL GOT IN MY WAY
AND THERE WAS NO TIME TO SAY
ALL THE TIME
I LOVE YOU MORE AND MORE EACH DAY
YOU GAVE TO ME
A HAND TO HOLD AND A HEART THAT ALWAYS CARED
YOU GAVE TO ME JOY AND LAUGHTER
IN THIS LIFETIME THAT WE'VE SHARED
CHORUS
IF WISHES WERE MINE
THERE IS NOTHING THAT I WOULDN'T WANT FOR YOU
IF WISHES WERE MINE
I WOULD MAKE ALL YOUR DREAMS COME TRUE
CHORUS