BEAUTIFUL CHILD OF UGANDA SUFFERING
AND YOU KNOW NOT WHY
THE SUN HAS BEEN BLOTTED OUT OF YOUR WORLD
YOUR REALITY IS DARKNESS AND FEAR
WHO WILL RESCUE YOU FROM THIS NIGHTMARE
REMEMBER JESUS IN HIS REJECTION
"MY GOD, MY GOD WHY HAVE YOU FORSAKEN ME
FATHER INTO YOUR HANDS I COMMIT MY SPIRIT"

DON'T BE AFRAID, STAND FIRM AND YOU WILL SEE
THE DELIVERANCE OF THE LORD, FOR HE HAS HEARD YOUR PLEA
THE ENEMY YOU SEE NOW, YOU WILL NEVER SEE AGAIN
THE LORD WILL FIGHT FOR YOU, YOU NEED ONLY TRUST IN HIM

REMEMBER A DISCIPLE WALKS BY FAITH AND NOT BY SIGHT
CAST YOUR CARES ON HIM
FOR HE IS RAISING UP AN ARMY OF PRAYER
SENDING HIS ANGELS TO YOUR SIDE
HOLD ON, THE LORD IS COMING SOON
HIS LOVE WILL BE POURED OUT ON YOU
HE WILL GIVE TO EVERYONE THEIR JUST REWARD
FOR HE IS THE BEGINNING AND THE END

CHORUS

YOUR SUFFERING WILL NOT BE IN VAIN "JEWEL OF AFRICA"
THE LORD WILL SEE YOU AS HIS PEARL
YOU WILL BE A VICTORY SONG FOR ALL NATIONS
AND THE CAUSE OF REVIVAL
FOR ALL WILL KNOW OUR GOD IS A MIGHTY ONE
THE FATHER TO THE FATHERLESS
NO LONGER WILL VIOLENCE CRUSH YOUR LAND
FOR YOUR WALLS WILL BE SALVATION AND YOUR GATES PRAISE

CHORUS
ONLY TRUST IN HIM, ONLY TRUST IN HIM, ONLY TRUST IN HIM, TRUST IN HIM.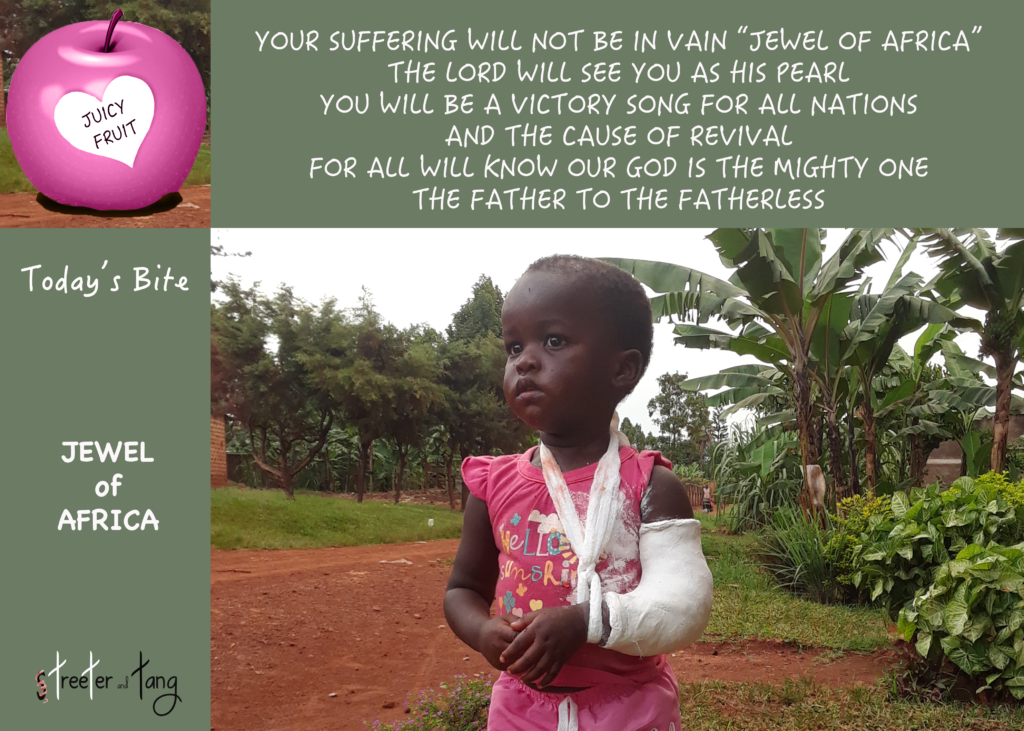 Uganda is a beautiful country with much poverty and pain. This little girl is the granddaughter of a wonderful lady who lost her family in the Lord's Resistance Army war. Her husband left her because she became a Christian and would not participate in bootlegging liquor anymore. She has persevered working long hours in an orphanage and raising not only her own children but other family children. In eternity, God will reward faithful Christians like Mamma Claire for their endurance and love of God!