HIS MOUTH IS SWEETNESS ITSELF AND HE IS ALTOGETHER LOVELY.
(SS 5:16)

WHERE THE MOUNTAIN MEETS THE SKY
FAR ABOVE MY GOD RESIDES
SHINING MORE THAN ANY STAR
LORD OF ALL IS WHO YOU ARE

YES ALL OF MY DAYS I WILL REJOICE IN LOVING YOU
AND ALL OF MY NIGHTS I WILL REST IN YOUR ARMS SO TRUE

LIKE A RIVER RUSHING TO THE SHORE
I HAVE COME TO YOUR OPEN DOOR
AND LIKE A FLOWER REACHING FOR THE SUN
LORD IN YOUR LIGHT MY LIFE'S BEGUN

CHORUS

LIKE A WAVE WASHING THE OCEAN SHORE
YOU TOOK AWAY MY SINS REMEMBERED NO MORE
AND AS THE WIND DANCES THROUGH THE TREES 
YOUR HOLY SPIRIT GIVES LIFE TO ME

CHORUS
BRIDGE
ALL OF DAYS AND ALL OF MY NIGHTS
I WILL REJOICE LORD, I WILL REJOICE LORD
IN LOVING YOU

CHORUS 2X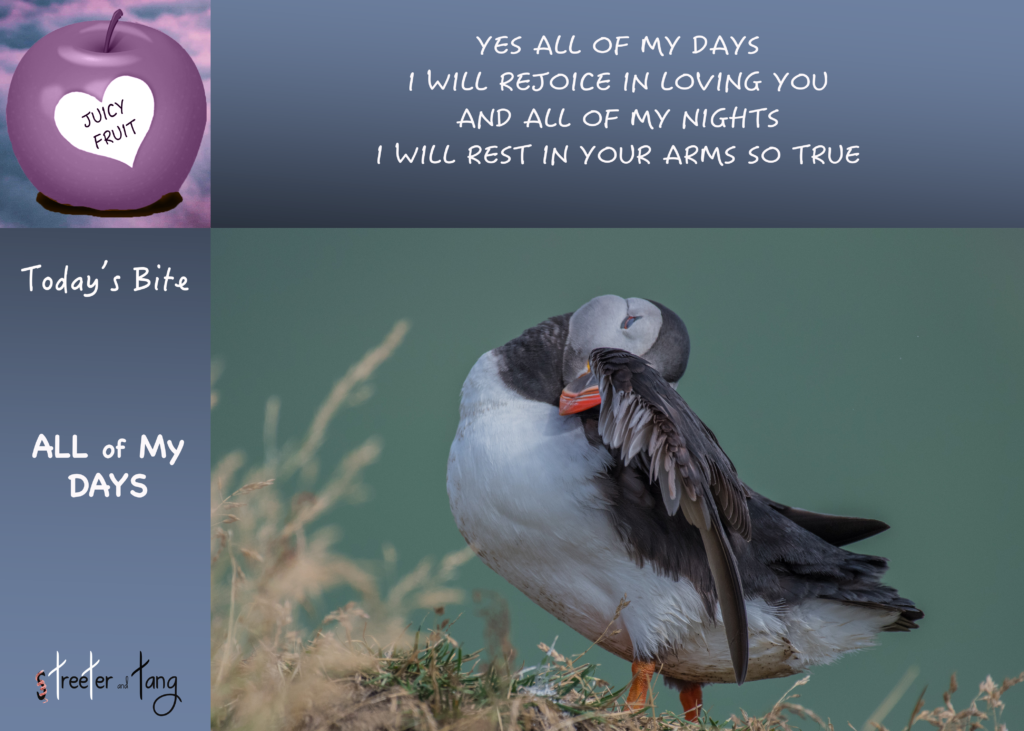 Passionate intimacy with God begins with our understanding of salvation. We were dead in sins (Eph 2:1), deserving God's wrath (Eph 2:3), destined to the lake of Fire (Rev 20:15). But because of His great love for us, God, who is rich in mercy, made us alive with Christ, even when we were dead in transgressions (Eph 2:4,5). If Christ was not willing to go to the cross, we would have zero hope of a meaningful eternity. Meditate on this truth and you will never have a lack of passionate intimacy with God again.
In our song "All of My Days," Tang sings "Lord, in your light my life's begun." Spiritual life begins when the Holy Spirit draws us through God's Word (Ro 10:17). Our eyes are opened and we realize that we've been in rebellion against the Creator of the universe (Ro 1:18,19). Jesus said, "Unless a kernel of wheat falls to the ground (we humble ourselves) and dies (to our ruling over our life) it remains a single seed (we are living to only benefit ourselves). But if it dies (allows God to control our life Gal 2:20) it produces many seeds Jn 15:5 (we are able to lead others into His Light) Jn 12:24.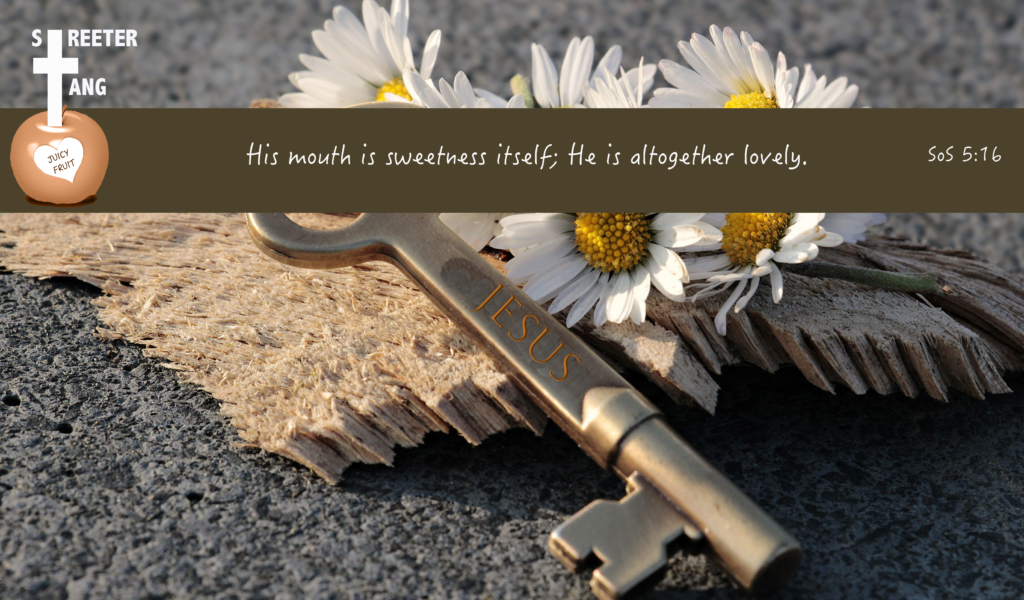 Jesus is the key to unlocking true love. His words are always beneficial, encouraging, instructive, and discerning. He is altogether lovely as He is compassionate, merciful, long suffering and faithful.