WE LOVE YOU DAVID, WITH ALL OUR HEARTS,

HE MADE THE NIGHT SKY
WITH THE STARS SHINING BRIGHT
THAT SPARKLE AND GLOW
LIKE DIAMONDS OF LIGHT
HE COUNTED EACH ONE
AND HE KNOWS THEM BY NAME
EVERYONE DIFFERENT
NOT ONE IS THE SAME

WE LOVE YOU DAVID, OH WE LOVE YOU DAVID,
WITH ALL OUR HEARTS OH, WITH ALL OF OUR HEARTS
MAY THE LORD BLESS AND KEEP YOU AND BE WITH YOU ALWAYS
NEVER TO PART, OH, NO NEVER TO PART

HE MADE YOU GROW
AND PUT YOU IN MOMMY'S ARMS
HE BLESSED YOU WITH LOVE
AND HE KEPT YOU FROM HARM
EACH NIGHT IN YOUR BED PLEASE LET YOUR PRAYER BE
TO STAY CLOSE BESIDE HIM
AND FOLLOW HIS LEAD

CHORUS

WHEN YOU ARE GROWN UP
IN THIS WORLD ON YOUR OWN
DON'T BE AFRAID
YOU'RE REALLY NEVER ALONE
IF TROUBLE SURROUNDS YOU
HAVE COURAGE, STAND TALL
AND IF YOU STUMBLE
HE WON'T LET YOU FALL
CHORUS 2X
NEVER TO PART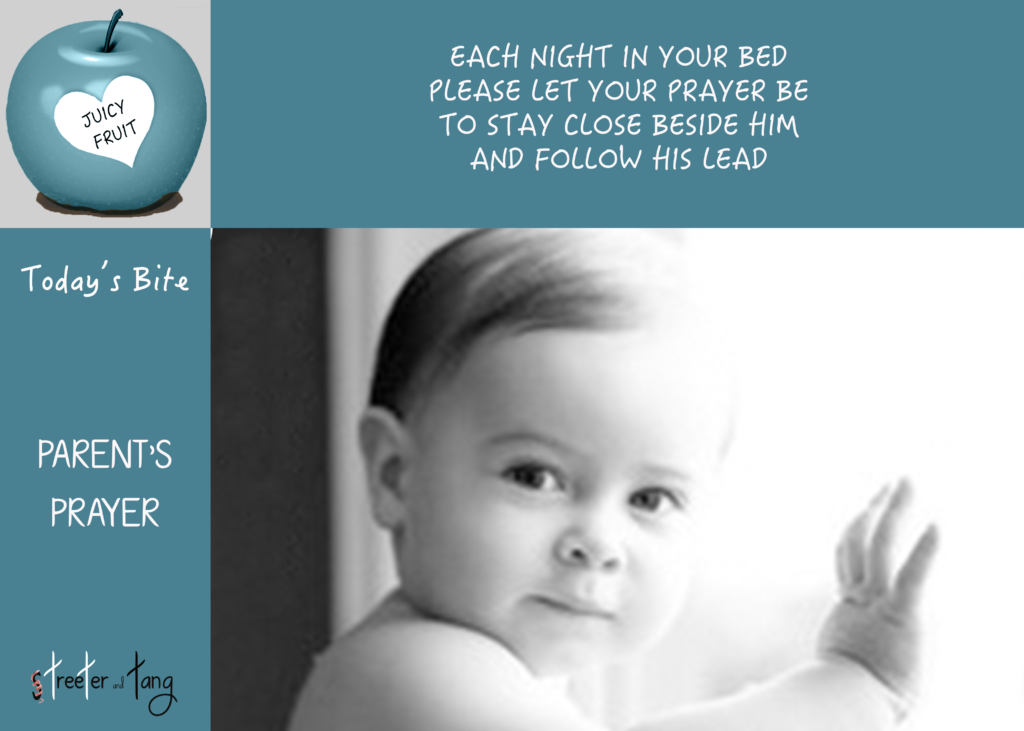 Every parent loves their baby and wants the best for him or her. Christian parents go a step further by petitioning the Lord to develop a heart of love for God, in their young one. Children are a blessing but during their growing years, there will be times of heartache, where only God can quiet a parent's soul by His intimacy with them and their prayers.
King David experienced much tragedy in his life, none greater when his prayers failed to change God's will to allow his newborn son to live. He bombarded the throne of God with his request and fasted for seven days (2 Sa 12:16,17,18) but God refused to alter His decision. 
After David discovered that his son had died, he washed his face, ate and worshipped God (2 Sa 12:20). His servants were confused about David's actions, so they inquired of David. He responded that he had prayed, hoping God would be gracious and allow his son to live, but He did not (2 Sa 12:22). His firm hope, now, was in eternity, where David would see his son again.
"I will go to him, but he will not return to me" (2 Sa 12:23).
This is a valuable lesson for all parents to learn. It is not what your child becomes in this life but who he or she becomes. A child of God will spend eternity with God whereas a child that becomes famous or successful in this world without the Lord, will be separated from God and his or her Christian parents forever. Now, that is a great incentive for us, to continually pray for our children.
Remember the persistent widow's parable (Lk 18:1-8). She kept bothering the judge and finally to break free of her, the unjust judge gave her justice. God is truly just and will answer our prayers if we persist. Remember, eternity is a forever time compared to our brief seventy years here on earth.