HOLY HARMONY
HIS LOVE WILL HEAL THOSE WOUNDS
HIS WORD YOU CAN TRUST IN
HIS LOVE WILL HEAL THOSE WOUNDS
HIS WORD YOU CAN TRUST IN
WALKING ON THE HIGH WIRE OF LOVE
I'M FALLING FASTER WITH EVERY SHOVE
SOMEBODY HELP ME PLEASE NOW BEFORE I FALL
WALKING ON THE HIGH WIRE OF LOVE
THE HIGH WIRE OF LOVE
AND IF THIS WORLD HAS USED YOU UP
AND ITS LIES HAVE LEFT YOU BROKEN
HIS LOVE WILL HEAL THOSE WOUNDS
HIS WORD YOU CAN TRUST IN
CHORUS
THERE MUST BE A STRONG MAN OUT THERE SOMEWHERE
THERE MUST BE A DANCING FOOL
WHO'LL HELP ME CRY THROUGH THESE TEARS
SOMEBODY HELP ME, SOMEBODY HELP ME PLEASE
BRIDGE
THERE'S NO ONE LIKE HIM TO COUNT ON
NO GREATER FRIEND TO HOLD YOUR HAND
HIS LOVE WILL HEAL THOSE WOUNDS
HIS WORD YOU CAN TRUST IN
CHORUS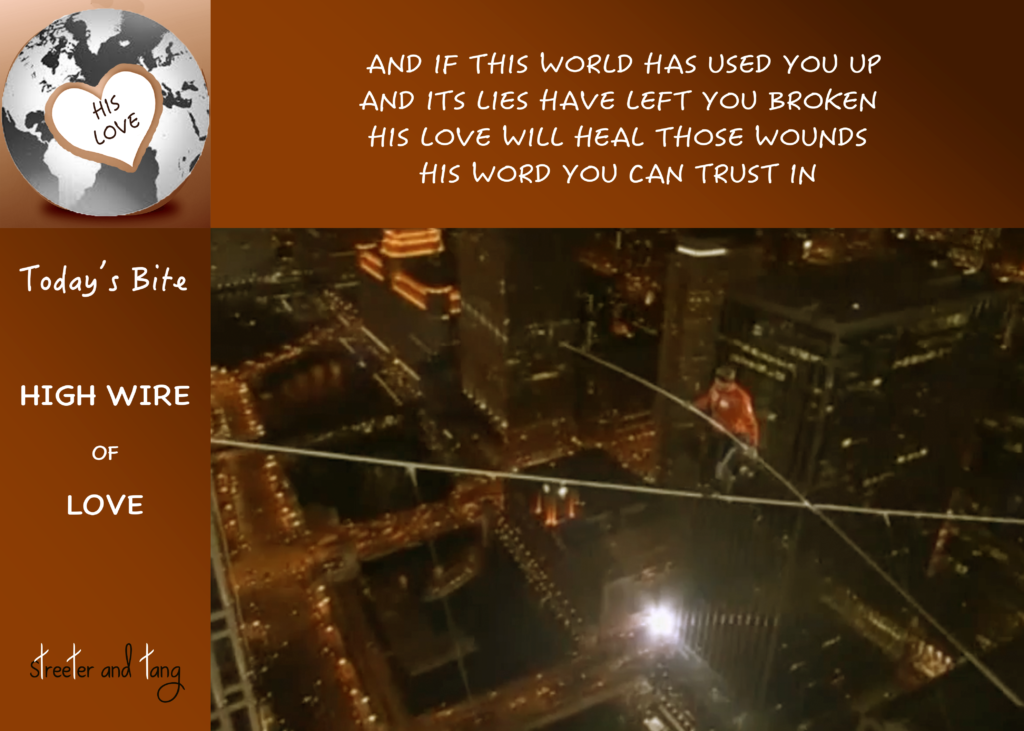 WALKING ON THE HIGH WIRE OF LOVE
Salvation is by grace through faith and not by works (Eph 2:8,9). We can't add anything to what Jesus accomplished at the Cross and when we try, we have fallen from the salvation of grace and are attempting to be justified by works. The Pharisees wanted to mix Law with Grace and demanded that circumcision be part of the requirement to belong to God's church, but Paul stood firm and rejected any type of work added to Christ's sacrifice (Gal 5:2).
Our good deeds do not proceed but follow salvation. We love because He first loved us (1 Jn 4:19). A true convert will naturally do good works, not for, but because of salvation. His or her heart has been changed from stone to tenderness (Eze 36:26).
Don't be deceived and work to earn salvation or try to repay God, for this truly will lead you to experience a disastrous fall, worse than Humpty Dumpty and no one will be able to put you back together again. Accept God's gracious gift and demonstrate your gratefulness for His gift of eternal life by speaking and acting in truth and love.