SOMETIMES THE ANSWERS NEVER COME
NO MAKING SENSE OF IT ALL
SOMETIMES WE LIVE OUR LIVES WITH BLINDERS ON
AND CANNOT SEE THE BLESSING THAT HAS COME
BUT YOU SAY SOMEDAY
ALL WILL BE REVEALED
YOU SAY LORD ON THAT DAY
THERE WILL BE NO MORE TEARS
WE LOSE OUR WAY AND TUMBLE HARD
BATTERED, BRUISED AND FULL OF FEAR
BUT EVEN IN THAT DARK AND LONELY PLACE
YOUR COMFORT LORD IS REAL
CHORUS
THIS LIFE CAN OVERWHELM US
LIKE A CRUEL AND MIGHTY FLOOD
BUT IF WE PUT OUR TRUST IN YOU LORD
THERE IS PEACE AND HOPE AND LOVE
CHORUS
ON THAT DAY THERE WILL BE NO MORE TEARS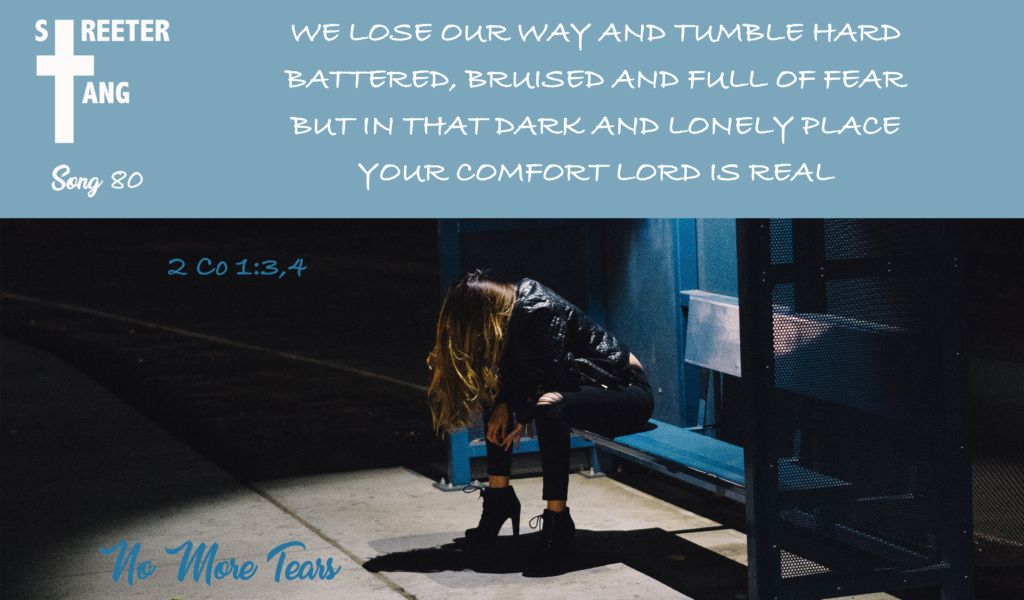 It's always good to examine the big picture when we are experiencing dark times and perceive that there is no way out. This life is but a blink compared to eternity and the trials we endure will give us opportunities to show God that we truly trust Him. His promise, for those who repent (2 Pe 3:9) and believe/trust in Jesus (Jn 3:16) is to dwell with God in eternity as His people (Rev 21:3). He further promises to wipe every tear, and put an end to death, mourning, crying and pain (Rev 21:4).
Unfortunately, for those who do not humble themselves, their future is much worse than on earth, for they will be consigned to the Lake of Fire (Rev 21:8).
If you don't know Jesus, today is the day of salvation (2 Co 6:2). Turn to Him by repenting of your sins (Ac 3:19) and begin living for God rather than self (Gal 2:20).
Cast all your fears on Jesus because He cares for you (1 Pe 5:7) and has prepared an indescribable eternity for those that love Him!