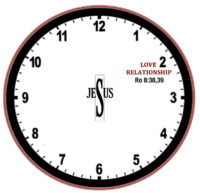 LOVE RELATIONSHIP        
For I am convinced that neither death nor life, neither angels nor demons, neither the present nor the future, nor any powers,  neither height nor depth, nor anything else in all creation, will be able to separate us from the love of God that is in Christ Jesus our Lord. Ro 8:38,39
VERSE 1

 

IN THIS WORLD WE MAY HAVE TROUBLE

AND WE ALL NEED SOMEONE TO HOLD

TO BE THERE WHEN WE ARE SHATTERED

A PLACE TO RUN IN FROM THE COLD

LORD YOU SPEAK AND MY WORRIES FADE

FOR YOU'RE THE MUSIC OF MY SOUL

ONLY YOUR LOVE CAN DO IT

YOU HOLD ME FAST AND WON'T LET GO

COMMENTARY

 

No one can get by in this world alone. We all need someone to love us and support us, especially in the difficult trials that we all encounter in life.

God is the best love and support I could receive, as He has the power to sustain me, especially through His Word, which drives out fear. His music (calming promises: ie. I will never leave you; nothing can separate you from my love) soothes my soul.

CHORUS 1

 

TO BE LOVED, TO BE LOVED BY YOU IS EVERYTHING TO ME

TO BE LOVED NOW MY HEART IS FILLED

WITH EVERY SINGLE BEAT

SOME PEOPLE SEARCH A LIFETIME

TO FIND THAT DIAMOND IN THE STREAM

BUT TO BE LOVED BY YOU IS EVERY THING I NEED

 

There is no higher love to experience than the Lord's love for me. My heart wants to keep in time with all of God's will to express my love for Him for His love has totally satisfied me.

People spend their whole lives searching for material riches but I have discovered that God's love for me is all I ever need or want from this world!

VERSE 2

 

THEY SAY HOME IS WHERE YOUR HEART FEELS SAFE

AND I'M SAFE WITHIN YOUR ARMS

NO MATTER WHAT TOMORROW BRINGS NOW

OUR LOVE WILL ALWAYS CARRY ON

FOR NO ONE KNOWS ME QUITE LIKE YOU DO

YOU SEE THE FUTURE IN MY EYES

LOOK HOW YOUR WORD GIVES ME COURAGE

TO SPREAD MY WINGS AND FLY

 

As a child there was no safer place than in my mother's arms but as an adult I feel that safeness by my belonging to God.

No matter if God gives me peace or trials, I will always trust in Him for He knows me better than any human and sees a future and a hope for my life.   His Word gives me the courage to venture into the unknown for I know He is guiding me.

CHORUS 2x
OUTRO

 

TO BE LOVED, TO BE LOVED BY YOU, TO BE LOVED BY YOU LORD

TO BE LOVED, OH TO BE LOVED BY YOU, TO BE LOVED BY YOU

EVERYTHING I NEED

To be loved by the Lord is all I'll ever need to be fulfilled in this life .

CHORUS
GOD'S LOVE
Ro 8:31-39
31 What, then, shall we say in response to these things? If God is for us, who can be against us?     

 

32He who did not spare his own Son, but gave him up for us all—how will he not also, along with him, graciously give us all things?

There is no opposition that can change Christ's love for us. God is on our side, so it really does not matter who is against us, for God is all-powerful and controls all things.

God has proved that He is on our side by sending His Son to die for us, so if He gave His most precious Gift, then He'll give us all things.

33 Who will bring any charge against those whom God has chosen? It is God who justifies. 34 Who then is the one who condemns? No one. Christ Jesus who died—more than that, who was raised to life—is at the right hand of God and is also interceding for us.

35 Who shall separate us from the love of Christ?   Shall trouble or hardship or persecution or famine or nakedness or danger or sword?

36 As it is written:  "For your sake we face death all day long; we are considered as  sheep to be slaughtered."

37 No, in all these things we are more than                                                                             conquerors through him who loved us.

38 For I am convinced that neither death nor life,

neither angels nor demons, neither the present nor the future, nor any powers,

39 neither height nor depth, nor anything else in all creation, will be able to separate us from the love of God that is in Christ Jesus our Lord.

No condemnation. God has chosen us Eph 1:4,5 and He has justified us Ro 4:5 so no one can condemn us Ro 8:1 for Jesus is interceding for us.

No circumstance can separate us from the love of Christ. When we experience trouble or persecution or hardship that does not mean that God has turned against us. No, it is an opportunity for us to grow in character by trusting Christ through the trial Jas 1:2,3,4.

Because Christ loves us, we are willing for Christ's sake, to face any kind of tribulation.

No, when we face trials it gives us an opportunity to become victors because of Christ's love for us.

If we die, that will not separate us from the love of Christ 2 Co 5:8. Anything that happens in this life cannot separate us from His love for He has forgiven all of our sins Col 2:13 and He promises to always be with us Heb 13:5.

No spiritual being or supernatural power can separate us from Christ's love and nothing in the present or future can change our relationship with God Jn 1:12.

No separation. Nothing in heaven above or in the depth of the seas or anywhere in the universe can separate us from Christ's eternal love for us Ps 139:7,8,9,10.