FATHER GOD, IT IS YOU
FATHER, I HAD DREAMS LONG AGO THAT I'VE FORGOTTEN
AS A CHILD I SAW CASTLES IN THE CLOUDS SO HIGH
OH, BUT LIFE KEEPS MOVING ON SO VERY QUICKLY
AND NOW THOSE CLOUDS ARE JUST CLOUDS IN THE SKY
BUT YOU ARE THE ONE I CAN RUN TO
WHEN TROUBLES BOW MY HEAD
AND THEY BREAK ME THROUGH
FATHER GOD, MY SAVIOUR, IT IS YOU
FATHER, I DON'T MEAN TO SOUND UNGRATEFUL
YOU POURED LAUGHTER AND JOY INTO THIS LIFE OF MINE
BUT THERE IS ALWAYS ONE MORE RAGING RIVER LEFT TO CROSS LORD
DON'T YOU KNOW THAT THOSE WAVES SOMETIMES ARE FAR TOO HIGH
BUT YOU ARE THE ONE I CAN RUN TO
WHEN TROUBLES BOW MY HEAD
AND THEY BREAK ME, THEY BREAK ME THROUGH
FATHER GOD, MY SAVIOUR, IT IS YOU
FATHER, LET ME BE A LIGHT IN THIS GROWING DARKNESS
AND WHEN I FALL HELP ME TAKE YOUR HAND AND GUIDE ME THROUGH
I WANNA, I WANT TO BE AN EMPTY VESSEL THAT YOU MIGHT USE ME
PLEASE FILL ME WITH YOUR LOVE SHOW ME WHAT TO DO
FOR YOU ARE THE ONE I CAN RUN TO
WHEN TROUBLES BOW MY HEAD
AND YOU KNOW THEY MAY BREAK ME THROUGH
BUT FATHER GOD, MY SAVIOUR, IT IS YOU
FOR YOU, YES YOU ARE THE ONE I CAN RUN TO
WHEN TROUBLES BOW MY HEAD
AND THEY BREAK ME THROUGH
FATHER, OH FATHER GOD, IT IS YOU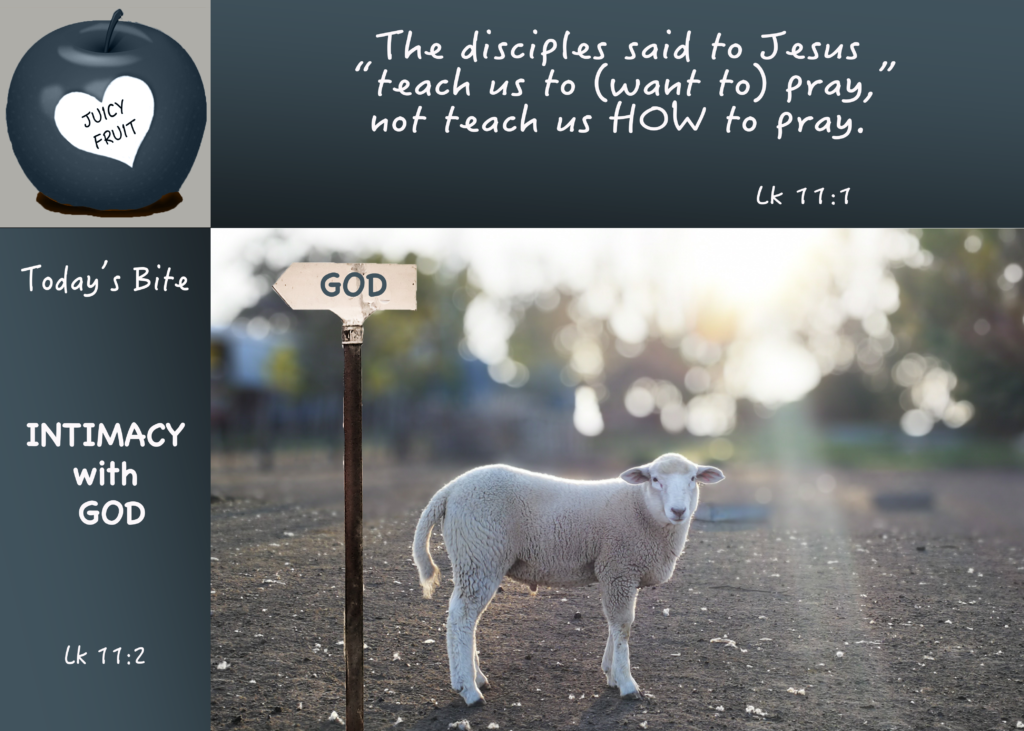 Lk 11:1 One day Jesus was praying in a certain place. When he finished, one of his disciples said to him, "Lord, teach us to pray, just as John taught his disciples."
Not teach us how to pray but teach us to want to pray.
Lk 11:2
He said to them, "When you pray, say: Father…
Anthropomorphism- God portrays himself as a human Father, not a stranger; not a higher power; not a tyrannical king.
If you view God as a stranger, you would only pray to him when you were in deep trouble.
If you view God as a higher power, you would only seek God for power, answers to your prayers.
If you view God as a tyrannical king who punishes all wrong doing, you will try to avoid him whenever you have let him down.
If you view God as a loving Father, then you will want to talk to Him constantly.
Lk 11:11
11 "Which of you fathers, if your son asks for a fish, will give him a snake instead?12 Or if he asks for an egg, will give him a scorpion?
Use your human experiences as a father to understand God. Even though, we are evil, we give our children good things, so wouldn't the perfect, good, heavenly Father do even more for His children?