Php 4 TRUSTING IN THE LORD
Friday, January 21, 2022.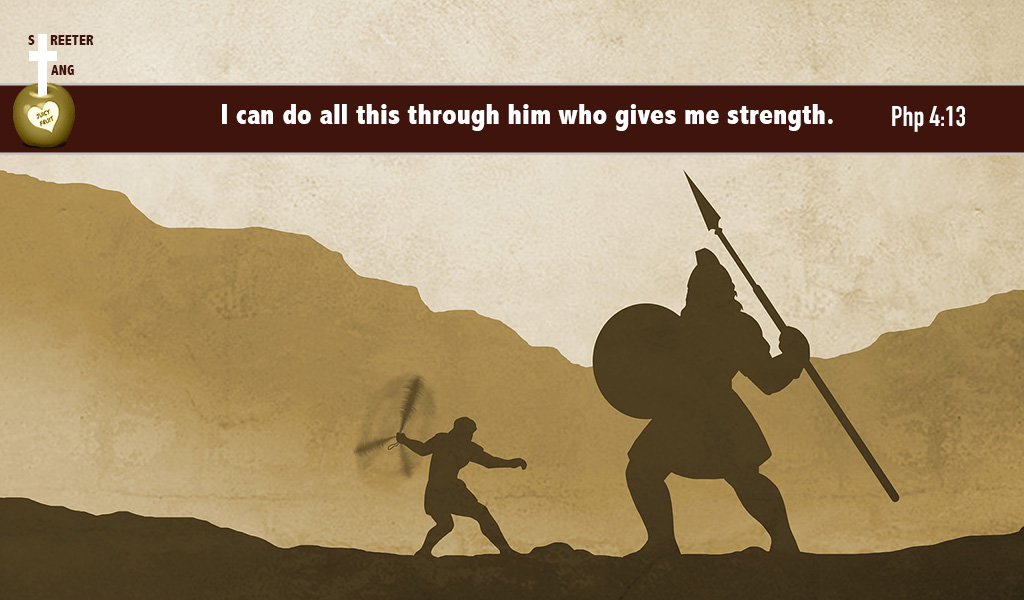 I can do all this through him who gives me strength: Paul had learned the secret of contentment in every situation. He now shared the revelation. Contentment comes when our eyes are on Jesus Heb 12:2, for the Lord is near each of us, and will work out all our problems for our good Ro 8:28. He previously mentioned to pray, if we are anxious about any circumstance and letting God deal with it brings us peace and contentment.
Application: we were meant to be dependent upon Christ Jn 15:5. We are to allow the Holy Spirit to lead us and trust for the end result will be successful. We don't live by sight but by faith 2 Co 5:7. When we trust Jesus, there is no need to manipulate the situation for in the end God always fulfills His will.
---
.
Php 3 EMBRACING SUFFERING
Thursday, January 20, 2022.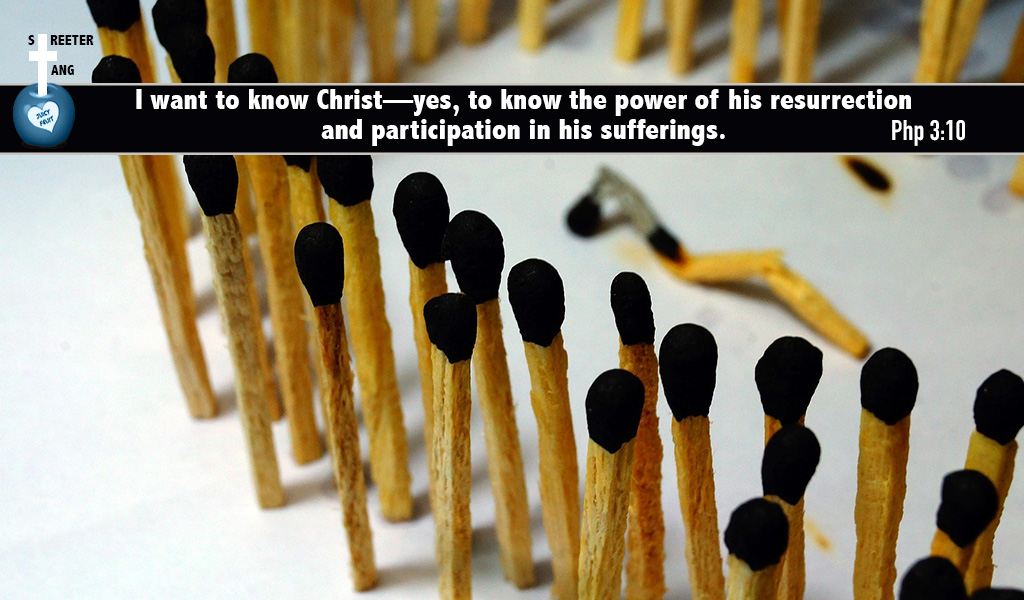 Php 3:10
I want to know Christ—yes, to know the power of his resurrection and participation in his sufferings, becoming like him in his death: I too, seek to know Christ and the power of His resurrection. This is the joyful portion of the maturing process of a Christian. Who doesn't want to experience the power of the Holy Spirit displayed in one's life? It is the horrific element, which makes my spirit squirm. I don't really want to participate in Christ's sufferings, especially the Cross portion, which features physical pain, social rejection, humiliation, mocking and the likes.
Application: Paul considered everything he had gained in this life—garbage, compared to knowing Christ Php 3:8. He was beaten three times with rods, once stoned, three times shipwrecked, lost at sea and much more 2 Co 11:25. Paul was granted the privilege to suffer for Christ and he welcomed every opportunity Php 1:29. My prayer, Lord, is to make me willing, to accept suffering as a love offering to You. Give me the strength and the courage not to shy away from Your will, even if it frightens me Jos 1:9. Help me to remember that You are with me always Heb 13:5.
---
.
Php 2 BE LIKE JESUS
Wednesday, January 19, 2022.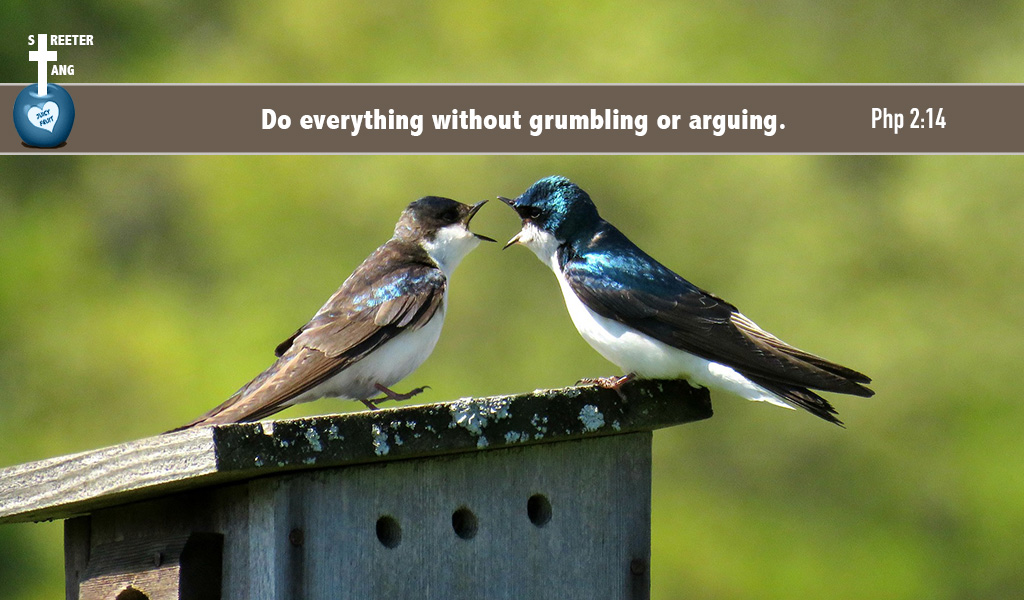 Php 2:14
Do everything without grumbling or arguing: Christians are to be set apart from the world 1 Pe 1:16. One way to be different is not to grumble or argue when asked to complete a task. We are to value others above ourselves Php 2:3 and look out for others rather than our own interests Php 2:4. This is the example Christ set for His followers Php 2:6,7.
Application: the best witness is to be like Jesus in humility, tenderness and compassion. The world will notice people like this because they are a rare commodity today, as most people only care about themselves, or how others can be used for their interests.
---
.
Php 1 PURPOSE OFLIFE
Tuesday, January 18, 2022.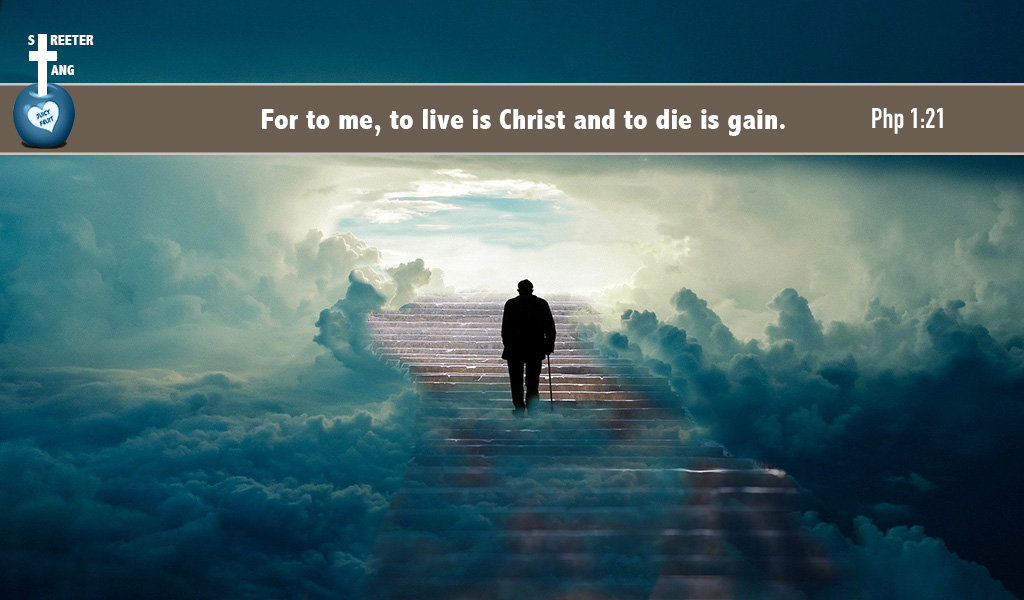 Php 1:21  
For to me, to live is Christ and to die is gain: for Paul, this life was all about Christ, not him Gal 2:20, and to die and be with Jesus was gain, a reward, not a sorrowful thing. Yes, it is a time of grieving for those who love us, and will miss us, but for the one entering God's presence, it is a promotion Php 1:23.
Application: let us follow Paul's example. He would have preferred to be with the Lord, which was far better, but it was more necessary for him to remain to complete the work he was assigned. The same is true for each of us. We need to complete the work which the Lord has specifically prepared for every believer Eph 2:10.
---
.