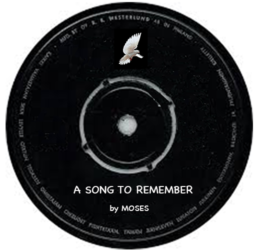 God gave Moses a song for the assembly of Israel to heed Dt 31:30.  God told Moses that the Israelites will turn to foreign gods after they settle in the Promised Land.  There are consequences for turning away from God, and so He told Moses to write down this song and teach it to the Israelites that it may be a future witness against them Dt 31:19,21. They must also teach this song to their children, so they too may learn what is the Lord's will Dt 31:13.
Before entering the Promised Land God encouraged Israel to trust Him as He will give them victory. Dt 31:6
Paul warned us to learn from Israel's mistakes so that judgment does not come upon us 1 Co 10:11.  Today's visible church has led their congregations away from the pure devotion to Christ 2 Co 11:3.  Instead, they have used man's wisdom to try to reign in the "free agents," and the consequence is that God has turned His back on His people Dt 31:17,18.
God is calling out to all who have ears, choose life and not death Dt 30:15.  If we refuse to hear, judgment is coming Dt 30:17,18.
Moses recited the words of God's song for the people to obey but they deserted the Rock who fathered them Dt 32:18.  Today, God writes a new song, yet the message itself has not changed.  May our respond be different than the Israelites,  or history will once again repeat itself.
1YOU COMPROMISE GOD'S WORD

SO NO ONE TAKES OFFENCE

FILLING EVERY SEAT

THAT'S THE MEANS TO YOUR END

THE SUNDAY MEETING

IS YOUR PERFORMANCE STAGE

WHERE YOU PLAY YOUR PART

LIKE A WISE OLD SAGE

Verse 1:

Many preachers today have watered down the Word of God and their priority is to grow the audience (for there is little concern if the listeners are saved or lost and more concern to keep the audience entertained). God's mandate for pastors is to equip the saints Eph 4:11,12 not to take the glory from Jesus, the head of the church.

CHORUS

PREACHER1,4/CHRISTIAN2,3 WAKE UP

THERE'S A LINE IN THE SAND

SO FISH OR CUT BAIT

AND CHOOSE WHERE YOU STAND

THAT'S WHAT THE REAL SAINTS

HAD TO CONTEMPLATE

YOU'VE GOT TO FISH OR HONEY CUT BAIT

Chorus:

Teachers will be judged more harshly Jas3:1 so God is making it clear to them, to choose whom they will obey, God or man Ac 5:29.   The real saints have always chosen God, even to the point of death Heb 11:37. God's bottom line is either harvest my fish or forget the thought of being my disciple Lk 14:27.

2JESUS SAID, "LET THE DEAD BURY THEIR OWN" Mt 8:22

FAITH IS SO MUCH MORE THAN IDEAS ALONE

SO IF YOU PUT YOUR HAND TO THE PLOW

THEN DON'T LOOK BACK OR THROW IN THE TOWEL

Verse 2: Jesus told his disciples that they must place Him first, even before one's family or self Mt 10:37; Lk 14:26. Man has his own ideas of how things should be accomplished to fulfill God's plan but faith trusts in the wisdom of God and His methods Pr 3:5. If you want to serve God, you must serve Him under His rules and turning from God and His ways results in forfeit of your ministry to God Lk 9:62.
CHORUS
Chorus 2: God now gives the Christian, the same message to harvest His fish or give up the idea of being His disciple. Today, He says, choose whom you will serve Josh 24:14,15.
3ONE DAY THEY'LL STOP YOU SHARING GOD'S TRUTH

SAYING THE BIBLE SPREADS HATE AND ABUSE

EVEN THOUGH TOLERANCE IS WHAT THEY PREACH,

YOU WON'T GET ANY AND THEY'LL BE NO RELIEF

Verse 3: The world is not our friend Jn 15:18. In the future, the Bible will be classified as hate literature. Although the world promotes tolerance for all religions, it does not apply to Christians 2 Ti 3:12; Mt 5:10-12.
CHORUS 2x
DO NOT MIX
Do not mate different kinds of animals. (Animal/animal)
Do not plant your field with two kinds of seed. (Plant/plant)
Do not wear clothing woven of two kinds of material. (Animal/plant) Lev 19:19
Do not plant two kinds of seed in your vineyard; if you do, not only the crops you plant but also the fruit of the vineyard will be defiled. (Plant/plant)
Do not plow with an ox and a donkey yoked together. (Animal/animal)
Do not wear clothes of wool and linen woven together. (Animal/plant) Dt 22:9-11
Do Not Mix: (Spiritual truths)
Believer/Non-believer                                                                                           Do not

mate/yoke

together two different animals (believer/non-believer) in marriage, business partnerships or in non-witnessing fellowship.
A woman is bound to her husband as long as he lives. But if her husband dies, she is free to marry anyone she wishes, but he must belong to the Lord. 1 Co 7:39
Do not be yoked together with unbelievers. For what do righteousness and wickedness have in common? Or what fellowship can light have with darkness? 2 Co 6:14
Making Disciples or Entertaining the Lost (Free Agents)                                                          Do not plant two different kinds of seeds (Parable of the Weeds Mt 13:24-30). Every church will be composed of believers and non-believers. However, the church must focus on

making disciples

not entertaining the lost (avoid "seeker friendly" churches). If you try to please the "free agents" in your church through watered-down messages, your church character will be tainted and your good deeds will be contaminated.
So Christ himself gave the apostles, the prophets, the evangelists, the pastors and teachers, to equip his people for works of service, so that the body of Christ may be built up until we all reach unity in the faith and in the knowledge of the Son of God and become mature, attaining to the whole measure of the fullness of Christ. Eph 4:11-13
Jesus' Righteousness vs Man's righteousness                                                  Do not wear two different kinds of clothing. We cannot mix (plant) human works with God's work (animal) for our salvation (Parable of the Wedding Banquet Mt 22:1-14). We can not mix our righteous acts with Jesus' righteousness.
Adam/Eve clothed in fig leaves/plant (human works acceptance) Gen 3:7; Isa 64:6; ie) Cain Gen 4:3,5
God killed animal (righteous acceptance) Gen 3:21; ie) Abel Gen 4:4; ie) Cain Gen 4:7
We cannot mix our righteousness (plant) with God's righteousness (animal) 1 Pe 1:18,19, Gal 3:27.
Wool- Jesus' Sacrifice Isa 1:18 sins forgiven red become white, washed by sacrifice of the Lamb. Rev 3:4; Rev 7:14
Linen- Marriage of the Lamb Rev 19:8 righteous acts of the saints (through Christ Jn 15:5; Gal 2:20)
You can't mix our righteousness (filthy rags Isa 64:6) with our righteous acts done through Christ  Rev 19:7,8,9.
We wear wool after receiving Christ as Savior Gal 3:27.
We wear linen at our wedding feast Rev 19:7-9.