IN THIS LIFE WE WILL HAVE TROUBLES
THE ROAD WE TRAVEL CAN GET SO ROUGH
MAKING IT THROUGH ONE DAY AT A TIME
AND SOMETIMES WE FEEL LIKE JUST GIVING UP
BUT I WILL TRUST IN YOU ONLY
AND I WILL WALK IN YOUR RIGHTEOUSNESS
I WILL DELIGHT IN YOUR WORD
FOREVER AND EVER AND EVER MY SAVIOUR

I DON'T MEAN TO SOUND UNGRATEFUL
FOR I'VE BEEN BLESSED BY YOUR LOVING HANDS
BUT HERE I AM WANTING TO CHANGE THINGS
NOT CONTENT TO STAY WHERE I AM
CHORUS
YOU ARE MY LORD AND YOU HAVE A PLAN
WITHOUT YOU I FALL BUT WITH YOU I'LL STAND
I HAVE THE VICTORY IN ALL THAT I DO
WHEN I LIVE IN YOUR TRUTH AND I LISTEN TO YOU
BRIDGE
I WILL TRUST YOU LORD, I WILL TRUST YOU
EVERYDAY I'M GONNA TRUST YOU MORE
THERE ARE NO BLUE MONDAY'S LORD
WHEN IT'S SUNDAY IN MY SOUL
CHORUS 2X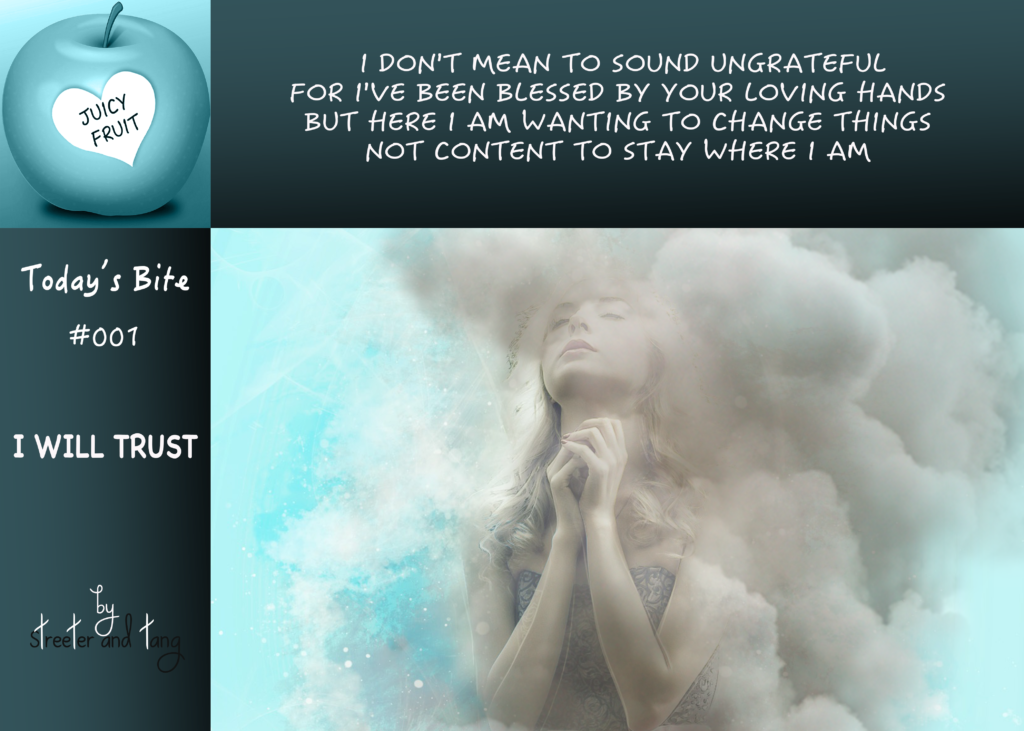 Today's Chew:
Father, I do want to experience and enlarge Your essence in my life, so I will trust You in the midst of my trials.
The world expects everything to come instantly: fast food, internet answers, and so on. Most dislike waiting for anything. However, You say stand firm 1 Pe 5:9, trust 2 Co 12:10, and be content Heb 13:5 for there is a lesson to be learned. When I circumvent the situation, it will guarantee  additional laps down the road, until Your lesson is grasped Jas 1:2,3,4.
I don't want to dethrone Christ and seek worldly wisdom to gain my deliverance. Paul gives good advice in Col 2:6. Continue to trust You as I did when I first received Christ, then, in the midst of my pain, I will experience Your Shekinah glory and grace to grow in my faith 2 Co 3:18.
I will trust in You!