WHEN I SEE THE FLOOD WATERS RISING
I WILL STAND AND I WILL NOT BE MOVED
AND IF A TEMPEST IS RAGING
I KNOW YOUR GRACE WILL SEE ME THROUGH
EVER PRESENT, LOVING SAVIOUR
YOU HAVE PROMISED TO GIVE ME ALL I NEED
ALWAYS FAITHFUL, LORD I KNOW NOW
THERE IS NOTHING LEFT TO FEAR
FOR I AM A CHILD OF THE LIVING GOD
AND IF I STUMBLE I SHALL NOT FALL
YOU GIVE ME COURAGE TO CARRY ON
FOR I AM A CHILD OF THE LIVING GOD
IF I FIND MYSELF IN THE DESERT
YOUR STREAMS OF LIVING WATER NOURISH ME
THERE IS NO BONDAGE THAT CAN HOLD ME
FOR YOUR PRECIOUS BLOOD HAS SET ME FREE
EVER PRESENT, LOVING SAVIOUR
YOU HAVE PROMISED TO GIVE ME ALL I NEED
ALWAYS FAITHFUL, LORD I KNOW NOW
THERE IS NOTHING LEFT TO FEAR
CHORUS
IF THE NIGHT BRINGS FORTH TERROR
YOU ARE THE LAMP THAT MAKES IT FLEE
DEAREST FRIEND, LIGHT OF MY WORLD
IN YOUR HOLINESS I AM COMPLETE
EVER PRESENT, LOVING SAVIOUR
YOU HAVE PROMISED TO GIVE ME ALL I NEED
ALWAYS FAITHFUL, LORD I KNOW NOW
THERE IS NOTHING LEFT TO FEAR
CHORUS (2X)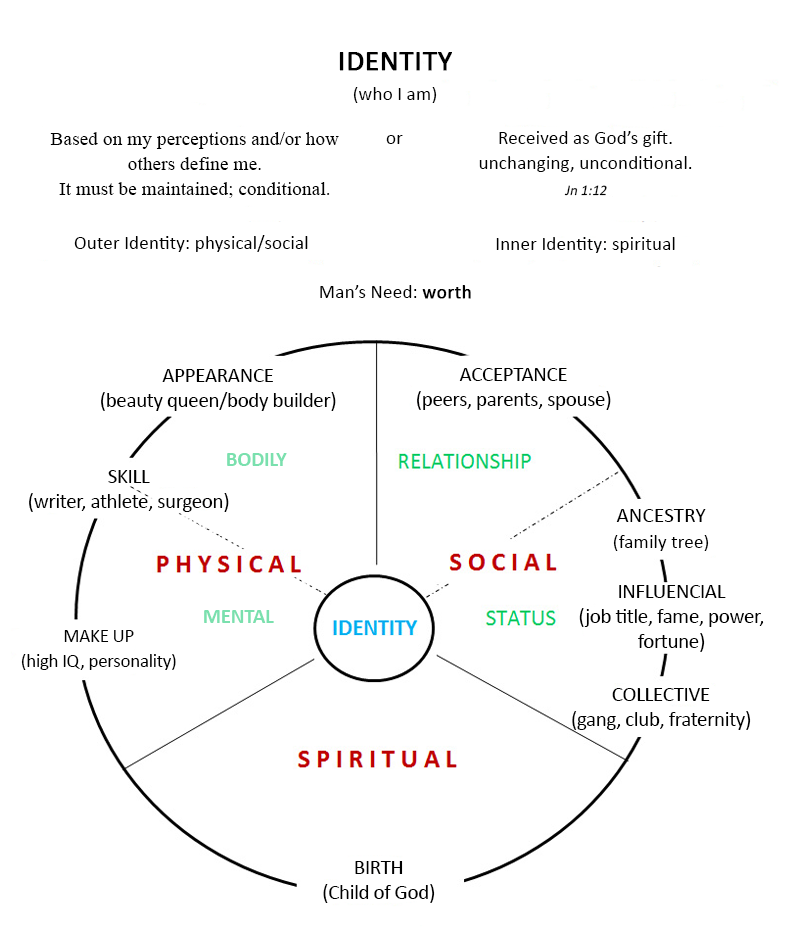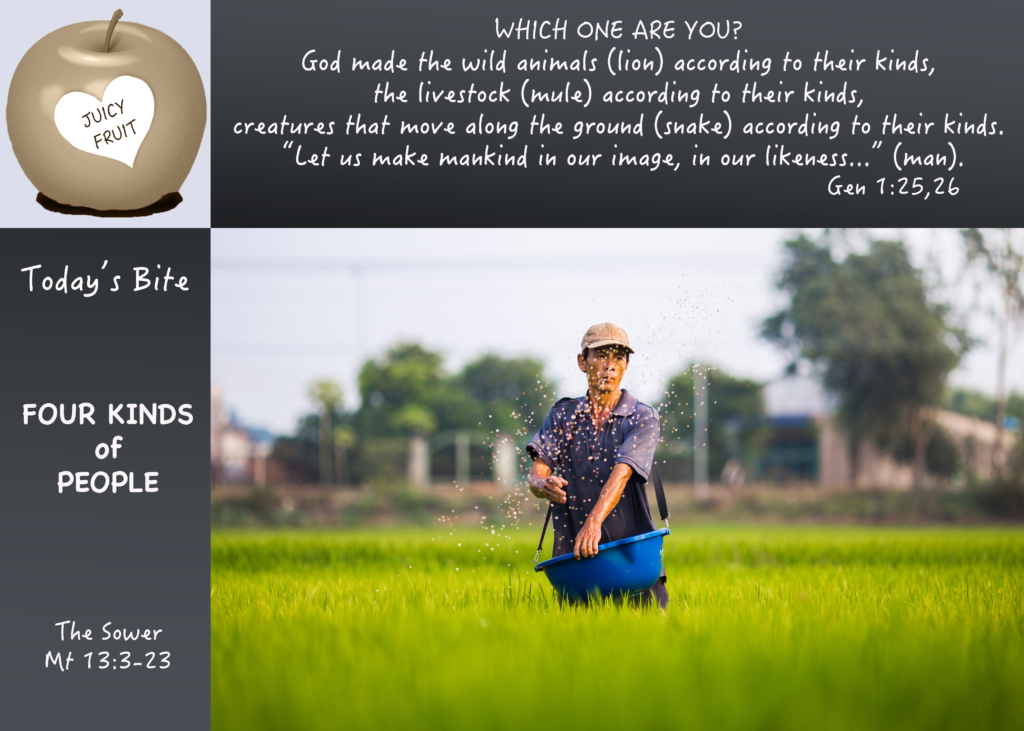 4 As he was scattering the seed, some fell along the path, and the birds came and ate it up. 5 Some fell on rocky places, where it did not have much soil. It sprang up quickly, because the soil was shallow. 6 But when the sun came up, the plants were scorched, and they withered because they had no root. 7 Other seed fell among thorns, which grew up and choked the plants. 8 Still other seed fell on good soil, where it produced a crop—a hundred, sixty or thirty times what was sown. Mt 13:4-8
| | | | |
| --- | --- | --- | --- |
| Hardened Soil | Shallow Soil | Crowded Soil  | Good Soil |
| Path | Rocky Places | Thorny Places | Fertile Places |
| Atheistic Faith | Superficial Faith | Humanistic Faith | Genuine Faith |
| Hardened Heart | Fickle Heart | Divided Heart | Noble Heart |
God made the wild animals according to their kinds, the livestock according to their kinds, and all the creatures that move along the ground according to their kinds. "Let us make mankind in our image, in our likeness…" Gen 1:25,26
Wild
Animals
Livestock

Ground
Creatures
Man
Lion
1 Pe 5:8
Desire to kill
Mule
Ps 32:9
No understanding,
stubborn
Snake
Rev 20:2,3
Desire to deceive
Born Again
1 Th 4:1
Desire to please God
Antagonistic
Demonic
Domesticated
Earthly
Godly
Antichrist Faith
Lukewarm Faith
Rev 3:16
Worldly Faith
1 Co 6:9,10
Passionate Faith
Hates God and His
followers
Religion in
moderation
Enjoys fleshly
pleasures:
Drinking/parties/
sex
Submits to God's Will
Group 2 (domesticated livestock) members claim that they are Christians and believe they will go to heaven. So, because you are lukewarm—neither hot nor cold—I am about to spit you out of my mouth Rev 3:16.
Jesus says I never KNEW* you; depart from me. Mt 7:23  *Intimacy (Mary did not KNOW Joseph) Mt 1:25 KJV
These people had knowledge of God, some even did miracles in Jesus' name but never possessed God. Many will say to me on that day,' Lord, Lord, did we not prophesy in your name and in your name drive out demons and in your name perform many miracles? Mt 7:22
The most important decision you will make in this life is choosing to believe or not believe the Gospel.  This decision will determine where you will spend eternity and the quality of your future everlasting lifestyle.
Scripture is very clear on this point.
12 And I saw the dead, great and small, standing before the throne, and books were opened. Another book was opened, which is the book of life. The dead were judged according to what they had done as recorded in the books. 13 The sea gave up the dead that were in it, and death and Hades gave up the dead that were in them, and each person was judged according to what they had done. 14 Then death and Hades were thrown into the lake of fire. The lake of fire is the second death.15 Anyone whose name was not found written in the book of life was thrown into the lake of fire. Rev 20:12-15
Then I saw "a new heaven and a new earth," for the first heaven and the first earth had passed away, and there was no longer any sea. 2 I saw the Holy City, the new Jerusalem, coming down out of heaven from God, prepared as a bride beautifully dressed for her husband. Rev 21:1,2
7 Those who are victorious will inherit all this, and I will be their God and they will be my children. 8 But the cowardly, the unbelieving, the vile, the murderers, the sexually immoral, those who practice magic arts, the idolaters and all liars—they will be consigned to the fiery lake of burning sulfur. This is the second death. "Rev 21:7,8
During our life on earth we will be confronted with the Gospel.  This message simply states that Jesus died in our place, to pay for our sins, and offers to all, eternal life.  By agreeing that you are a sinner, turning from your sin, placing your faith in Jesus and allowing God to guide your life you have crossed over from spiritual death to eternal life.
24 "Very truly I tell you, whoever hears my word and believes him who sent me has eternal life and will not be judged but has crossed over from death to life. Jn 5:24
Those that hear the Gospel end up in one of the following four categories.  It would be extremely valuable for you to know what category you are in, for your final destination in eternity is at stake.
The first category is classified as hardened soil, a worn down path representing a hardened heart towards the true God and the Gospel.  The people on the left of the continuum would classify themselves as atheists with a deep hatred for God and Christians.  The extreme members of this wild animal class are violent, tormented souls indwelt by the forces of evil. In the middle of the spectrum would be individuals who love to be in control of their lives and desire the freedom to indulge their sinful flesh in whatever and whenever, and thus have a hardened heart towards God, not wanting to give up control of their personal throne.  At the extreme right would be deceived members of cults and false religions who desire to obey God but in reality are serving false gods, hardened to the truth of the Gospel.
Hardened Soil
Hardened Heart/won't receive truth
Mt 13:14,15

The second group is compared to shallow soil where the roots run into rock preventing normal growth. These people have superficial faith, an initial fervor for God but when persecutions from opponents or circumstances make it uncomfortable to stand for Christ they fall away and return to their old way of life. They have fickle hearts that change when the heat is raised. They can be likened to domesticated animals that are only willing to work along with their master if they are forced with a bit and bridle, yoke, or a whip. Since God does not bully or force His love on anyone, these persons take the path of least resistance and walk away from God. A large segment of these people would claim to have been Christians all of their lives, having been raised in a lukewarm Christian home, but live out their faith in moderation, seeing passionate service to God as extremism.
Shallow Soil
Fickle Heart
Mt 15:8

The crowded soil represents the company that belongs to the third category. The thorns represent the many interests that compete for their allegiance. These individuals have humanistic faith, loving everything in the world and allow their flesh to fulfill their passions. These creepy crawlers are very sensual, loose with their vocabulary and see no place for God in their lives. Those that turn to God have a divided heart and usually try to continue to live with one foot in the world and one foot in the religious realm.
Crowded Soil
Divided Heart
Mt 6:24

The final group is the good soil where individuals understand the message and produce a crop-thirty, sixty, ne hundred times what was sown.  They have noble hearts and desire to please the Lord.  God planned for man to rule over all of His creation by obeying God's commands.
Good Soil
Noble Heart
Php 4:8