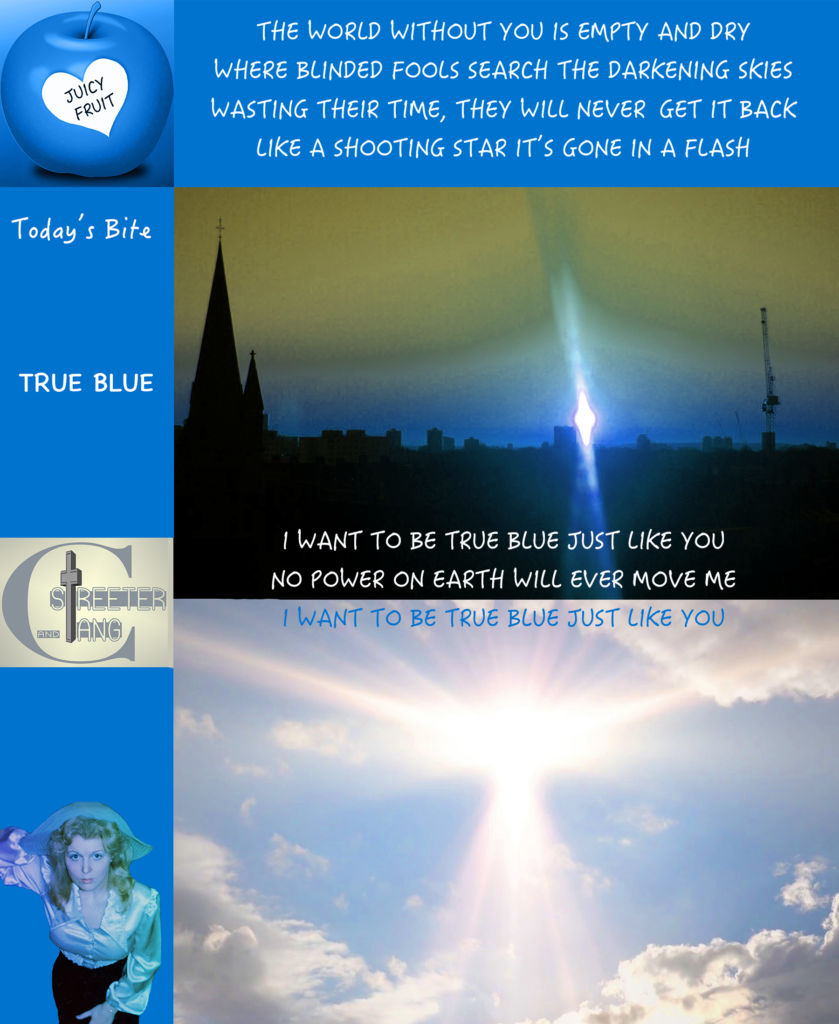 I LISTEN FOR YOUR VOICE TO GUIDE MY STEPS
YOU GIVE ME FOOD THAT SATISFIES ME
AND STRENGTH TO FACE THOSE WHO ARE FEARFULLY MADE
FOR I CAN DO ALL THINGS IN YOUR NAME


I WANT TO BE TRUE BLUE JUST LIKE YOU
NO POWER ON EARTH WILL EVER MOVE ME
I WANT TO BE TRUE BLUE JUST LIKE YOU
FOR YOUR PRECIOUS BLOOD HAS SET ME FREE

THE WORLD WITHOUT YOU IS EMPTY AND DRY
WHERE BLINDED FOOLS SEARCH THE DARKENING SKIES
WASTING THEIR TIME, THEY WILL NEVER GET IT BACK
LIKE A SHOOTING STAR IT'S GONE IN A FLASH

CHORUS

I WILL SPEAK OUT AND DECLARE YOUR TRUTH
SHARING YOUR WORD WITH ALL WHO'LL LISTEN
TO BE LAST AND NEVER EVER EVER THROW STONES
LIFTING BURDENS FROM THOSE WHO WANDER ALONE

CHORUS 2X

I'M FREE, I'M FREE, FREE

Today's Chew:
The "Full Meal" is growing in our sanctification and serving the Lord with all whole being. "True Blue" is a song that motivates us to be like Jesus in all ways.
Tang sings "YOU GIVE ME FOOD THAT SATISFIES ME." God has given us seven healthy foods and drinks to maintain spiritual wellness 1 Co 10:31:
Water
Milk
Bread
Fish
Wine
Fruit
Vegetables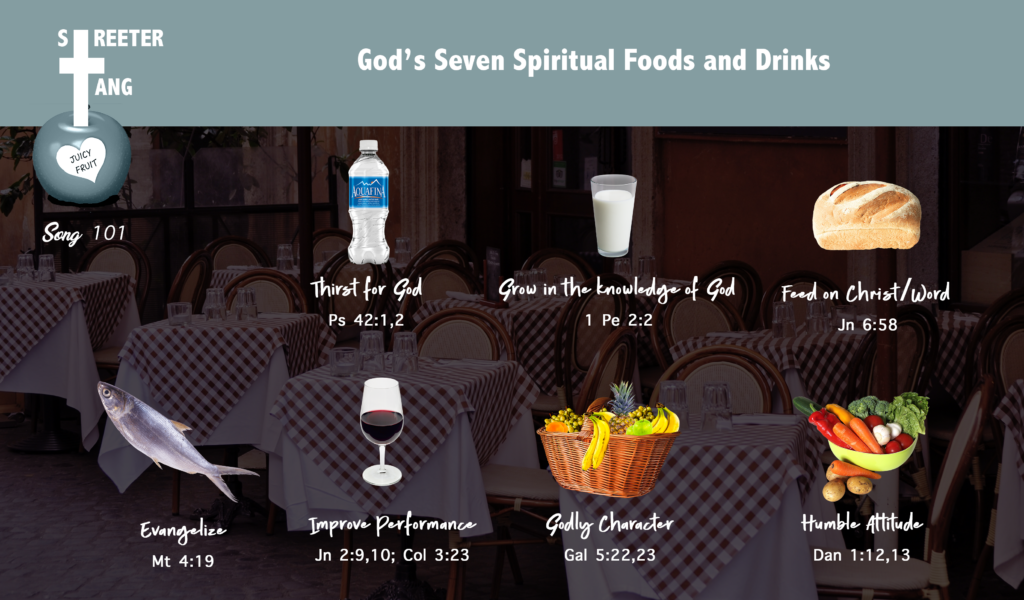 1. Physical Truth: We can only live without water for a few days, then our kidneys and other functions are detrimentally affected, as our body is over 60% water and needs water to sustain body life.
Water (thirst): Intimacy with God Ps 42:1,2; Mt 5:6; Jn 7:37,38,39.
We need to pursue intimacy with God daily. Ps 63:1
2. Physical Truth: Babies need milk to survive and grow.
Milk: Growth in the knowledge of God 1 Pe 2:2; 1 Co 3:2; 2 Pe 3:18; Col 1:10.
We need to build a strong foundation based on the knowledge of God. 1 Co 3:10,11; 2 Ti 2:15.
3. Physical Truth: Our bodies store energy in the form of fat, so we can last a few weeks to a couple of months without food depending on our water intake and our fat supply.
Bread: Word of God/Jesus Mt 4:4; Mt 6:11; Jn 6:48-50, 51.
We need to daily read the Word of God and apply the truths we learn; keeping our eyes on Jesus. Mt 6:11; Heb 12:2.
4. Physical Truth: Fish is high in important nutrients that most people don't get enough of. This includes high-quality protein, iodine and various vitamins and minerals.
Fish: Evangelism Mt 4:19; Lk 5:10; Jn 21:10,11.
Our purpose is to draw others to the kingdom of God. Mt 28:19,20; 2 Co 5:20; 2 Ti 4:5.
5. Physical Truth:  In ancient times, much of the water had a high alkaline content, and the pH could be neutralized somewhat by adding wine to the water.This was not the only method. Water could be made safe to drink by boiling, but that was time consuming and costly, since wood was scarce. The most common method of purifying water for drinking was to mix it with wine.  Paul told Timothy to no longer use water but wine for his stomach's sake I Tim. 5:23.
Wine: Improved Performance Jn 2:9,10; 1 Ti 5:23.
In whatever God is calling us to do, we must give Him our best. Col 3:23.
6. Physical Truth: The nutrients in fruit are vital for health and maintenance of your body. The potassium in fruit can reduce your risk of heart disease and stroke.
Fruit (Sweets): Godly Character Gal 5:22,23; Pr 16:24.
Our character should witness to the reality of God. Mt 5:16.
7. Physical Truth: Vegetables are important part of healthy eating and provide a source of many nutrients, including potassium, fiber, folate (folic acid) and vitamins A, E and C. Potassium may help to maintain healthy blood pressure.
Vegetables: Proper Attitude Pr 15:17; Nu 11:4,5, 6; Dan 1:12,13.
We need to exhibit humility and contentment in all we do. Jas 4:6; Php 4:11,12,13.