WE WERE YOUNG AND WONDERED IF WE'D EVER FIND SOMEONE
TO HOLD ON TO
WE FELL IN LOVE TOO FAST, THEY SAID IT WOULDN'T LAST
IT WOULD BE OVER SOON, BUT THEY WERE WRONG, SO WRONG
AFTER ALL THIS TIME WE KEEP CARRYING ON
AND I LOVE YOU MORE AND MORE
AFTER ALL THIS TIME WE KEEP CARRYING ON
AND IT'S YOU THAT I ADORE
WE THOUGHT WE HAD IT ALL, BUT THERE WAS SOMETHING TOLD US
THERE WAS MORE, WE NEEDED YOU LORD
WHAT A MIRACLE YOU DID GIVING US A LOVE THAT CAN'T BE HID
WE JUST GOTTA THANK YOU LORD, GOTTA THANK YOU
AFTER ALL THIS TIME WE KEEP CARRYING ON
AND WE LOVE YOU MORE AND MORE
AFTER ALL THIS TIME WE KEEP CARRYING ON
AND IT'S YOU THAT WE ADORE
IT'S YOU THAT WE ADORE
AS THE YEARS HAVE PASSED, WITH YOU OUR LOVE GOT STRONGER
A BOND FOR ETERNITY
AND IF THE STARS SHOULD FALL AND IF WE LOST IT ALL
IT WOULDN'T MATTER NOT TO US
WE WOULD REJOICE, LORD WE WOULD REJOICE
AFTER ALL THIS TIME WE KEEP CARRYING ON
AND WE LOVE YOU MORE AND MORE
AFTER ALL THIS TIME WE KEEP CARRYING ON
AND IT'S YOU THAT WE ADORE(2X)
IT'S YOU THAT WE ADORE
IT'S YOU THAT WE ADORE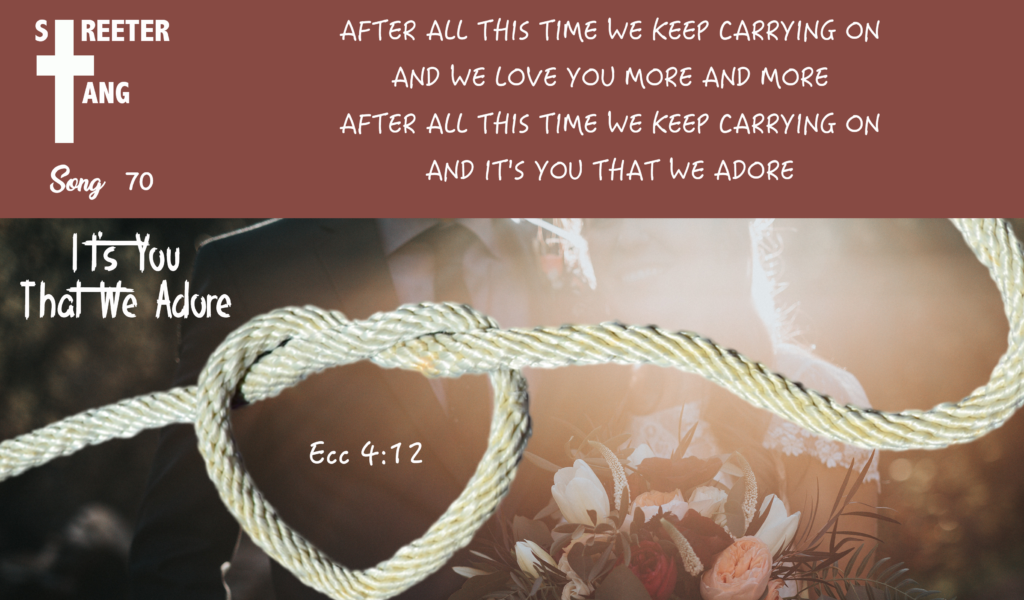 Marriage was our goal in life but even after having children we knew something was missing. Making music was satisfying, but it was not until we discovered the Lord that our thirsty hearts were quenched. Our love for each other grew because our love for Jesus took top priority (1 Jn 4:19). A cord of three strands (Jesus, husband and wife) makes for a strong and loving marriage (Ecc 4:12). In order for rope to be strong equal strands are needed.
In marriage relationships, Jesus is the third and equal strand because He lived as a human and endured hardship. He can empathize with whatever is causing us pain Heb 2:17,18; Heb 4:15.
On the ultimate level the Trinity is made from three equal strands. God is the perfect example, a triune bond of love.
INSIGHT INTO RELATIONSHIPS IN ETERNITY
I have endured much loneliness since Julie was promoted to heaven four years ago. So, I questioned the Lord. Will I still have an intimate relationship with my wife in the new earth but without procreation? A thought which encouraged me came from Genesis 2. Adam was alone and no suitable helper was available to aid Adam in fulfilling his duties to God Gen 2:15. God said that this condition was not good Gen 2:18, so He created Eve Gen 2:22; Gen 1:28. This relationship became the most intimate kind, between a man and a woman, since Eve was taken from Adam's rib Gen 2:23. God called this condition (marriage) the two humans becoming one flesh Gen 2:24. My insight came with this thought, if Adam and Eve hadn't sinned and ate from the tree of life, they would have lived forever Gen 3:22. If this had been the case, why would their relationship end as they were one flesh with Eve completing Adam. At some point, God may have stopped procreation but why would this intimate relationship cease? For their role was to rule over the earth Gen 1:28 and that is still our role in the new earth Rev 22:5.
Though, sin has changed some things, God's original plan still remains. Adam and Eve would serve God together. It is true that death temporary separates husband and wife. However, Scripture states that we will be united with our loved ones at the coming of the Lord 1 Th 4:13-18 (those who sleep in death = our loved ones).
13 But we do not want you to be uninformed, brethren, about those who are asleep, so that you will not grieve as do the rest who have no hope. 14 For if we believe that Jesus died and rose again, even so God will bring with Him those who have fallen asleep in Jesus. 15 For this we say to you by the word of the Lord, that we who are alive and remain until the coming of the Lord, will not precede those who have fallen asleep. 16 For the Lord Himself will descend from heaven with a shout, with the voice of the archangel and with the trumpet of God, and the dead in Christ will rise first. 17 Then we who are alive and remain will be caught up together with them in the clouds to meet the Lord in the air, and so we shall always be with the Lord. 18 Therefore comfort one another with these words.
What kind of comfort would it be if we didn't continue in these deep relationships? Yes, we will be living in separate rooms or areas of the New Jerusalem in Jesus' presence Jn 14:3, but I believe these rooms will include space for spouses and family members. God made us to be relational and that will continue and be even richer because we will no longer have a sin nature and will continue to serve God 1 Co 15:43,49; Rev 22:3.
34 Jesus replied, "The people of this age marry and are given in marriage. 35 But those who are considered worthy of taking part in the age to come and in the resurrection from the dead will neither marry nor be given in marriage, 36 and they can no longer die; for they are like the angels. They are God's children, since they are children of the resurrection. Lk 20:34-36
In the new heavens and earth the Body of Christ will be married to Christ Rev 19:7,8; Rev 21:1,2,3,9; Eph 5:25,31,32; Jn 14:1,2,3. Presently, we are one with the Lord in spirit 1 Co 6:17, and in eternity we will dwell with Him forever Rev 21:3. However, our relationship with our spouses, children and friends will be as previously on earth for Adam and Eve surely would have continued to serve God together Rev 22:3,4; Gen 2:18 if sin had not occurred. We serve as a united trinity Ecc 4:12 (husband, wife, and Jesus are the three strands).