Isa 25:4/Isa 32:2

LET US BE LIKE SHADE TREES
IN THE DESERTS OF THIS WORLD
WATER TO A DRY AND SUFFERING LAND
LET US ANSWER WHEN WE HEAR
THEIR VOICES CRYING OUT
AND BE THERE WITH A PAIR OF SELFLESS HANDS

IF YOU'RE YOUNG AND WILLING
LIKE A STRONG BIRD FLYING HIGH
NOTHING IS IMPOSSIBLE
YOU'LL NEVER KNOW UNTIL YOU TRY
AND THOUGH YOU'RE JUST IN HIGH SCHOOL
DON'T LET THEM HOLD YOU DOWN
THIS WORLD NEEDS LOT'S OF HEALING
AND YOU'RE THE BEST HOPE WE HAVE NOW

CHORUS

THIS LIFE IS NOT A FAIRY TALE
THERE ARE MONSTERS WE MUST SLAY
LIKE HUNGER, AIDS AND POVERTY
THEY'RE ALL HERE TODAY
SO IF YOU HAVE THE COURAGE
THEN TAKE UP THE BATTLE FLAG
YOU CAN CHANGE THIS WORLD FOREVER
AND BE THE BEST WE EVER HAD

CHORUS 2X
BE THERE WITH A PAIR OF SELFLESS HANDS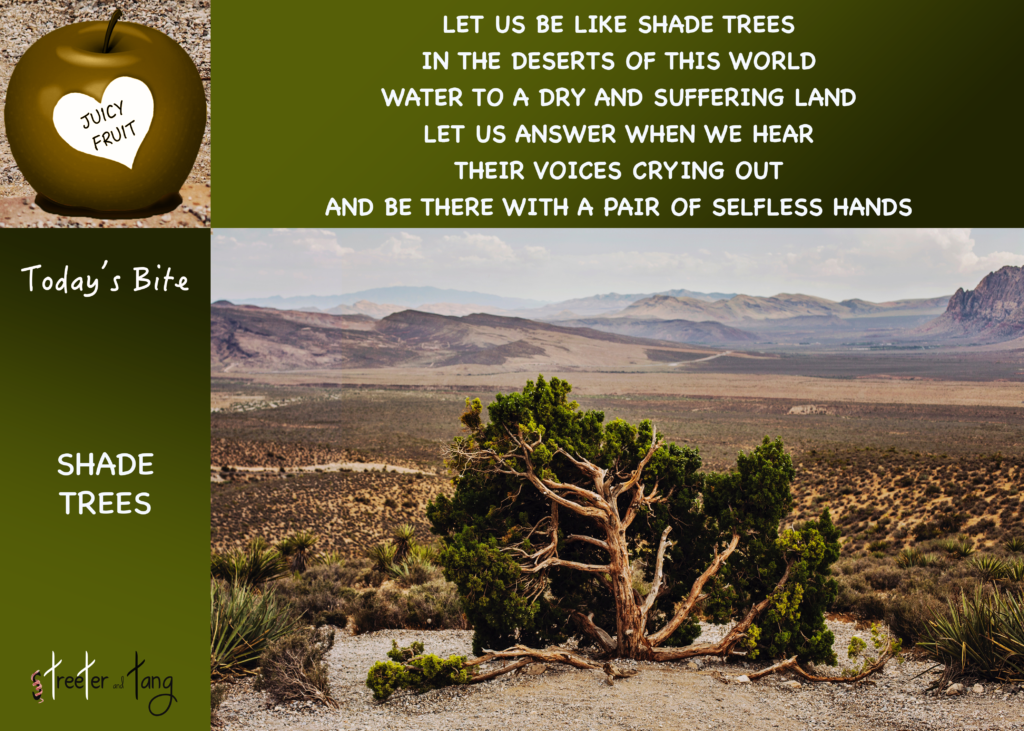 Then Jesus said to his disciples:
"Whoever wants to be my disciple must deny themselves and take up their cross and follow me. (Mt 16:24)
To deny oneself is to die to serving self and to live for Christ. This is accomplished through Kingdom ministry rather than service in personal gain.
To take up one's cross is to sacrifice at a personal cost. This happens when we obey God's Word regardless of the consequences.
To follow Christ means to go wherever He leads and to do whatever He asks one to do. This is fulfilled when one imitates Jesus' actions.
Jesus healed the sick, therefore one follows him by building hospitals in his Name. Jesus fed the five thousand, therefore one follows him by feeding the homeless. Jesus allowed the little ones to come onto him, therefore one follows him by building orphanages. Jesus gave grace to the woman caught in adultery, therefore one gives people who have done wrong, second chances.