Lk 24 KNOW AND BELIEVE THE SCRIPTURES
Sunday, October 3, 2021.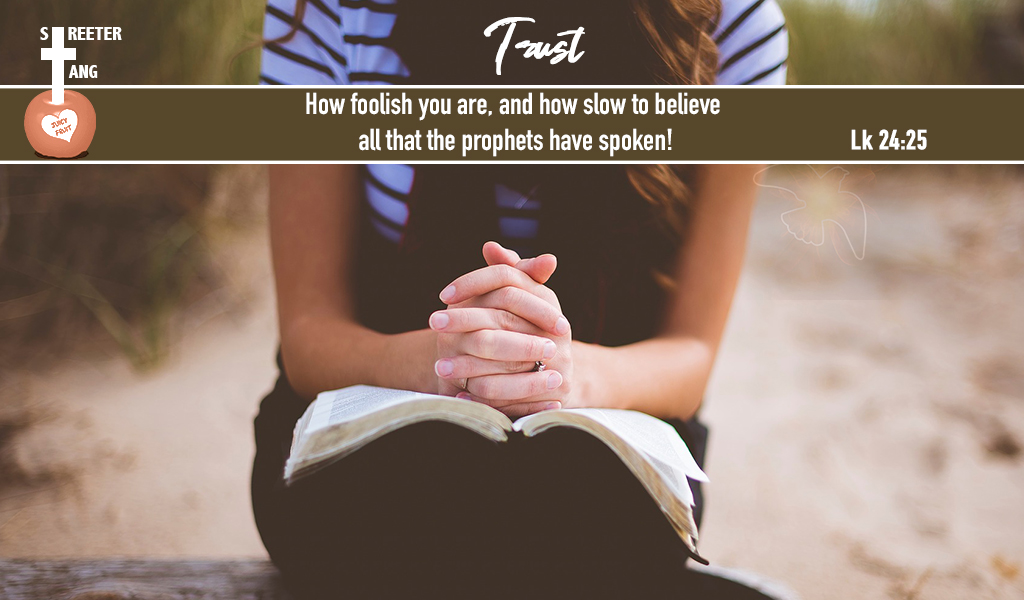 ---
.
Lk 23 TODAY IN PARADISE
Saturday, October 2, 2021.
---
.
Lk 22 GOD'S APPOINTED FEASTS
Friday, October 1, 2021.
---
.
Lk 21 PERSEVERANCE
Thursday, September 30, 2021.
Luke 21:19
Stand firm, and you will win life: it seemed that Jesus made contradictory statements by saying, "they will put some of you to death" Lk 21:16 then two verses later, "not a hair of your head will perish" Lk 21:18. However, the solution is found in the following verse, "Stand firm, and you will win life." Jesus was describing two kinds of lives, the first was temporal life on earth, whereas the second, eternal life in heaven Mt 10:39. He explained to His disciples that the times ahead would be difficult and would require strong faith and endurance to survive, but their reward would be eternal life—a life without tears, sorrows, pain or death Rev 21:4.
Application: the NASB renders this verse as, "By your endurance you will gain your lives," which places the emphasis on action rather than passive patience. We will face many trials in this life whereby God desires us to be His witnesses, to demonstrate to the unbelieving world the difference Jesus can make in one's life. The greater the trial, the greater the glory and also the greater the witness. Let us embrace the circumstances that God allows in our lives to produce a witness that overwhelmingly convicts faithless people of the reality of God in this world.
---
.
Lk 20 A GLIMPSE INTO ETERNITY
Wednesday, September 29, 2021.
---
.
Lk 19 JESUS—WORTHY OF PRAISE
Tuesday, September 28, 2021.
---
.
Lk 18 HIDDEN WORDS
Monday, September 27, 2021.
---
.
Lk 17 WATCH
Sunday, September 26, 2021.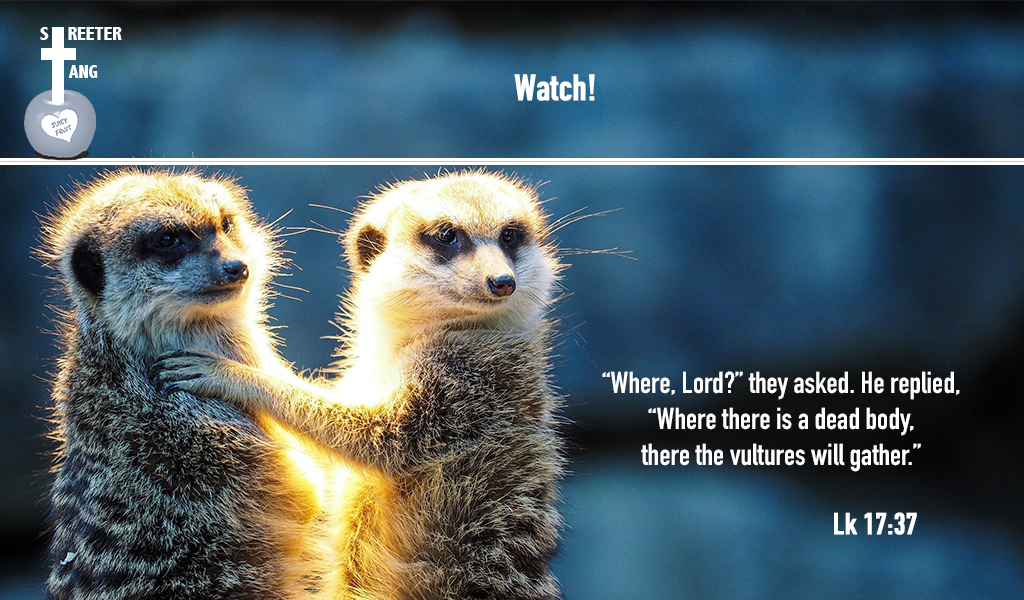 ---
Lk 16 LOVERS OF MONEY
Saturday, September 25, 2021.
---
.
Lk 15 SYMBOLISM
Friday, September 24, 2021.
---
.
Lk 14 LOYALTY
Thursday, September 23, 2021.
---
.
Lk13 LAST WILL BE FIRST
Wednesday, September 22, 2021.
---
.
Lk 12 DRESSED FOR SERVICE
Tuesday, September 21, 2021.
---
.
Lk 11 FINGER OF GOD
Monday, September 20, 2021.
---
.
Lk 10 BENEFITS OF TWO
Sunday, September 19, 2021.
---
.
Lk 9 JESUS REBUKES
Saturday, September 18, 2021.
---
.
Lk 8 TRUTH REVEALED
Friday, September 17, 2021.
---
.
Lk 7 TRUE WISDOM
Thursday, September 16, 2021.
---
.
Lk 6 BLIND LEADERS
Wednesday, September 15, 2021.
---
.
Lk 5 FISHERS OF MEN
Tuesday, September 14, 2021.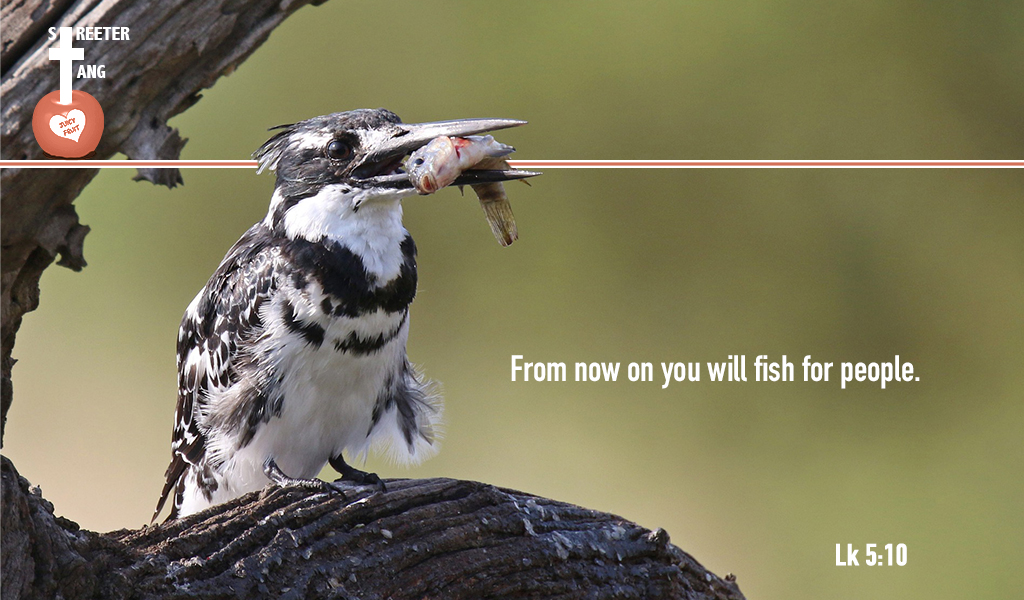 ---
.
Lk 4 LORD'S FAVOR
Monday, September 13, 2021.
---
.
Lk 3 FIRE BAPTISM
Sunday, September 12, 2021.
Luke 3:16
John answered them all, "I baptize you with water. But one who is more powerful than I will come, the straps of whose sandals I am not worthy to untie. He will baptize you with the Holy Spirit and fire: John compared his baptism to water—dirt being washed away, the cleansing of our sins, while Jesus' baptism ignited fire, the enlightening of our spirits and the purifying of our whole being. As Tang's lyrics declare:
FILL ME WITH THE FLAME OF YOUR SPIRIT
FILL ME WITH YOUR FIRE THE UNQUENCHABLE KIND
LIGHT UP ALL THE DARKNESS BEFORE ME
PURIFY MY SOUL AND MY MIND.
The unquenchable kind was the fire Moses viewed at the burning bush Ex 3:2. This kind never ceases but continues to enlighten believers with fiery passion to serve and love the Lord for eternity.
Application: Paul exhorted believers to be continually filled with the Holy Spirit Eph 5:18 meaning be filled with the unquenchable kind—the burning passion to do God's will and to please Him in all things Eph 5:10. This can only be accomplished by intimate fellowship through prayer, as was David's relationship with God, and the daily reading and meditation of the Word Mt 4:4 to digest the Lord's thoughts, fed into our hearts.
---
.
Lk 2 SOVEREIGNTY OF GOD
Saturday, September 11, 2021.
---
.
Lk 1 THE FAVOUR OF GOD
Friday, September 10, 2021.
---
.