WHEN YOUR WALKING DOWN LIFE'S ROAD
AND WONDERING THE BEST WAY TO GO
WITH A LITTLE PRAYER
GOD CAN TAKE YOU THERE
HIS WORD WILL LIGHT YOUR WAY
BUT IF YOU DON'T KNOW WHAT TO SAY
DON'T BE AFRAID
HE WALKS BESIDE YOU EVERY DAY
COME ON MAKE THE RIGHT DECISION
DON'T YOU WANT TO GO TO HEAVEN
HE'LL TAKE YOU THERE
HE'LL TAKE THERE (2X)
WHEN YOU'RE FEELING ALL ALONE
AND YOUR WORRIES HIT LIKE STONES
GOD'S LOVE CAN HEAL
HE KNOWS JUST HOW YOU FEEL
AND IF YOU HAVE AN ACHING HEART
HE MENDS EVERY BROKEN PART
TO LIFT YOUR SOUL
AND MAKE YOU WHOLE
CHORUS
WHEN YOU KNOW WHAT GOD HAS DONE
HE GAVE HIS ONE AND ONLY SON
SO BELIEVE IN HIM
HE'LL TAKE AWAY YOUR SINS
AND YOU WILL FIND A BRAND NEW LIFE
LIKE MORNING BREAKING AFTER NIGHT
AND SEE WHAT GOD HAS MADE
DON'T YOU KNOW THERE'S NO OTHER WAY
BRIDGE
WALKIN', WALKING DOWN THE ROAD
YOU DON'T HAVE TO WALK ALONE
WALKIN', WALKING DOWN THAT ROAD
YOU DON'T HAVE TO WALK ALONE
REPEAT VERSE 2
CHORUS
AH DON'T YOU WANNA GO, DON'T YA, DON'T YA WANNA GO
| | |
| --- | --- |
| VERSE 1 WHEN YOUR WALKING DOWN LIFE'S ROAD AND WONDERING THE BEST WAY TO GO WITH A LITTLE PRAYER GOD WILL TAKE YOU THERE HIS WORD WILL LIGHT YOUR WAY BUT IF YOU DON'T KNOW WHAT TO SAY DON'T BE AFRAID HE WALKS BESIDE YOU EVERY DAY | COMMENTARY There came a time in my life when I asked myself, "What is life all about?" So, I decided to seek out that answer. God revealed Himself to me at university, when a young hippie evangelist came to our school residence and shared the Gospel. I finally found my purpose to make life meaningful. Through the years, God's Holy Spirit and Word have molded me into the person I am today. In the beginning, I did not know how to talk with God, but He has always been there, every day, to help me with whatever problem arose. |
| CHORUS COME ON MAKE THE RIGHT DECISION DON'T YOU WANT TO GO TO HEAVEN HE'LL TAKE YOU THERE HE'LL TAKE THERE (2X) | I made the right decision and have never regretted it. The benefits are unbelievable, not only in this life but in the next one too. Jesus gave me peace, purpose, value and love for others. |
| VERSE 2 WHEN YOU'RE FEELING ALL ALONE WHEN YOUR WORRIES HIT LIKE STONES GOD'S LOVE CAN HEAL HE KNOWS JUST HOW YOU FEEL AND IF YOU HAVE AN ACHING HEART HE MENDS EVERY BROKEN PART TO LIFT YOUR SOUL AND MAKE YOU WHOLE | Losing my wife Julia to cancer was the biggest trial of my life. I know what Heman, the psalmist of Psalm 88 meant when he said "darkness is my closest friend" Ps 88:18. After feeling God did not understand or care about my loneliness, the Holy Spirit revealed to me that Jesus was also separated from His Father at the cross, the first time since eternity Mt 27:46. His trial humbled me and healed my broken heart. |
| CHORUS | |
| VERSE 3 WHEN YOU KNOW WHAT GOD HAS DONE HE GAVE HIS ONE AND ONLY SON SO BELIEVE IN HIM HE'LL TAKE AWAY YOUR SINS AND YOU WILL FIND A BRAND NEW LIFE LIKE MORNING BREAKING AFTER NIGHT AND SEE WHAT GOD HAS MADE DON'T YOU KNOW THERE'S NO OTHER WAY | God has shown me how much He loves me by sending His righteous Son to die for my sins. So I put my trust in Jesus, that my sins were washed away, and started living a new life for God rather than for myself.The days got brighter as I learned more and more about God's Word and His plan for my life. There is no other life than the one Jesus offers us. |
| BRIDGE WALKING, WALKING DOWN THE ROAD YOU DON'T HAVE TO WALK ALONE WALKING, WALKING DOWN THAT ROAD YOU DON'T HAVE TO WALK ALONE | During this life, I have had my share of trials but I never had to handle them alone for Jesus has fulfilled His promise that He'll never leave or forsake me Heb 13:5. |
| VERSE 2 REPEAT | |
| CHORUS OH COME ON MAKE THE RIGHT DECISION AH DON'T YOU WANNA GO DON'T YOU, DON'T YOU WANNA GO | I pray that you will give Jesus the chance to prove that He is who He says He is. Don't you wanna go? |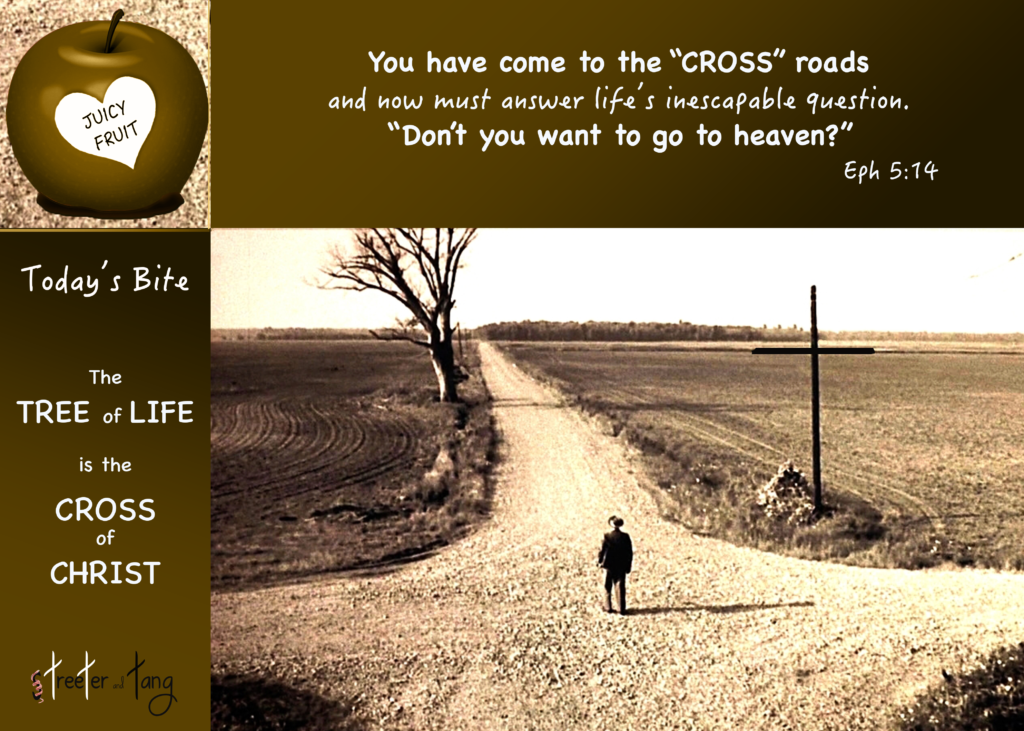 If you're at that point in life where you're wondering what it's all about, you are at the "Cross" roads. You can continue on the path that has led you to emptiness and meaninglessness or you can give God a try with a simple little prayer. He'll show you that He is real and will give you meaning and purpose in your daily life. He will also be able to give you joy in the midst of any trial or hardship you encounter.
The world can only mask your problems with alcohol, drugs or sex, but God can lift you into the heavenlies and make you whole. Jesus said the truth will set you free (Jn 8:32), not money or lifestyle, if that were the case the rich and the famous would not be committing so many suicides. They are empty despite their fame and fortune because only Jesus can fill that God-shaped vacuum in every man's heart.
Julie sings "Don't you want to go to heaven?"  This temporal life is seventy to eighty years, like one short breath compared to all the breaths mankind have taken from the beginning of time and extending into the forever future (that's how long eternity lasts). Why would you trade one short breath that no one will remember after you are dead, for an everlasting life full of learning, creating, and purposefulness with the One who loved you enough, to die in your place to provide you the opportunity of heaven? 
The tree of the Knowledge of Good and Evil Gen 2:17 allows you to choose your post-modern realities but cannot give you eternal life. Only the Cross of Jesus can allow you to eat forever from the Tree of Life Rev 22:2.
Today's Bite: Be Creative
We are Christ's ambassadors (2 Co 5:20), here to promote the Good News. God has given everybody talent in one area or another. No matter how small, use it creatively. I found Jesus through my neighbor, whom I had told my wife to have nothing to do with, as she was too religious. In the meantime, my father-in-law was in a serious car accident in British Columbia and my wife went to be at his side. In the following days, I become depressed over our circumstances until I got a phone call from my neighbor. She had baked an apple pie for me and asked if her husband could bring it over.  To make a long story short, he shared the gospel with me and I got saved, but truly what made this opportunity possible was the apple pie. You too, be creative today with the gifts God has given you.