STORM THE WALL

GIVE IT YOUR BEST SHOT
GIVE IT ALL YOU GOT
BATTLE ON
NEVER GIVE UP
HAVE THE COURAGE OF LOLA
TO FACE IT ALL
FIGHT ON, FIGHT ON

WHEN YOU FEEL THE PAIN
DON'T GIVE UP
DIG DEEP DOWN
AND STORM THAT WALL
WHEN THE FIRE BURNS
AND YOU FEEL THE HURT
CHAMPIONS RISE
AND STORM THE WALL

REMEMBER THOSE
THAT HAVE GONE BEFORE
TAKE THEIR COURAGE
BREAK DOWN THAT WALL
DON'T LOOK BACK
YOU'RE FORWARD BOUND
FIGHT ON, FIGHT ON

CHORUS
VERSE 1
CHORUS

BATTLE ON
NEVER GIVE UP
GIVE IT ALL YOU GOT
AND STORM THAT WALL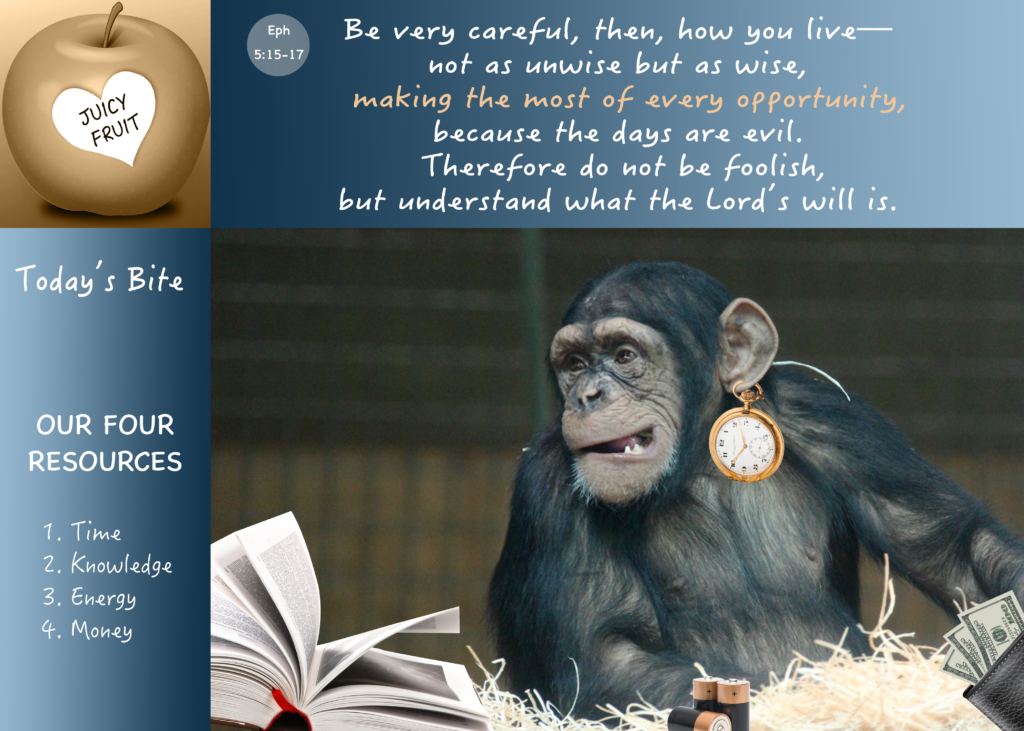 FOUR RESOURCES TO INVEST WISELY
        1. TIME– everyone has the same amount of time to expend, 24 hours, each and every day of our lives. It is a commodity that once it is spent can never be gained back. We also, do not know when it will cease; it may be decades or seconds.
10 Our days may come to seventy years, or eighty, if our strength endures; yet the best of them are but trouble and sorrow, for they quickly pass, and we fly away. 11 If only we knew the power of your anger! Your wrath is as great as the fear that is your due. 12 Teach us to number our days, that we may gain a heart of wisdom. Ps 90:10-12
15 Be very careful, then, how you live—not as unwise but as wise, 16 making the most of every opportunity, because the days are evil.  17 Therefore do not be foolish, but understand what the Lord's will is. Eph 5:15-17
Question: What percent of your daily hours does prayer, studying the Bible, spending time with other believers and promoting God's kingdom amount to in comparison to hobbies, worldly events, watching TV, Internet surfing, cell phone texting and communication?
Devote yourselves to eternal goals not temporal ones.
       2. KNOWLEDGE– each decides how much time to allocate to knowledge and just as important which areas of knowledge to pursue.
Question: What do people gain from all their labors at which they toil under the sun (Ecc 1:3)?
Answer: 16 I said to myself, "Look, I have increased in wisdom more than anyone who has ruled over Jerusalem before me; I have experienced much of wisdom and knowledge." 17 Then I applied myself to the understanding of wisdom, and also of madness and folly, but I learned that this, too, is a chasing after the wind (Ecc 1:16,17).
11 The words of the wise are like goads, their collected sayings like firmly embedded nails—given by one shepherd. 12 Be warned, my son, of anything in addition to them. Of making many books there is no end, and much study wearies the body (Ecc 12:11,12).
7The fear of the LORD is the beginning of knowledge, but fools despise wisdom and instruction. Pr 1:7
Spend the majority of your time studying the Word of God rather than pursuing worldly knowledge.
         3. ENERGY– each will decide how much energy to expend in all of the activities that we participate throughout our daily lives.
27 Do not work for food that spoils, but for food that endures to eternal life, which the Son of Man will give you. Jn 6:27
33Whatever you do, work at it with all your heart, as working for the Lord, not for human masters, Col 3:23
Spend your energy on meaningful work.
         4. MONEY– is necessary to survive in our world, but how we decide to distribute it is extremely important to our overall success in life.
19 "Do not store up for yourselves treasures on earth, where moths and vermin destroy, and where thieves break in and steal. 20 But store up for yourselves treasures in heaven, where moths and vermin do not destroy, and where thieves do not break in and steal. 21 For where your treasure is, there your heart will be also. Mt 6:19-21
8 "The master commended the dishonest manager because he had acted shrewdly. For the people of this world are more shrewd in dealing with their own kind than are the people of the light. 9 I tell you, use worldly wealth to gain friends for yourselves, so that when it is gone, you will be welcomed into eternal dwellings. Lk 16:8,9
4No one serving as a soldier gets entangled in civilian affairs, but rather tries to please his commanding officer. 2 Ti 2:4
Use money to promote God's kingdom rather than your own kingdom.