OOH ANGELS SINGING, LISTEN TO THE ANGELS SING
HEAR THEM, HEAR THE HEAVENS RING

IT'S A HIGHWAY TO HEAVEN, NONE CAN WALK UP THERE
BUT THE PURE OF HEART, IT'S A HIGHWAY TO HEAVEN
WALKING UP THE KING'S HIGHWAY

(2X)
IF YOUR NOT WALKING, START WHILE I'M TALKING
WALKING UP THE KING'S HIGHWAY
CHRIST WALKS BESIDE YOU, ANGELS WILL GUIDE YOU
WHEN YOUR WALKING UP THE KING'S HIGHWAY

CHORUS 2X

MY WAY GETS BRIGHTER, MY LOAD GETS LIGHTER
CAUSE I'M WALKING UP THE KING'S HIGHWAY
AND YOU'LL BE CONFESSING, THERE IS A BLESSING
WHEN YOUR WALKING UP THE KING'S HIGHWAY


BRIDGE
THERE'S A BROAD WAY THAT TOO MANY TRAVEL
PLEASE DON'T GO THERE TODAY
HIS HOLINESS IS BETTER IF YOU JUST LET HIM
HE'LL SHOW YOU THE TRUE WAY
JESUS, JESUS, JESUS IS THE WAY
JESUS, JESUS, JESUS IS THE WAY
JESUS, JESUS, JESUS IS THE WAY
OH ALL MY JESUS, JESUS IS THE WAY

CHORUS 2X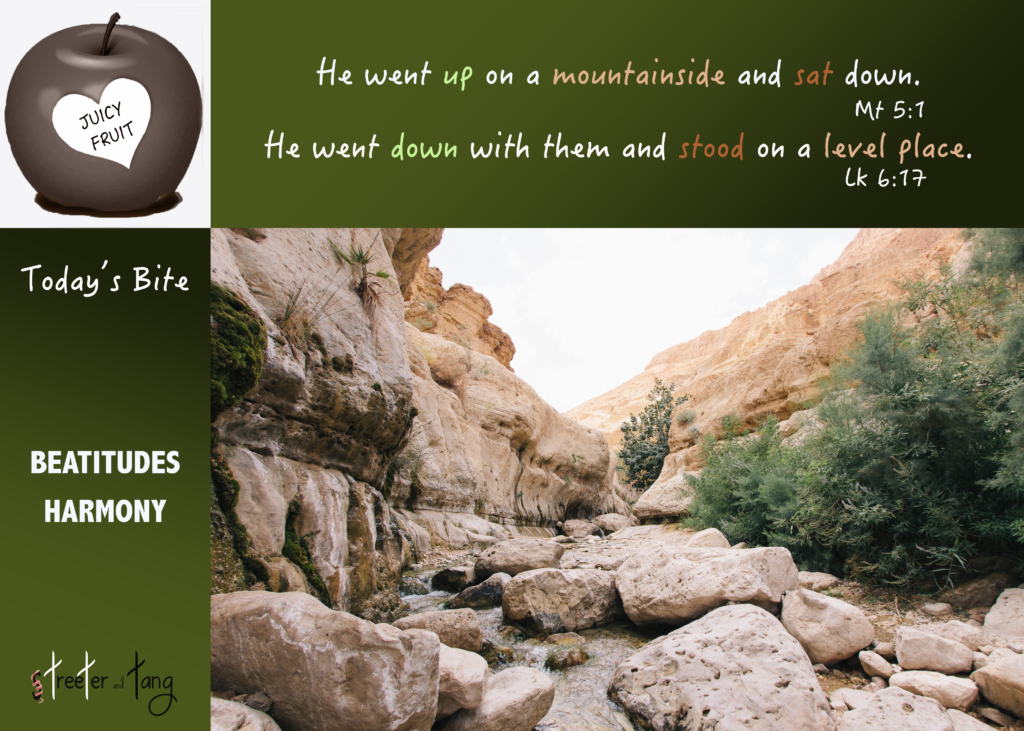 Could the Holy Spirit have been any further apart in His leading of Matthew and Luke to describe The Beatitude account? Matthew said Jesus went up a mountain and sat down whereas Luke portrays the sermon as going down and standing on a level place. We know that the original manuscripts are without error since the Holy Spirit guided men in their writings (2 Pe 1:21). Therefore, what truth is God desiring us to understand in these apparent contradictory settings? The key is to let the Bible interpret itself.
Is there a verse you can think of that contrasts standing and sitting down?
Day after day every priest stands and performs his religious duties; again and again he offers the same sacrifices, which can never take away sins. But when this priest had offered for all time one sacrifice for sins, he sat down at the right hand of God, Heb 10:11,12
Is there a verse you can think of that contrasts up and down?
They were looking intently up into the sky as he was going, when suddenly two men dressed in white stood beside them. "Men of Galilee," they said, "why do you stand here looking into the sky? This same Jesus, who has been taken from you into heaven, will come back (down to earth) in the same way you have seen him go into heaven."Ac 1:10.11
Is there a verse you can think of that contrasts a mountain and level place?
But you have come to Mount Zion, to the city of the living God, the heavenly Jerusalem. Heb 12:22
Four verses later the writer adds: At that time his voice shook the earth, but now he has promised, "Once more I will shake not only the earth (level place) but also the heavens (mountain)."Heb 12:26
What is the symbolism the Holy Spirit wants us to understand? The theme of the book of Luke represents Jesus as the "Son of Man" so Luke's version is describing Jesus coming down (incarnation) to earth (level place) and teaching the people (standing, for His work was not done under the law (Gal 4:4). He deals with their temporal needs: Blessed are you who are poor Lk 6:20, But woe to you who are rich Lk 6:24; Blessed are you who hunger now Lk 6:21, Woe to you who are well fed now, for you will go hungry Lk 6:25; Blessed are you who weep now, for you will laugh Lk 6:21, Woe to you who laugh now, for you will mourn and weep Lk 6;25.
The book of Matthew was written to the Jews, who were God's chosen spiritual leaders so Matthew describes man's spiritual condition. Jesus is described here as going up (ascension) a mountain (heaven) and sitting down (completing salvation and is sitting at the right hand of the Father Heb 1:3). Jesus is concerned with the people's spiritual needs: "Blessed are the poor in spirit, Mt 5:3; Blessed are those who mourn (over their sins) Mt 5:4; Blessed are those who hunger and thirst for righteousness, Mt 5:6; Blessed are the pure in heart, Mt 5:8.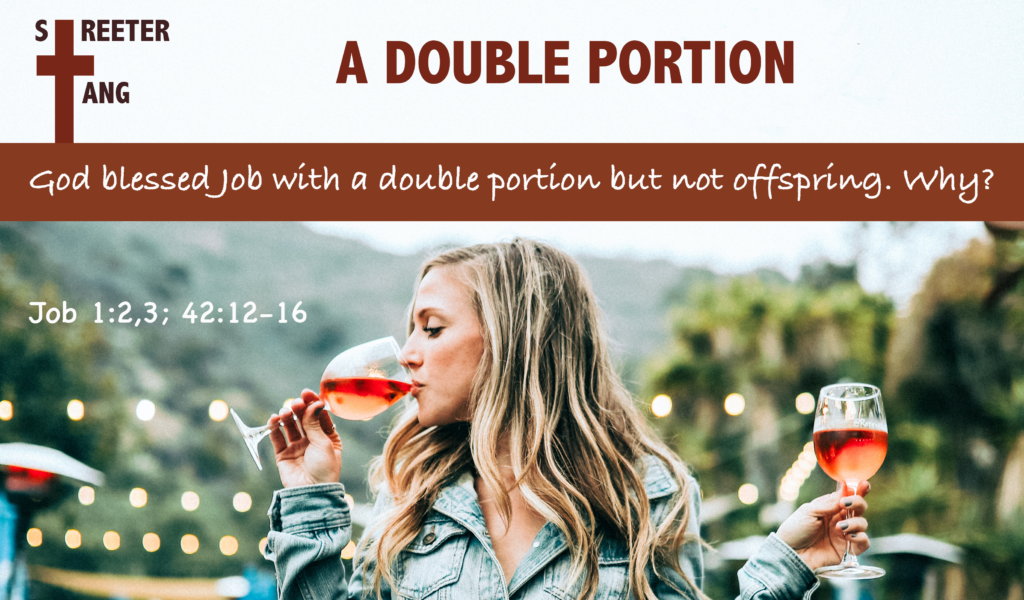 A Double Portion (Job 1:2,3; 42:12-16)
The resurrection is taught progressively in the Bible. Job and most of the Old Testament writers believed that there was no afterlife. Job himself said:  But a man dies and is laid low; he breathes his last and is no more…So he lies down and does not rise; till the heavens are no more, people will not awake or be roused from their sleep (Job 14:10,12).  However, God has hidden the resurrection even in the Old Testament. When God spoke to Moses in the burning bush, He said He was the God of Abraham, Isaac, and Jacob (Ex 3:6) and Jesus reminded the Sadducees that He was the God of the living, not the dead (Mk 12:26,27). Daniel also revealed that many will awake (Dan 12:2). Ironically, God had revealed to Job through an object lesson the truth of the resurrection of the dead.
God had blessed Job with a double portion of everything after his ordeal. His 7,000 sheep became 14,000; his 3,000 camel became 6,000; his 500 yoke of oxen became 1,000; his 500 donkeys became 1,000. However, his three daughters and seven sons were replaced with the same amount, another ten not twenty. Why not double: six daughters and fourteen sons? 
It all has to do with the resurrection. God did bless Job with a double portion of offspring because his first ten children would be resurrected and his second ten children would make twenty, a double portion. 
It is also noteworthy that the book of Job begins with the mentioning of his ten children followed by the animals, but ends with the livestock then his offspring. His children are listed "first and last" in the book, while all that is in between is of secondary significance. Our true riches are not in our possessions but in our relationships, and in the spiritual realm, it is our intimacy with God which supersedes our ministry for God (Lk 10:42).
If you have not been born again and desire to enjoy eternal life rather than the experience of everlasting shame (Dan 12:2) after you die, then just place your trust in Jesus' sacrifice at the cross to pay for your sins and allow Him to reign in your life.