EVEN THOUGH I WALK THROUGH THE VALLEY
THE VALLEY OF THE SHADOW OF DEATH,
I WILL FEAR NO EVIL
FOR YOU LORD ARE WITH ME
SURELY GOODNESS AND LOVE WILL FOLLOW
ALL MY DAYS, THE MY DAYS OF MY LIFE,
AND I WILL DWELL IN YOUR HOUSE LORD
FOREVER AND EVER
LORD YOU ARE MY SHEPHERD, I SHALL NOT WANT
YOU MAKE ME LIE DOWN IN GREEN PASTURES,
LEADING ME BESIDE STILL WATERS
RESTORING MY SOUL
YOU PREPARE A TABLE BEFORE ME
IN THE PRESENCE OF MY ENEMIES
YOU ANOINT MY HEAD WITH OIL
AND MY CUP OVERFLOWS
YOU GIVE ME DRINK
FROM YOUR FOUNTAIN, THE FOUNTAIN OF LIFE
FOR YOUR LOVE REACHES THE HEAVENS
AND YOUR FAITHFULNESS THE SKIES
CHORUS
I WORSHIP YOU LORD,
IN ALL YOUR HOLINESS
FOR YOUR GREAT JUSTICE
I SING YOUR PRAISES
YOU SET ME HIGH UPON A ROCK
TO GAZE, TO GAZE ON YOUR BEAUTY
I DECLARE YOUR NAME
IN A CONGREGATION OF PRAISE
CHORUS 2X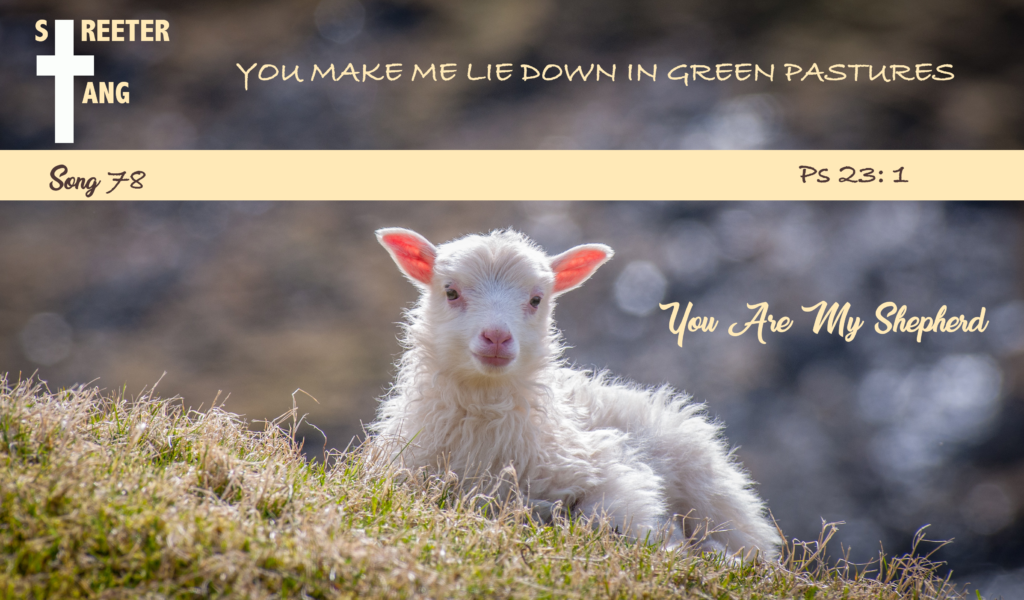 I have the Lord (Jn 1:12), therefore I do not need the approval of men (Gal 1:10), and my circumstances do not matter for I can do all things through Christ who strengthens me (Php 4:13).  
You provide the perfect environment for me to be at peace.  You make me lie down, be still and know that You are God (Ps 46:10), and feed me fresh manna from Your Word (Mt 4:4).  You quench my thirst with running water from Your Holy Spirit (Jn 7:38,39).  I do not fear shadows because they are not substance (Col 2:17).  Jesus, You defeated death (Heb 2:14,15), so I know, "absence from the body is present with the Lord (2 Co 5:8)."  You promise never to leave me or forsake me (Heb 13:5), so I have courage.  You meet all my needs (Php 4:19) and Your love chases after me (Ps 23:6 MSG). Thank You, Jesus.