I NEVER CARED WHERE I WAS HEADED
LOST IN A WORLD OF SELFISH GAIN
HEAVEN AND HELL MEANT NOTHING TO ME
AND EVERY DAY SEEMED JUST THE SAME
FILLED UP WITH EMPTINESS
AND DARKNESS THAT WAS ALL THAT I COULD SEE
THEN LORD YOU RESCUED ME
I CAME TO YOUR CROSS AND FELL ON MY KNEES LORD
I GAVE YOU MY HEART, I GAVE YOU MY ALL
I SMILED AT EVERY SHALLOW GREETING
KNOWING THAT NO ONE REALLY CARED
I WANTED EVERYONE TO LOVE ME
SAYING A DESPERATE, FRIGHTENED PRAYER
THEN I HEARD HIS VOICE SAY
I HAVE ALWAYS LOVED YOU
AND THEN I KNEW, I KNEW WHAT I MUST DO
CHORUS
OH MY LORD, YOU ARE WONDERFUL TO ME
OH MY LORD, OH MY LORD
CHORUS 2X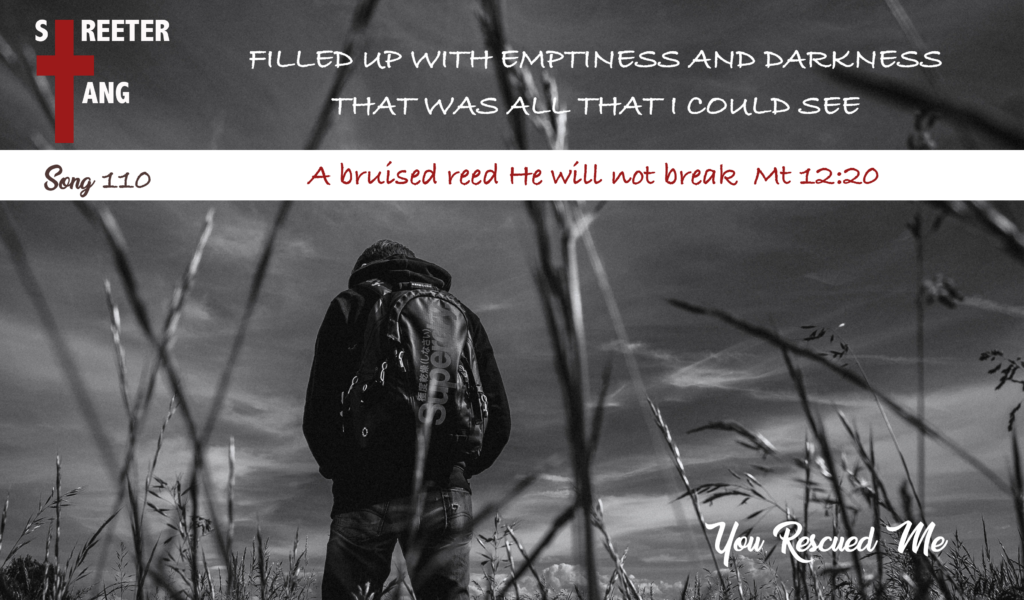 Jesus came to save the world, not condemn it (Jn 3:17). If you are broken and feel that no one cares about you, turn to the One who has proved His love for you. Jesus paid with His life, the penalty of your sins at Calvary. He wept when he saw the pain Lazarus' family and friends were experiencing (Jn 11:35) and He cares for you and will give you a renewed hope and a future (Jer 29:11). All you need to do is repent of your former ways and turn to Jesus in faith to experience the born again life (Jn 3:3).
Julie's Testimony
Julia was the first to be awakened by Jesus. She, like me, had turned from God to the world, to seek its worth and acceptance. Now, God had begun to draw her through the watching of Christian T.V. talk shows. Her favorite was the PTL Club with Jim and Tammy Faye Bakker.
Initially, she watched mockingly, humorously entertained by Tammy's flamboyant personality and her wild "janitor-in-the-drum" makeup and her constant appeals for donations. However, her sarcastic spirit stopped after a few months of getting to know Tammy better. Julia concluded if God could accept Tammy with all her flaws into His kingdom, then maybe there was hope for her, too.
That evening she prayed to the Father and had a vision. She was feeling sorry for herself and telling God no one had ever loved her, and since the incident as a child, she had felt unworthy because of being violated. Then God spoke to her, "Julia, your mother loves you, your husband loves you, and your children love you, but far more than all of these, I have always loved you" (Julia wrote about this encounter in our song "You Rescued Me,")
I SMILED AT EVERY SHALLOW GREETING
KNOWING THAT NO ONE REALLY CARED
I WANTED EVERYONE TO THINK WELL OF ME
SAYING A DESPERATE, FRIGHTENED PRAYER
THEN I HEARD HIS VOICE SAY, I HAVE ALWAYS LOVED YOU
AND THEN I KNEW, I KNEW WHAT I MUST DO
I CAME TO YOUR CROSS AND FELL ON MY KNEES LORD
I GAVE YOU MY HEART, I GAVE YOU MY ALL
This truth moved Julia emotionally, but then she turned her attention to the "Teddy Boy" issue, being raped when she was seven years old. Julia desired to know, how God would punish her perpetrator, for what he had done to her. All this time, Julia had been on her knees, and when she looked up to see the Father, she expected to see the mighty Judge of the universe in a black magistrate robe, but to her surprise, it was the Jesus of Golgotha. He was holding out His hands, for her to see His nail prints. She broke down and cried and asked forgiveness for her sins and forgave her rapist for the crime he had committed against her. All bitterness left her, and a new love enveloped her being. The God she used to write prayers and poems to, she now had come to know as her Bridegroom.
In the future, Julia would have opportunities to share her story of rape and forgiveness with other young women who had experienced the same self-demeaning tragedy.
From our autobiography "If God Gave Me A Voice."