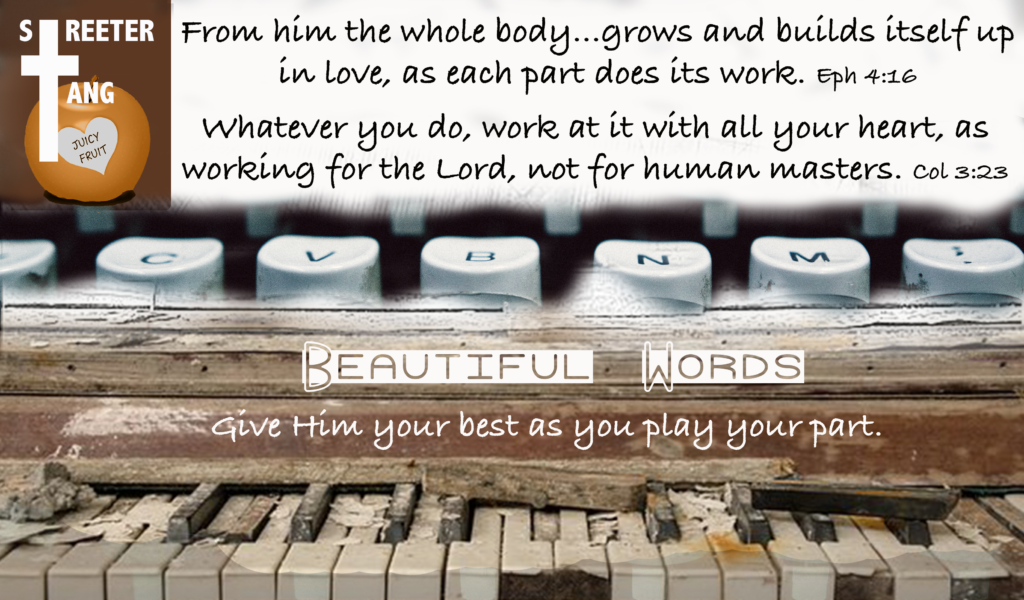 Our thoughts are usually recorded in black and white, black ink on white paper. This gives the reader an excellent visual contrast when viewing the words. However, our thoughts are usually expressed in gray opinions causing critics to disagree with us. Music also consists of black and white notes, but if only the black notes are played, the melody is always melancholy. It's the combining of the black and white notes that gives music, its greater flavour. Finally, when it comes to pleasing God, He has made His two commandments (Lk 10:27) quite simple, black and white, love God and love your neighbor as you love yourself. If you love God, you will strive to give your best in whatever you do (1 Co 10:31). Your body may look like the old piano in the picture, but a practiced artist can even make it sing, and deliver passion to his audience. Let's do it!
(CHILDREN GONNA PRAY) 4X
WITH ALL WISDOM AND AS YOU SING
PSALMS, HYMNS AND SPIRITUAL SONGS
WITH GRATITUDE IN YOUR HEARTS TO GOD
LET THE WORD OF CHRIST DWELL IN YOU RICHLY
LET THE PEACE OF CHRIST RULE IN YOUR HEART
WITH GRATITUDE RAISE YOUR VOICE TO GOD
GIVE HIM YOUR BEST AS YOU PLAY YOUR PART
BEAUTIFUL THOUGHTS FROM BEAUTIFUL WORDS
TRUTH IS WHAT IT'S ALL ABOUT
BEAUTIFUL THOUGHTS FROM BEAUTIFUL WORDS
MAKES ME WANT TO PRAISE AND SHOUT
PUT ON THE ROBES OF COMPASSION
IN HUMILITY BEAR WITH ONE ANOTHER
FORGIVE AS THE LORD FORGAVE YOU
IN GENTLENESS SHOW KINDNESS TO EACH OTHER
CHORUS
SINCE YOU'VE BEEN RAISED WITH CHRIST
SET YOUR HEART AND MIND ON THINGS ABOVE
FOR YOU DIED AND YOUR NEW LIFE IS IN GOD
AND OVER ALL GOOD VIRTUES PUT ON LOVE
CHORUS
BEAUTIFUL, BEAUTIFUL WORDS,
BEAUTIFUL, BEAUTIFUL THOUGHTS
LORD YOU MAKE MY HEART SING,
OVER AND OVER AND OVER AND OVER
WITH EVERY BEAT I GOT
CHORUS
BEAUTIFUL THOUGHTS FROM BEAUTIFUL WORDS
BEAUTIFUL THOUGHTS FROM BEAUTIFUL WORD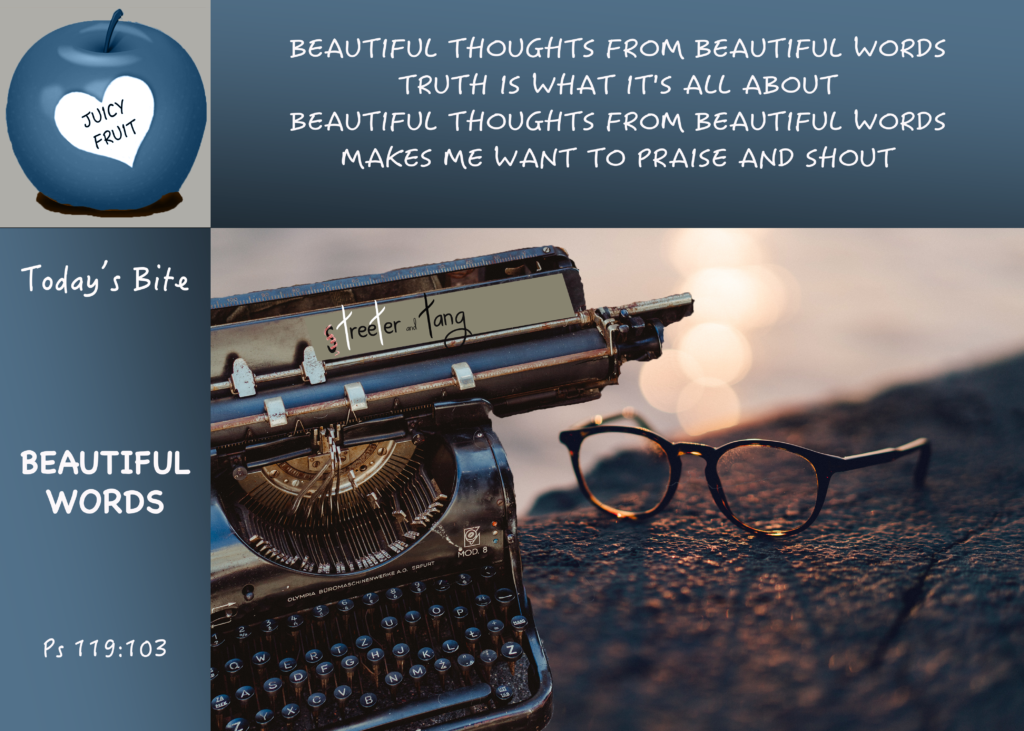 Excluding God, my five most beautiful words from the Bible are:
1. come
Rev 22:17
"BEST IS YET TO BE" (song 10) 
Come along with me
The best is yet to be
2. gave
Jn 3:16
"THE HARVEST" (song 35)
God so loved the world that He gave
The world that He gave
3. grace
2 Co 12:9
"SIMPLE PLEASURES" (song 92)
Your grace melts my hardened soul
It lifts me up when I'm feeling low
4. forgiven
Eph 4:32 NLT
"FAITH OUTLOUD" (song 23)
Faith grows when it's tried and tested
Through faith I am forgiven now
5. rest
Mt 11:28
"REST IN ME" (song 96)
Child rest in me and you will see
Your victory, Your victory
MIND, HEART, WILL.
Mind (Grey matter/thinking)
Set your thinking on heavenly things not earthly Col 3:2
Those who live according to the flesh have their minds set on what the flesh desires Ro 8:5
Earthly pleasures 1 Jn 2:15,16; (Heart of Stone Eze 36:26 hard, uncaring; deceitful, beyond cure; indiscernible, perplexing Jer 17:9).
but those who live in accordance with the Spirit have their minds set on what the Spirit desires Ro 8:5
Heavenly things Col 3:2; Php 4:8
Heart (Passions/emotions)
Set your passions on heavenly things/Christ Col 3:1; (Heart of Flesh Eze 36:26 compassionate, tender; new heart Gal 5:22,23).
Will– (Decision maker/chooses an option) Eph 5:17.
God's Will: 1 Ti 2:3,4; 1 Th 5:18; 1Th 4:3; Heb 13:21; Lk 9:23; Ps 119:105.
Your will be done, on earth Mt 6:10
"My Father, if it is possible, may this cup be taken from me. Yet not as I will, but as you will." Mt 26:39