I SPENT SO MANY DAYS JUST WASTING MY LIFE
FULL OF EMPTY THINGS THAT ONLY TOOK UP MY TIME
I NEVER KNEW PEACE THAT LASTED
TOOK ALL YOU GAVE FOR GRANTED

BUT NOW I'M ON MY KNEES AS I CRY AND PRAY
NO MORE GOING BACK TO MY SINFUL WAYS
I WILL WALK WITH YOU AND BE NOT AFRAID
NEVER GOING BACK AGAIN

NOW I CAN SEE ALL THE HEARTACHE I CAUSED
LIVING FOR MYSELF MEANT HURTING SO MANY OTHERS
I NEVER SAW THE PAIN IN THEIR EYES
WHILE I LIVED AN EMPTY LIE

CHORUS

I BELIEVED THAT CHASING MY DREAMS WAS THE REASON TO LIVE
AND THAT IT WAS MUCH MORE IMPORTANT TO TAKE THAN TO GIVE
BUT ALL I GOT WAS EMPTINESS
WITH A HUNGER THAT HAD NO REST

CHORUS (2x)
NEVER GOING BACK AGAIN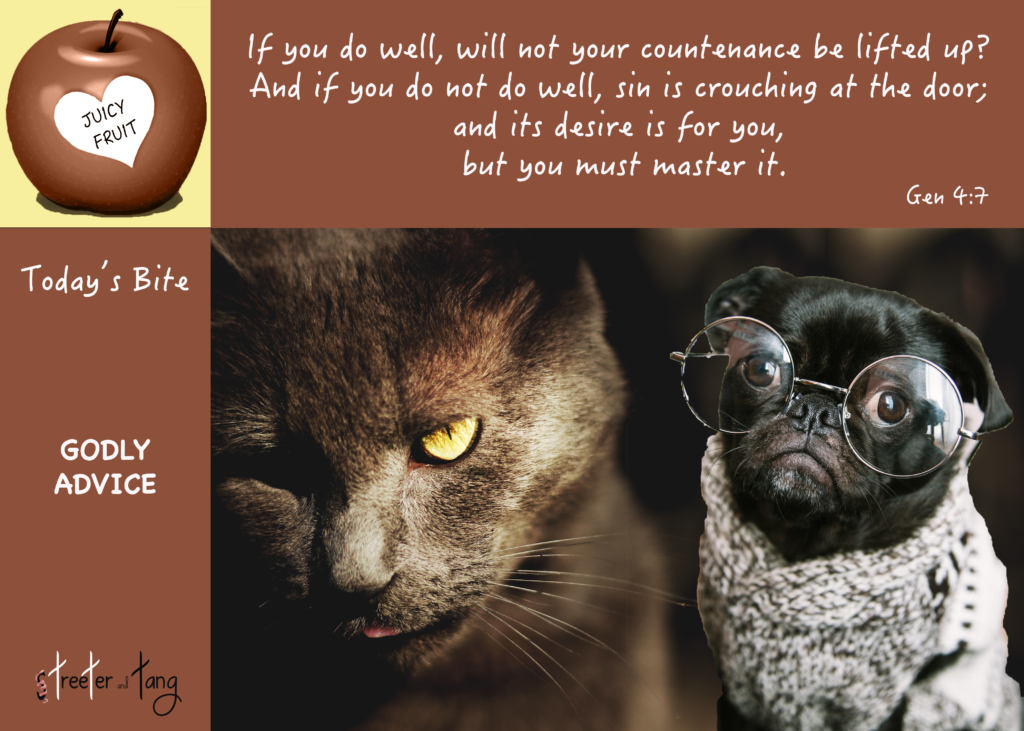 Sin was crouching at Cain's door because he had allowed anger into his heart (Gen 4:6). He was jealous of the praise Abel had received from God (Gen 4:4) and although God had given him the solution to his problem, to do right (Gen 4:7), pride prevented him from following through. In the end Cain's disobedience to God's counsel led him to commit murder (Gen 4:8) and end up a restless wanderer on the earth (Gen 4:12).
If you are a restless wanderer then follow God's advice, "do what is right, and you will be accepted". God can give meaning and purpose to your life, if you rule over sin (Gen 4:7). You can only have the power to accomplish this by humbling yourself and submitting to Jesus' rule over your life. Jesus expands on this thought in Jn 15:5-8. 
"I am the vine; you are the branches. If you remain in me and I in you, you will bear much fruit; apart from me you can do nothing.  If you do not remain in me, you are like a branch that is thrown away and withers; such branches are picked up, thrown into the fire and burned.  If you remain in me and my words remain in you, ask whatever you wish, and it will be done for you.  This is to my Father's glory, that you bear much fruit, showing yourselves to be my disciples.